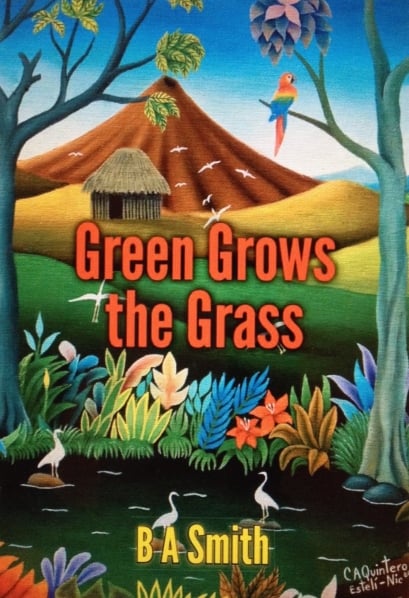 When we meet Dr. Katherine Stewart, she has arrived in Costa Rica, and she is pondering the mysterious loss of her father. After many years in the United States, Katie seems lost and forlorn, a stranger in the country of her childhood. This is understandable: Many years earlier, her father's airplane disappeared over the Panamanian border, and no trace of the aircraft was ever found. Without closure, Katie is adrift.
At first, "Green Grows the Grass" is a novel that unravels slowly. Katie spends a great deal of time trying to situate herself in a country both familiar and foreign. Author B.A. Smith weaves together her description of Costa Rica from countless tiny phrases and images, artifacts that longtime residents will find familiar.
Even after Luis and his oxen had departed the pulpería, Katie continued rocking on the porch in a surprisingly comfortable chair fashioned of black iron rebar woven through with blue and white plastic strips… While sipping her steaming café con leche and nibbling at the edge of a María cookie, she watched the remains of the heavy neblina lift from the Central Valley.
Smith spends so much time developing the Costa Rican context that it's hard to tell where her story is going. But just wait: The intrigue thickens rapidly, accumulating characters and subplots with each chapter, and the denouement is a scene of horrifying violence. True to the size and complexity of traditional Costa Rican relationships, a dizzying web of family and friends emerges. Smith heavily layers her novel with backstory, and readers must pay close attention in order to understand the final chapters.
While the novel is coherent, even eloquent, in its telling of an epic family saga, the most interesting part of the book is its author. Smith attended Lincoln High School in Costa Rica and went on to become a psychologist in the United States. While she currently lives in Maryland, Smith has spent considerable time here – and if it wasn't already obvious that Katie is an autobiographical character, Smith's own father also went missing while flying from Panama to Costa Rica.
Given the real-life inspiration for her story, much of the novel may feel uncomfortably close to home. Most scenes unfold in Escazú, where innumerable expats live, and corresponding scenes take place in Los Anonos, the impoverished little neighborhood hidden at the foot of San Rafael de Escazú. When we meet Felicia, a Nicaraguan émigré struggling to support herself, Smith bluntly describes the difficulties of many Nicaraguans' lives in Costa Rica – the menial jobs, the ramshackle living conditions, and the unwelcome atmosphere. Add to this a tale of absent fathers and postwar revenge, and Smith's narrative gets astonishingly dark.
Indeed, Katie's fate is a genuine shocker, and it is unsettling that Katie and Smith bear such a close resemblance. While the epilogue attempts to explain this savage finale, "Green Grows the Grass" ends coldly. What little "pura vida" attitude exists among its pages is overshadowed by its bleak and lonely portrayal of Costa Rican life.
But this may be a good thing: The novel explores themes that few authors have had the courage to explore in English. For Smith, Costa Rica is a real place with real challenges, and despite its years of peace and prosperity, the people are inextricably tied to the brutal dramas of neighboring countries. On a practical level, Smith may struggle to find an audience; the novel will make little sense to tourists, and expats may recoil at its gloominess. Most Costa Ricans may not bother with it, just because it's written in English. Yet for the readers who find it, "Green Grows the Grass" is a moving work of fiction. For Smith, it is clearly a tale that needed to be told.
"Green Grows the Grass" is available on Amazon. To learn more about B.A. Smith and her other books, visit her Facebook author page.