Ten years ago, Magdalena Brizuela Carvajal set out for the United States from her homeland of El Salvador. She had no job and left behind three small children aged 6, 4 and 2, who stayed with their grandmother.
Brizuela, 35, recalled her trip on "La Bestia," the infamous "train from hell" that tens of thousands of migrants board on a perilous journey north each year through Mexico.
"I left for the U.S., but halfway there I had the accident. I was riding above with some friends on the roof, and when we were arriving to the first immigration station, I was climbing down and all of the sudden a gust of wind came out of nowhere. I closed my eyes, and when I opened them, I was underneath the train. When they pulled me out, I had lost a foot and the knee on my other leg was shattered," she recalled.
Her story is included in a new campaign called "Mujeres en la migración, transformadoras del mundo" – "Women in migration, transformers of the world" – created by several nongovernmental organizations including Project Counselling Service (PCS) and the Comité de Familiares de Migrantes Fallecidos y Desaparecidos de El Salvador.
In August, facing an international crisis prompted by the mass migration of thousands of unaccompanied Central American children to the United States, Mexican authorities finally acted to prevent migrants from boarding "The Beast."
But that hasn't stopped the flow of migrants, and some experts say it has exposed them to even greater risks.
According to Mexico's National Human Rights Commission, approximately 200,000 migrant women from Central America like Brizuela attempt to enter the U.S. each year. The reasons for their journeys are many; but making the decision to migrate, embarking on the trek, and the experience of arriving or being deported all have an enormous impact on the lives of these women.
Brizuela returned to El Salvador and currently earns a small income working as a vendor in the informal economy. Any chance she gets, she tells other women to avoid the difficult trip north.
"Those routes are very dangerous, they will change your life in a second," she tells them. Despite her accident, Brizuela said she feels "more alive than ever."
According to the PCS, for every 10 migrants who travel to the U.S., seven are women, mostly between the ages of 12-32.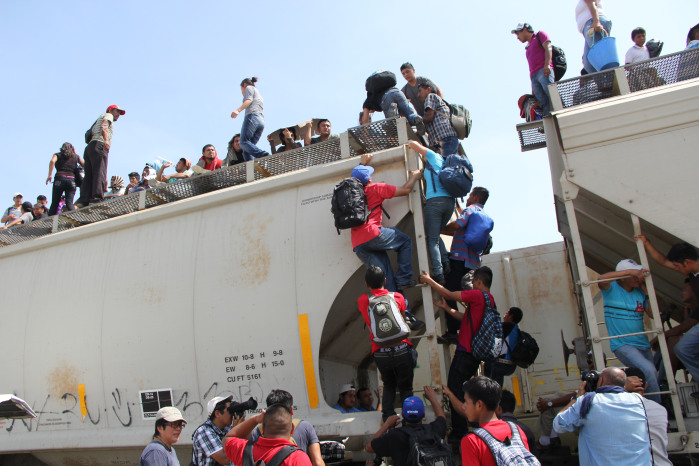 Explore a data illustration produced by Mexico's Institute for Women in Migration, or IMUMI, on migrant women in Mexico (in Spanish)
The dangers
Statistics compiled by IMUMI show that migrant women manage to cross Mexico and enter the United States much more efficiently than men, although that doesn't mean the trips aren't dangerous. And women often face risks that men don't, including sexual violence.
Women often use alternate routes through Mexico than those used by men, and they often avoid "The Beast." They tend to stay in hotels or guesthouses instead of shelters, often carry false documents, and choose routes along highways by traveling on buses and in semi-trailers, taxis or private vehicles. Women often travel alongside Mexican migrants on parts of their journey.
Rosa Nelly Santos, who represents a group of mothers of disappeared migrants on the Comité de Familiares de Migrantes Desaparecidos de El Progreso, Honduras (COFAMIPRO), said she was surprised to learn so many women are migrating from Central America. These include older women, younger women, mothers with children and teenagers.
"It became very clear that we're seeing the migration of entire families," said Santos, who recently participated in a forum on disappeared Central American migrants held in San José, Costa Rica, on Oct. 30.
"At the heart of all this are the gangs," she said. "In our communities today in all of our countries, children are recruited by drug traffickers. They say, 'You're going to be my eyes. Whistle when police are coming.' And they trap children from the ages of 12 or younger."
It's no surprise, she said, that many mothers from El Salvador, Guatemala and Honduras would decide to embark on the dangerous trek accompanied by their children, and particularly their teenaged children. But what does that trip entail?
A study by the National Public Health Institute of Mexico titled "Encuesta sobre Migración y Salud Sexual y Reproductiva de Migrantes en Tránsito en la Frontera México-Guatemala 2009-2010" found that a majority of women migrants become victims of psychological violence along the way. A fewer number become victims of sexual violence.
To carry out the study, La Casa del Migrante Albergue Belén – located in the dangerous and often anarchic Mexican border town of Tapachula – interviewed 750 migrants from 2009-2010. Of those, 88 percent were men and 12 percent were women. Most came from Honduras (40 percent), followed by El Salvador (32 percent) and Guatemala (20 percent). Their average age was 27.
One in three female interviewees acknowledged that they had been publicly humiliated in some manner, and one in five women said they had been threatened with physical violence. Nearly 12 percent said their movements and activities were either controlled or carefully monitored by someone else.
Sixteen percent of the women reported having been victims of physical violence, including cuts, bruises and fractures. And 10 percent said they had been sexually harassed. Eight percent said they were forced to have sex, and 28 percent said they were offered money, protection or lodging in exchange for sex.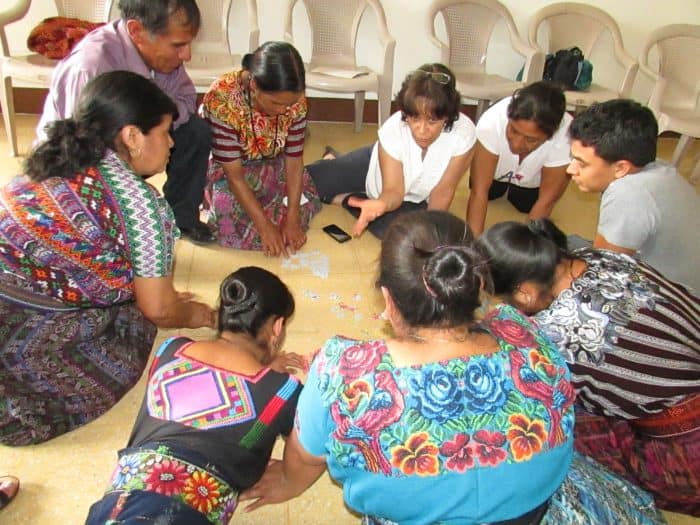 See also: PHOTOS: In Honduras, a perilous campaign
Where do they go?
No one can say with certainty how many migrant women reach their final destinations. Many are deported from the U.S. either back to Mexico or to their home countries. But what happens to those who are trapped along the way?
Statistics from the PCS show that three of every 10 migrants deported from the U.S., either to Mexico or to home countries, are women.
Many others remain along the route and work as domestic employees, in the sex trade or on farms. Some of them disappear.
Ten years ago, family members of the disappeared from Nicaragua, Guatemala, El Salvador and Honduras formed the Caravan of Mothers of Disappeared Migrants. On Nov. 20, the caravan will mark its 10th anniversary by traveling from Nicaragua to Mexico, via the "Northern Triangle" countries. The caravan returns to Nicaragua on Dec. 8.
While families maintain the hope of finding their loved ones alive, many quietly acknowledge that chances are slim. The search often becomes a grim task of locating family members' remains and bringing them home for a proper burial. But even that is a long shot.
Martha Sánchez, a member of the Movimiento Migrante Mesoamericano and a caravan participant, said that in the past 10 years, the group has managed to find almost no one.
"We think the majority are in forced prostitution," she said.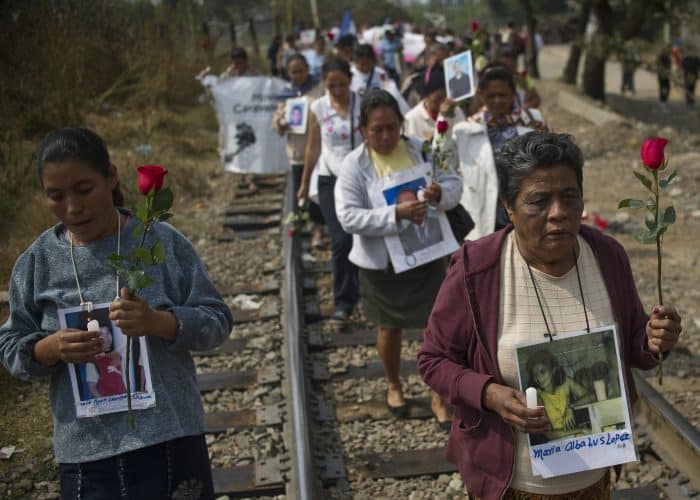 Related: Ellis Island in reverse: Where deportees go when they get home to Guatemala
COFAMIPRO's Santos, who also participates in the caravans, wonders, "How is it possible that we've lost so many girls?" She answers her own question: "In the brothels along the U.S. border. We've rescued two from brothels."
These searches take mothers on visits to local morgues, jails, immigration offices, human rights groups and government agencies. According to Santos, members of the caravan have visited a women's prison in Tapachula, in southern Mexico, and they've seen migrants treated like criminals and drug traffickers.
"They have criminalized them," Santos said, referring to several visits to Tapachula.
Despite the overwhelming odds, some families have managed to locate their loved ones. They've also repatriated the remains of some of those who have died.
One story of separation is that of Emeteria Martínez, a Honduran woman from the department of El Yoro. In 1989, her daughter Ada Marlén Ortiz left her village at the age of 17 to migrate to the U.S. Back then, the village had no working telephones, and the houses had no addresses.
For 21 years, Martínez raised Ada's two children. She never received the letters Ada wrote to her and to her children, in which she described arriving in Mexico, being assaulted, losing her documents, and becoming trapped as a perpetual migrant.
Ada eventually married and stayed in the city of Ecatepec de Morelos, in the state of Mexico. She had three more children.
After decades of receiving no news, Martínez set out to find her daughter. In 1999, she founded the radio program "Abriendo Fronteras," or "Opening Borders," broadcast on the Honduran station Radio Progreso. It was a space for the families of missing Honduran migrants to search for loved ones via mass communication. Martínez also became a pioneer of the group Committee for Family Members of Disappeared Migrants of Honduras, and of the caravans.
In 2010, one of Ada's sons in Mexico, who was 15 at the time, learned of the caravans via the Internet. He recognized Martínez as his grandmother.
In November 2010, Martínez, then 72, finally was reunited with her daughter, who was then 40 years old. Martínez died the next year.