COJIMAR, Cuba – Just like Ernest Hemingway used to do, two of his grandsons sailed into the fishing town of Cojimar on Monday, marking 60 years since the iconic U.S. author won the Nobel prize.
John and Patrick Hemingway sailed in from the Ernest Hemingway International Yacht Club west of Havana, through the Gulf waters where "Papa" used to fish, with a group of 16 that arrived Sunday.
"This is a really emotional day, being here with the people of Cojimar. It's something personal, it's a family thing, and I also think it is historic," John Hemingway, 54, said in Spanish to about 200 people who gathered on the fishing town's waterfront to greet them.
About a dozen boats joined the four yachts carrying the Hemingway party in the two-hour sail over to Cojimar.
Hemingway, who lived in Cuba for over 20 years, rented a home in the town. He fished enthusiastically and was inspired here to write the classic "The Old Man and the Sea."
The four yachts flew both U.S. and Cuban flags; the two countries have not had full diplomatic ties since 1961.
Events like this "could contribute to some positive things between the United States and Cuba," said John, a writer who lives in Montreal, alongside brother Patrick, 48, a photographer who lives in Vancouver.
Hemingway's close ties to Cuba
Hemingway, who lived from 1899 to his suicide in 1961, was a journalist, author, world traveler and sportsman. In the 1940s and 1950s, he spent half the year in Cuba and would summer in Idaho.
The dramatic twists were not just in his books; he struggled with mental illness and health consequences of heavy drinking even as he became an acclaimed author with a singular and strong spare style.
Married four times, Ernest Hemingway had three sons — Jack, Patrick and Gregory, the latter who fathered John and Patrick.
Ernest Hemingway was fascinated by game hunting and deep sea fishing, capped with drinks and some writing.
The author, also known for works such as "The Sun Also Rises," "For Whom the Bell Tolls," and "A Farewell to Arms," received the Nobel prize for literature in 1954.
And it was here in Cojimar that Hemingway docked his boat El Pilar, obsessed about marlin, knocked back mojitos, and where Cuban fishermen inspired his "Old Man."
When the Americas' only communist government took power, around 1960, Hemingway left Cuba for the last time — but not before meeting longtime president Fidel Castro.
Castro, the revolutionary who became a Cold War thorn in the side of the United States, led Cuba for almost five decades after 1959. He has named Hemingway as his favorite author.
So it was a touching sort of homecoming to see Hemingway grandsons hugging and chatting with locals, including kids and old-timers.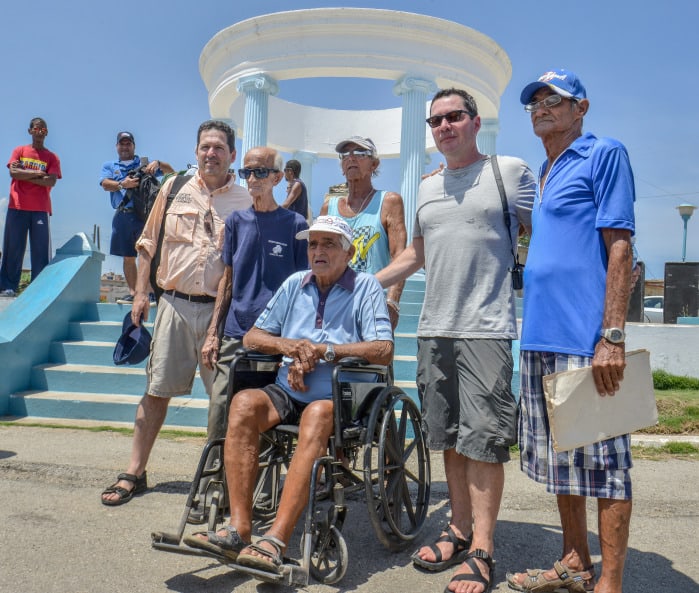 'I met Hemingway'
Hemingway's boat is in dry dock these days, near his Cojimar home, now a museum run by the government of Raúl Castro, 83.
When the author's local friends learned of his suicide in 1961, they gathered up pieces of anchors and bits of bronze, and had a bust of him made in his honor. It was installed on Cojimar's seafront in July 1962.
Monday, John and Patrick Hemingway laid flowers at the memorial, now under a little pergola.
"I met Hemingway myself when I was very young, maybe 13 or 14, and then we became friends," said Osvaldo Carrero Piña, now 78.
Carrero Piña took part in the 1958 film version of "The Old Man and the Sea."
Rail thin, his skin craggy under the hot sun, he smiled as he recalled the party Hemingway threw for all the fishermen when the film finally wrapped.
Mario Alonso, a spry 85, said that when he was a boy, he and other local kids would help Hemingway and his mate Gregorio Fuentes clean their catch.
"He used to give us a [20-cent piece], one for each of us, and sometimes some chunks of fish," he recalled on meeting the visiting kin.
The Hemingway grandsons meanwhile slipped off to local seaside restaurant "La Terraza" where the author used to dine with Fuentes and his last wife, Mary Welsh.
Pictures of Hemingway dot the walls, including one with Castro, now 88. They met in 1960.
"His favorite table at La Terraza has been reserved for him for all eternity," smiled local historian Gilda Rodríguez.