We now have a Sloth Kong store. Check it out: shop.wordpress-257819-2837440.cloudwaysapps.com. Shipping only available in Costa Rica.
—
For the Cinderella story to continue, Costa Rica must prevail in its toughest World Cup matchup yet.
Costa Rica has regained heavy underdog status against the high-powered Dutch. La Sele and the Netherlands face off at 2 p.m. Saturday in Salvador de Bahía.
ESPN's data-journalism site, 538, gives the Ticos a 24 percent chance of victory. English soccer betting sites Paddy Power and Ladbrokes give La Sele longer odds at 13 percent and 14 percent chance of victory with both giving a 24 percent chance of going to penalties.
Many consider the Netherlands the most talented football country to have never won a World Cup. The Netherlands were the runners-up at the 2010 World Cup, losing to Spain. ESPN's Soccer Power Index ranks them as the sixth best team in the world. In the group stage, the Dutch looked impressive despite being drawn into a difficult group.  They avenged their championship loss by crushing Spain 5-1, and then won the group by beating Australia and Chile. The Dutch then rallied to beat Mexico, 2-1, in the last-16.
The three-headed attack of forwards Arjen Robben and Robin van Persie and midfielder Wesley Sneijder have made for one of the best offenses in the World Cup. The Netherlands have averaged 3 goals a game in their four World Cup matches, the most of any team. Out of the group stage, they were one of four teams to collect all nine points. The Orange tied with Colombia for the best goal differential (+7) of any of the 32 teams.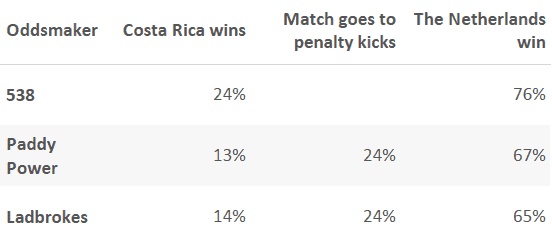 The Ticos will try to find advantage through their defense. Despite the loss of defenders Óscar Duarte to yellow cards and Roy Miller to injury, Costa Rica's back line is still the team's biggest strength. Backed by the impressive play of keeper Keylor Navas, La Sele's defense has been one of the best in the tournament. The team has allowed only two goals in four games and none of them came during normal circumstances. They allowed a penalty to Uruguay in their first match, and surrendered a goal in injury time to Greece after being down a man. Costa Rica's defense held on in added extra time to shut out Greece for 30 minutes and force PKs.
While the Netherlands impressed in the group stage, they looked vulnerable in their match against Mexico. Under the scorching sun in Fortaleza, the Dutch trailed until the 88th minute when Sneijder equalized. A controversial penalty — after Robben "tripped" over the outstretched leg of a Mexican defender — then gave Netherlands the lead with little time remaining. The game perhaps provided Costa Rica a model for how to shut down the Oranje's dangerous attack as the Ticos prepare for their biggest test so far.