WASHINGTON, D.C. – Nistelrooy Martínez came prepared Saturday afternoon: a blue jersey, a vuvuzela and, painted on his cheeks, the Salvadoran flag.
"Goooooool!" the 8-year-old shouted as he swiftly moved a soccer ball inside the small tent, where his family and a dozen friends gathered in Washington outside FedEx Field. They were waiting to see the world champions from Spain play their young, inexperienced Salvadoran national team.
"We are winning today," said Martínez, who is named after the retired Dutch soccer star Ruud van Nistelrooy. Although born in Annapolis, Maryland, Rooy proudly wore his parents' national colors, joining a multitude of El Salvador fans cheering for La Selecta. It was a game for his young parents and a generation of Salvadoran Americans who breathe soccer and cherish their national team.
They knew that their chances against a seasoned Spanish squad were slim. In the end, it was a 2-0 loss. But the fans were still exultant.
"We are playing the world champion!" said Melecio Rivera, 31, a District of Columbia resident of Salvadoran descent. "And it's just days before the start of the World Cup, so that makes it extra special."
This was no ordinary game. It was fútbol five days before the world's most-viewed soccer tournament, the World Cup, begins in Brazil. It was El Salvador's team, La Selecta, playing in Salvadoran Washington. It was Spain's elite – Real Madrid goalkeeper Iker Casillas and Barcelona rival Andrés Iniesta – together on La Roja.
"These are some of the best players in the world. They play in some of the best clubs. They are the world champions and are going to Brazil to defend it," said Steve Alfaro, 31, a California native of Guatemalan descent who proudly wore his Team USA jersey. "Just to see them play is amazing."
"It's a party!" said Rooy's mother, Jacqueline Ángel. A fútbol party, Salvadoran-style.
"It doesn't matter if we lose or win. We come to support La Selecta. We don't forget where we come from."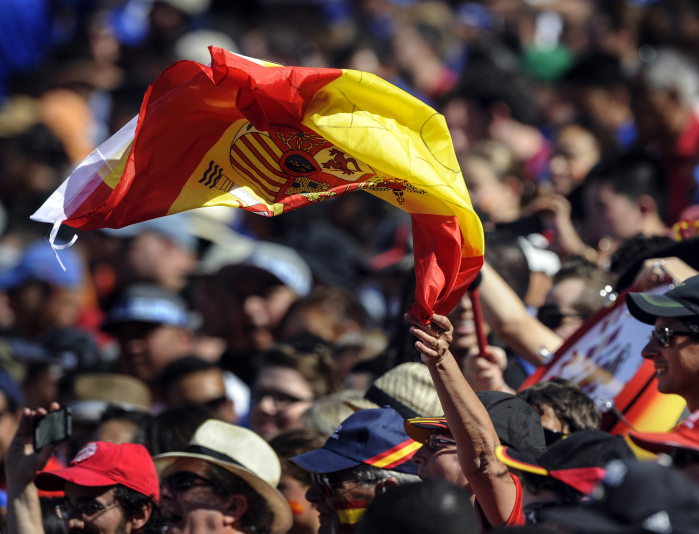 In the stadium, a crowd numbering a little over 53,200 gave La Roja a warm welcome. But for La Selecta, playing in a metro area where 250,000 Salvadorans have put down roots since the 1980s, it was like a home game.
Now the third-largest Hispanic group in the United States, Salvadorans across the Washington metropolitan region have established an identity of their own, opening scores of small businesses from cleaning and construction companies to tax and legal services. At neighborhood eateries, the pupusa, a Salvadoran staple, is the queen.
U.S.-born children wear the blue and white colors of their parents' homeland almost as much as they wear Team USA gear. A large portion of D.C. United's fan base is Hispanic, much of it made up of Central Americans.
Henrique Dias, 28, a Brazilian studying information technology at Howard Community College, said he was there for good fútbol.
"It is a training session for Spain," Dias said. "I am excited to see a lot of goals."
In the end, there were not that many. And even before the ball got rolling, fans celebrated outside the stadium with traditional U.S. hot dogs and beer. Others had their grills with carne asada, chorizos and tortillas. Vendors sold traditional Central American snacks, from mango con chile (mango with hot sauce) to minutas (snow cones) and elotes locos (corn on stick).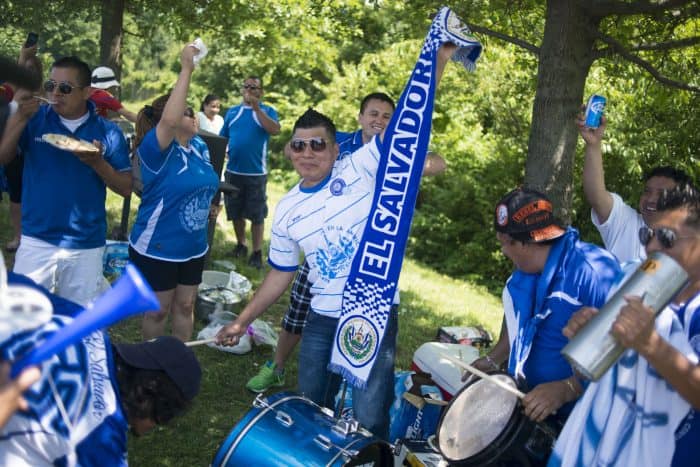 The sounds of Latin rhythms – cumbia, salsa and reggaeton – took over FedEx Field's parking lots. A DJ kept the crowd excited, chanting, "El Salvador in the house!" and, "¡Viva la Selecta!" The blue-and-white Salvadoran flag hung from cars, trees and around fans' shoulders.
Half the fun was the prospect of seeing European soccer stars going up against a young squad that has limited experience playing outside of El Salvador. After a match-fixing scandal last year that resulted in lifetime bans for 14 La Selecta players and sanctions against six others, fans are eager for a fresh start.
"It doesn't matter if we win or lose," said Rivera, a funding officer at the Inter-American Development Bank. "My friends and I are always excited when El Salvador comes to play in D.C. We love the stadium, the environment and the crowd that comes to support the team."
It all helps "keep those ties alive between the people here and the people in El Salvador," he said.
"It is just a big sense of community that you get at these games that you don't always get in the city. It is a celebration of anything and everything Salvadoran."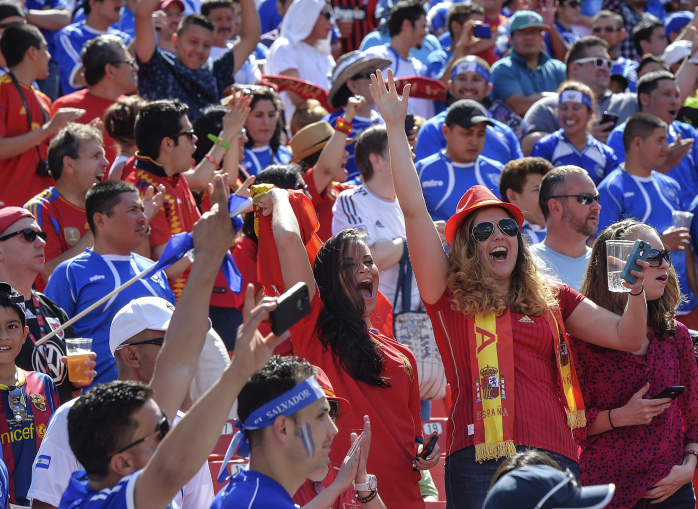 © 2014, The Washington Post