The word gastropub conjures some romantic images: earthy-looking pints of beer frothing on a bar, fashionable young people cavorting, in-house fermenting vessels, charismatic bartenders who mash barley for fun, etc.
El Gaff has all these ingredients. The décor is playful and chic, like a Brooklyn condo, but it already feels much older than it is. The lighting is muted, and dims as the night goes on. The place has already drawn in attractive singles and young professionals with great outfits and discriminating palates – in large numbers. On a Friday night, the place is popular but not packed. The service keeps up with orders, despite some hiccups.
The fare is reasonably priced for a night out, and thought it's not particularly innovative, it is delicious. You have likely munched the same seasoned French fries somewhere else, but they taste great with a dollop of flavored mayonnaise. The veggie-laden pizzas and gourmet sandwiches aren't revolutionary, but they're so well made that you won't care. The sliders, three medium-sized burgers, are a meal unto themselves.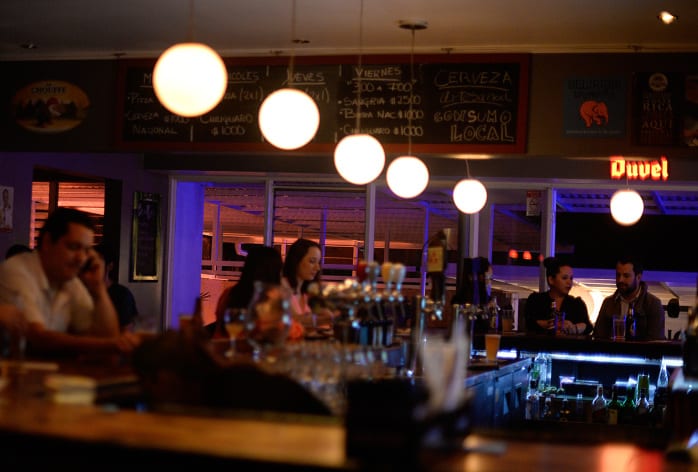 At a time when San José is becoming the Mecca of Costa Rican craft beer consumption, El Gaff presents a good beer selection that will only get better. The place brews its own IPA, which is soft and dry and also appeals to people who avoid IPAs. Familiar  cervezas artesanales like Segua and Libertas will receive nods of approval, and El Gaff has even embraced the super-new Ambar. The Gaff staff isn't rushing its menu, but expanding it with purpose. You will also find the tropical drinks, like mojitos and sangría, as well as some creative-looking shots.
Opening a gastropub is a tall order in itself — you must serve good food and libations, and it also has to be cool. El Gaff got off to a good start, with its mysterious name and prime location on a Los Yoses side street. It has imitated the gastropub style, right down to the ironic beer posters and simple yet eye-catching menu. The rock and pop music pumped through the dining room seems carefully selected — old enough to feel nostalgic, recent enough to be remembered.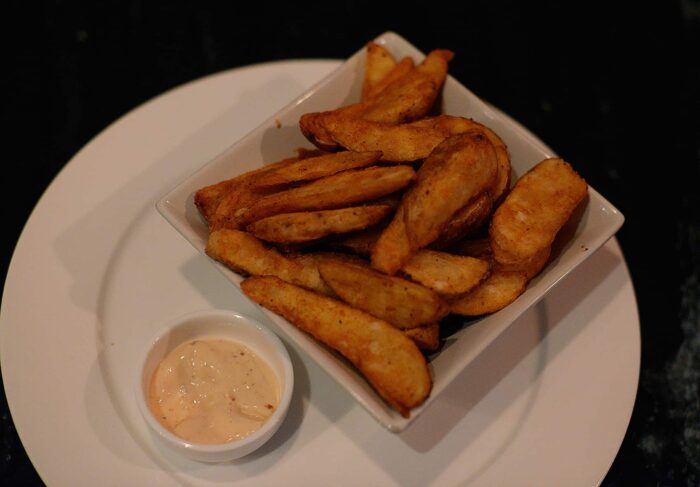 Yet consider this additional touch: Jets in the ceiling occasionally spray mist over the bar. The first time it happens, you have to laugh, because the effect is so hokey. But those few seconds of cool fog are also refreshing and somewhat surreal. El Gaff is not a second-rate dance club, where you would expect fog machines, but after awhile you look forward to being sprayed again.
Going There
El Gaff is located near the intersection of Avenida 8 and Calle 29 in Los Yoses, across from the restaurant Casa Italia. Hours: Tue.-Fri., 11:30 a.m.–2:30 a.m.; Sat., 7 p.m.–2:30 a.m. All major credit cards accepted. Info: El Gaff Facebook page. Phone: 2234-1596, 8886-0156.