How do you get permission to paint a portrait of the Pope? Most of us wouldn't have any idea where to start, but Juan Manuel Delgado found a simple solution: He wrote the Pope's sister on Facebook.
Today, Delgado is the creator of two portraits – one of Pope Francis and the other of Pope John Paul II – and the latter will debut at the National Stadium on Sunday, for the late pontiff's canonization.
"I'm a huge perfectionist," Delgado said in a phone interview Friday. "I always say to myself that you have to dream big. I thought that this would be a big challenge. I knew I could do it."
At only 26 years old, Delgado has lived an accelerated life: A native Tico, his family moved to Canada when he was 3 years old. He started an apprenticeship with Peter Schwartzman, an acclaimed Ottawa-based artist and architect. Schwartzman encouraged Delgado to study architecture as well, which he pursued at Carleton College.
Three years ago, Delgado returned to Costa Rica, and he experienced culture shock as a fresh-faced tourist might.
"The adjustment was tough," he recalled. "Culturally, [Costa Rica] is different than Canada. There's much more rain. There was also the language. I understand Spanish perfectly, but I have difficulty speaking. My parents always spoke to me in Spanish, but I never responded in Spanish."
Still, Delgado felt ambitious. "I decided to focus on art," he said, "which was my dream since I was a kid."
Delgado has always been religious, and he decided to try something outlandish: He wrote to the Pope's sister, María Elena, on Facebook. Delgado says that Elena was new to Facebook, so she took nearly a month and a half to reply. In her response, she directed Delgado to Pierre Nguyen, the Vatican's ambassador to Costa Rica.
When Delgado received an official invitation to fly to the Vatican, meet Pope Francis, and paint his portrait, he asked for two months to prepare. When he finally arrived in Rome, Delgado received an intimate audience with the Pope: "I was just five meters away from him the whole time," he said. "Painting a portrait is the most difficult kind of painting you can do. You have a real connection with your subject, after hundreds of hours in private. Everything was so special. Coming back from that journey, I received a lot of love and support from Costa Ricans."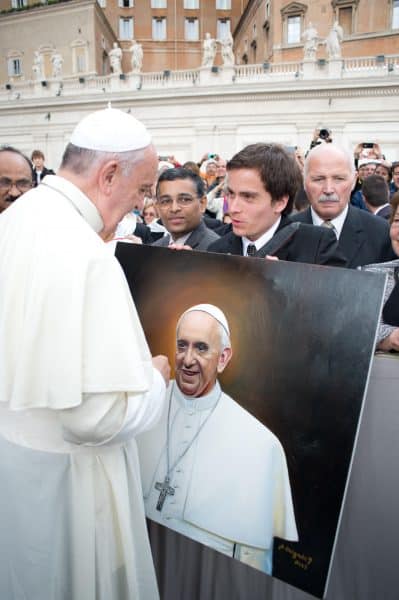 Delgado also produced a second portrait, of John Paul II, using a printed blessing his father had received two decades prior. "I started looking at photos on the Internet," Delgado said, "but they all showed [John Paul] as an old man. I didn't want to paint him when he was old, but when he came to our country." Delgado noted that John Paul II visited Costa Rica on March 2, 1983.
Career aside, the young artist sees his portraiture as a kind of spiritual journey. "I grew up with [John Paul II] being Pope," he said. "He was someone who was loved by everyone, of all ages and all faiths. I think it's important to have faith in God. I grew up religious. I always went to church in Canada … I wanted to celebrate such a historic moment for Costa Rica."
Post-Vatican, Delgado is already racing after new projects. The Supreme Court commissioned a work of important historical figures, which will display in mid-June, and the Central Bank of Costa Rica commissioned him for a work on the subject of poverty, which will be displayed in San José in November.
"I wanted to paint a portrait of President Obama," Delgado said. "But I haven't received a response yet."