See below for story updates
At 11:45 a.m. on Thursday, Costa Rican authorities escorted a handcuffed Maxim Chukharev on to United flight 1081, bound for Newark, New Jersey. Chukharev, 27, will face trial in the United States along with four other co-defendants for his alleged role in what U.S. prosecutors say is the largest money laundering scandal in history.
U.S. prosecutors accuse executives at the Costa Rica-based online currency company Liberty Reserve, shuttered in May 2013, of helping launder $6 billion over seven years. They said Liberty Reserve served as "the bank of choice for the criminal underworld" since it started up in Costa Rica in 2006. Chukharev is a Russian expat and does not have citizenship here. Two co-defendants named in the indictment, Ahmed Yassine Abdelghani and Allan Esteban Hidalgo, are Costa Rican citizens and have not been arrested in the case.
Vladimir Kats, 41, was arrested in New York and pled guilty in October. 
Chukharev's lawyers had appealed a judge's ruling to grant the extradition, and his attorney said she had not been notified of the judge's decision to extradite her client. Chukharev was awoken early this morning in his jail cell and taken to the Juan Santamaría International Airport, outside San José, by Costa Rican officials. His lawyer, his parents and the Russian ambassador to Costa Rica were denied access to him.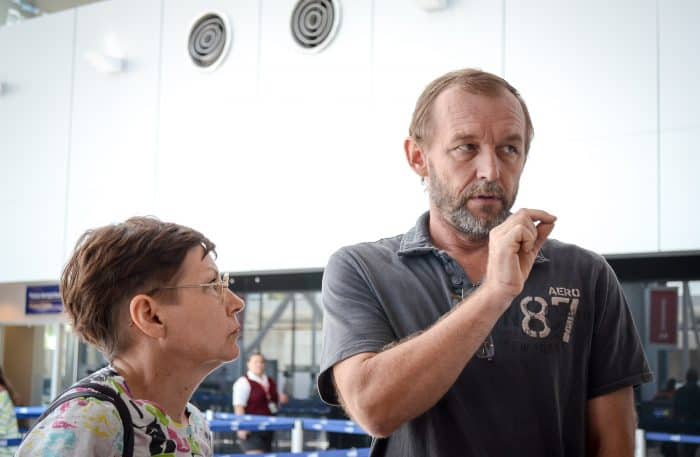 Update, Thursday, March 27, 4:40 p.m.: Following are comments from Chukharev's parents, Russian Ambassador to Costa Rica Alexander Dogadin, and U.S. Embassy spokesman Eric Turner
Huddled near a wall at the Juan Santamaría International Airport Thursday morning, Chukharev's parents, Igor and Dina, his attorney, and Russian Ambassador to Costa Rica Alexander Dogadin, expressed frustration and outrage that Costa Rican officials had not informed them of the pending extradition. Nor were any of them allowed to speak with Chukharev before the United Airlines flight departed shortly before noon.
"We were awakened early this morning by a call from Max's cellmates, who told us, 'They took Max,'" Chukharev's father, Igor, told The Tico Times. "We couldn't believe it, because the Russian Embassy had promised us that he wouldn't be extradited without our knowledge."
Dina, Chukharev's mother, added: "If his cellmates hadn't called us, we wouldn't have even known Maxim was out of the country. How could Costa Rica do this?"
Dressed in a gray suit, Ambassador Dogadin also sped to the airport when he received the news, and tried to meet with Chukharev, but was prevented by the United Airlines pilot from boarding the plane.
"My reaction, as a human being, is that this is a deplorable situation," Dogadin said. "What worries me most is that the decision to carry out the extradition completely ignored our embassy, because we weren't notified. This is not how things are done. There are legal rules and obligations that govern bilateral relations. And it is very sad that Maxim didn't have the opportunity to at least say goodbye to his parents, and we who represent his country were unable to gain access to him. We will certainly be releasing an official statement regarding this incident."
Chukharev's attorney, who asked that her name not be published, said she was prevented from seeing her client by Costa Rican authorities, and never received official notification that his extradition had been granted.
The Tico Times contacted a spokeswoman for Costa Rica's judicial branch, who was unaware that Chukharev had been extradited. The spokeswoman said she would return our call with more information later in the day. We will publish those comments as soon as we receive them.
U.S. Embassy Information Officer Eric Turner told The Tico Times, "We followed all of our normal rules and procedures for extraditions. He [Chukharev] was sent to the States to face the charges against him. We handle these sorts of cases regularly."
The original story continues here:
Liberty Reserve founder Arthur Budovsky, 40, also awaits extradition from Spain.
The seven defendants are accused of three felony charges of conspiracy to commit money-laundering, conspiracy to operate an unlicensed money transmitting business, and operating an unlicensed money transmitting business. Although the last two charges do not exist in Costa Rica's Penal Code, together the three charges carry a maximum sentence of 30 years in U.S. federal prison. According to Costa Rican legal experts, Chukharev only can be extradited on the first count, conspiracy to commit money laundering, which is a crime in Costa Rica.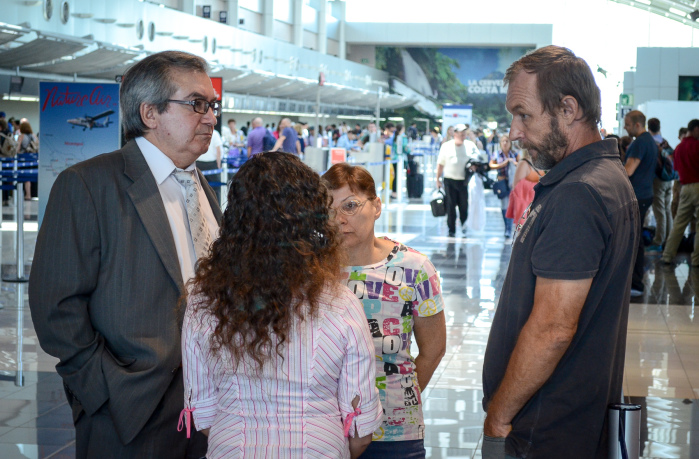 Updates continue here:
Chukharev does not have an attorney in the U.S., and likely will be assigned a public defender, his Costa Rica-based attorney said.
Last weekend, in what he said was an "act of protest against the violations of my human rights committed by Costa Rica," Chukharev took a string of dental floss and a needle and sewed his lips shut. He then took a blade and sliced open his stomach. The injuries were not life-threatening, and Chukharev refused to be transported to a hospital.
In a conversation with The Tico Times last Saturday, Chukharev said he was preparing several documents to "tell the press" his rights "had been violated," a reference both to prison conditions and to the judicial proceedings against him. He did not describe those specific allegations, and The Tico Times was in the process of arranging a visit to Chukarev in prison this week.
Meanwhile, standing in the airport parking lot with a bundle of his son's possessions wrapped in a blue prison sheet, Igor shrugged his shoulders and asked, "What can we do?"
Recommended: A Russian patsy or high-tech criminal?
Read all of our stories on the Liberty Reserve case at hashtag #LibertyReserve