It is no secret that Costa Rica is a place of stunning natural beauty full of endless amazing waterfalls. Some that are hidden and off the beaten path and others that are so popular they attract people from all over the world.
Whether dramatic and powerful to cascading and tranquil there is something so awe-inspiring about it all. How nature has created such breathtaking formations amongst the lush flora of its rainforests and jungles. Here are just 4 of the most visited waterfalls in Costa Rica out of the hundreds that are tucked away amongst Costa Rica's enchanting landscape.
1. La Fortuna Waterfall
One of the most well-known and perhaps most popular waterfalls in Costa Rica is La Fortuna's waterfall. It takes you down around 500 steps so save some strength and water for the climb back up. They have provided places to sit along the way to rest and handrails to help you on your climb. So don't be discouraged, it is truly worth it.
The walk down through the tropical forest is gorgeous within itself as you descend the stairs engulfed by the lush trees. With remarkable lookouts and a large platform, you can capture some amazing photos of the famous waterfall.
After hiking down, taking a dip in the pool of water is the perfect treat in its cold waters. Many spend time along the rock's edges and sit out admiring its power and beauty.
A visit to La Fortuna waterfall comes with plenty of amenities making a trip here comfortable and easy. There are change rooms and bathrooms at the top along with a gift shop.
It does come with a price though, $18 for adults, and children 8 and under are $5. Nationals 19-64 years of age are $9 and ages 9-18 and seniors 65 and over are $4.
2. Montezuma Waterfall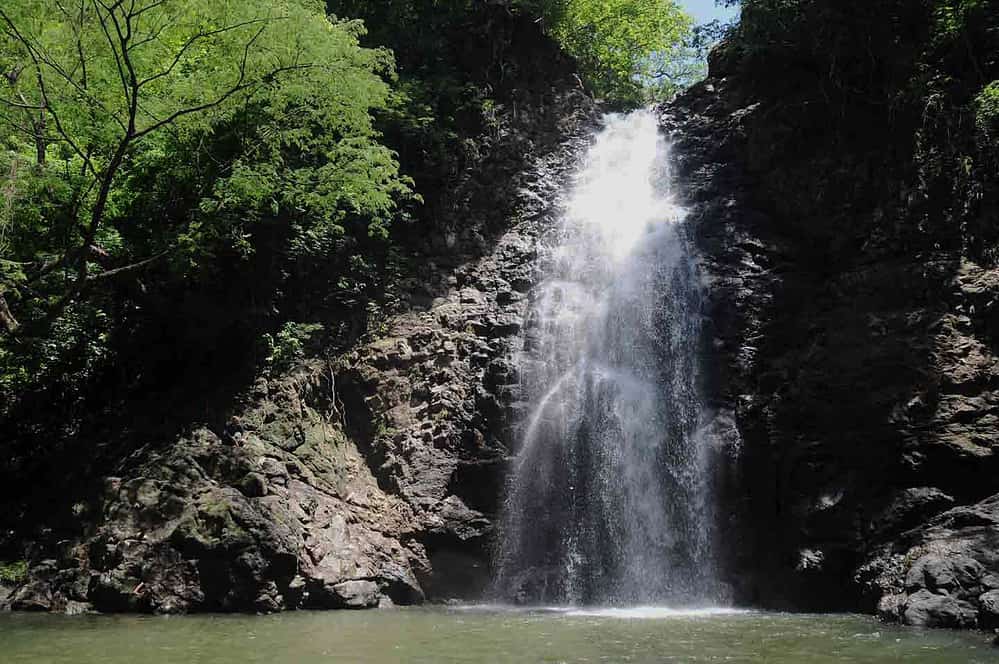 If you make your way to the Nicoya Peninsula then Montezuma is a beautiful spot you want to include on your journey. Within this laid-back beach town is Montezuma Waterfall, made up of 3 tiers of waterfalls. Even if you just visit the most popular lower tier, it is a day well spent you won't regret.
The lower falls are the most popular as it is quick to access from Montezuma's small downtown and easy to find for first-time visitors. It takes you on a bit of an Indiana Jones like adventure trekking over rocks, and flowing water (depending on the time of year), hiking through well-worn paths into the trees, and even a few ropes along the way to help you maneuver.
It feels like a hidden paradise when you arrive. There's lots of space to sit out and relax amongst yourself, picnic, and admire the magic of it all. The pool of water is refreshing and calm along the edges so you can sit and cool off if you don't want to dive in and swim. If you aren't a strong swimmer you don't want to make your way too far out from the edge.
There is no entrance fee here, but there is a small charge for parking in the lot to make your way to the lower tier. If you access the waterfall from Sun Trails to the upper tiers there is also a small fee as it takes you over hanging bridges and through a well-maintained trail as an alternative option.
3. La Paz Waterfall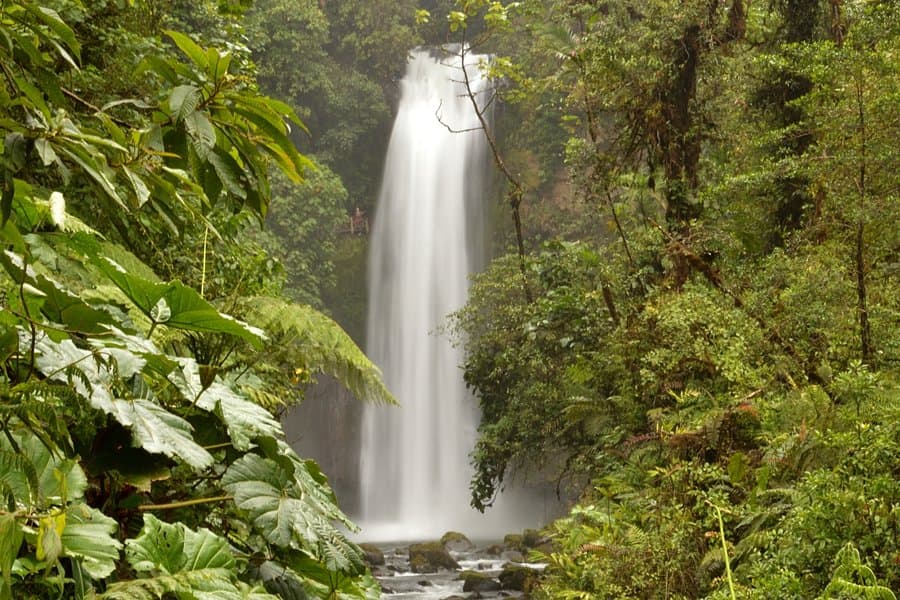 If you want to see a few waterfalls all in one visit, La Paz waterfall is perfect to put on your list of must-see places in Costa Rica. There are 5 waterfalls within the nature park all so beautifully different from one another.
Just 45 minutes from the San Jose Airport is where you can find this eco-park. It is a gorgeous day out even if you aren't in search of waterfalls but want to wander and hike throughout their cloud and rainforest. Or take a step back into Costa Rica's history and visit their traditional casita and learn about the country's oxcart tradition.
The grounds are decorated with pristine gardens to admire leading you to various animal exhibits. You can see tropical birds, frogs and insects, monkeys, sloths, and even jungle cats. These animals have been rescued and are now cared for and rehabilitated here. You can also find a mesmerizing hummingbird area where their garden attracts over 25 different species.
They have made the paths to the waterfalls relatively easy to traverse with handrails and steps so that it's not a strenuous adventure to reach each one. Each waterfall brings its own beauty so if you have the time you should stay to see them all. Templo stands at 85 feet and has a little nook of privacy off the beaten path where you can capture some amazing photos. Magia Blanca is roaring at 120 feet with a viewing platform that takes you up close and personal to feel the rush of the falls.
Encantada is 65 feet in height and tucked away within all the lush greenery you will see Escondida at 15 feet creating a double waterfall. La Paz waterfall is the fifth one standing at 110 feet and its best full viewing is actually outside of the park out along the road.
Although you cannot swim in the waterfalls of La Paz it is not a day wasted. You can spend hours within the eco-park between all the exhibits, and spectacular waterfalls, learning about Costa Rican life and history, and encountering so much of the country's nature and wildlife.
La Paz Waterfall Gardens Nature Park is on the higher end to visit but is worthy of the cost for its beauty along with all there is to do and see. It is $50 for tourists and $34 for children 3 – 12 years of age, while locals and residents cost $30 and $21 for children ages 3-12.
4. Rio Celeste Waterfall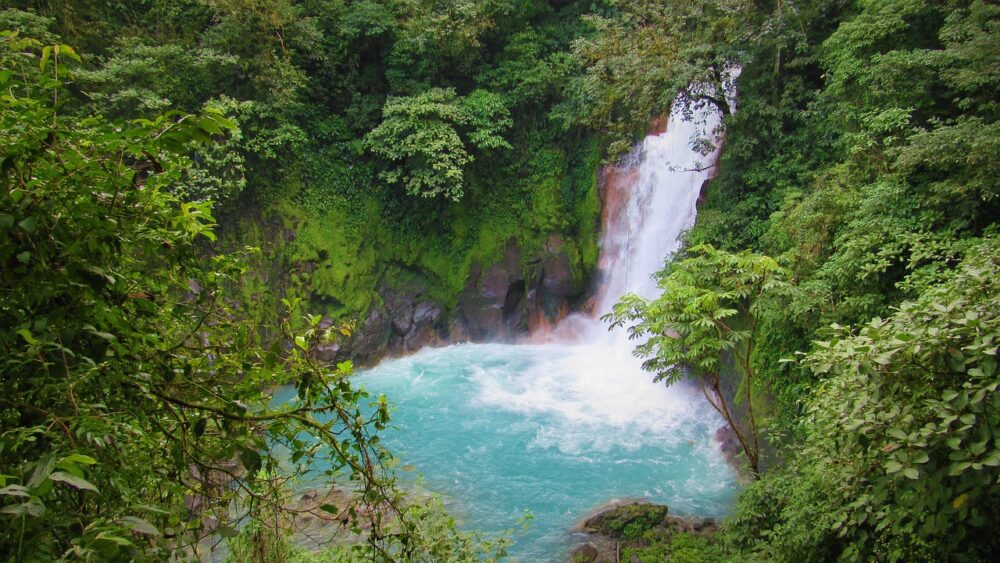 Found in the rural northwestern part of Costa Rica in Guanacaste's volcanic mountain range, one of the closest towns to Rio Celeste waterfall is Bijagua. To reach this famous waterfall, one must visit Tenorio Volcano National Park. Within is where you can witness the captivating colors of Rio Celeste and its unique waterfall. It has become one of the most popular destinations to visit as many want a chance to see its electric sky-blue colors.
Engulfed in vibrant greenery, the waterfall descends 295 feet into an incredible pool of bright blue waters. The trek to get there is just as captivating immersing you into the forest through a hiking trail, across a hanging suspension bridge, rocky areas, and even stream crossings. Expect about half an hour to complete this part of your journey. However, it is not as strenuous as it sounds and would be considered relatively comfortable for many. Just take your time for those that may need it.
One should be able to handle walking on stairs though as the final part of the journey has you making your way down to the waterfall. The handrails guide your path and the steps are sturdy enough to keep you on your feet taking you out onto a perfect platform for photos.
The contrast of colors from the unbelievable blue and white against the lush green creates phenomenal images. You can capture some remarkable photos both on the staircase and down on the platform.
Rio Celeste Waterfall may be a bit more remote and a waterfall that you can't swim in, however, it can get busy during high season with its growing popularity. If possible, try and arrive early, entry begins at 8 am and the last time of admission is 2 pm as the national park closes at 4 pm. There is a limit to the number of people admitted in per day. If you are a non-resident the entry fee is $13.56 and children are $5.56.  For those that are citizens and residents, it is 904 colones and children are 565 colones. Expect to pay a small parking fee as well.
It is also a great opportunity when you are visiting to witness one of Costa Rica's natural wonders, the blue river, where the convergence of the two rivers creates a vibrant and remarkable blue. There are also bubbling thermal springs and a blue lagoon. So don't cut your visit short and take advantage of exploring the national park in its entirety if you can do so.
Final Thoughts
These are only 4 of the endless waterfalls that are throughout Costa Rica. There are so many tucked away that we hold close to our hearts bringing us a much-needed escape into the calmness of nature. Not one should be compared to the other, as they all are wondrous natural treasures of Costa Rica's paradise.