LA FORTUNA, Alajuela — Standing on the rocky bank of the pool under La Fortuna Waterfall was a lifeguard wearing a life vest, holding a flotation device and sporting a whistle around his neck to warn swimmers when they were doing something dangerous.
With my nephews Orpheus and Aladdin in the water, he would be needing the whistle. A lot.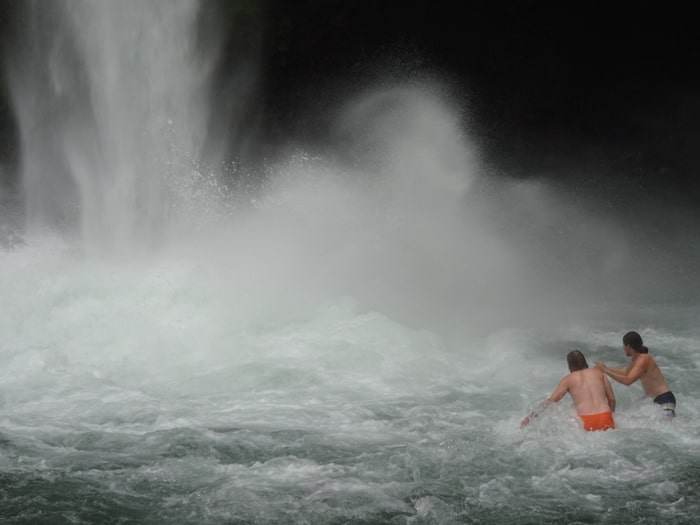 This 70-meter (230-foot) waterfall is one of the most beautiful in Costa Rica and one of the top attractions in the Arenal area. It's visited by 100,000 people a year, according to its website.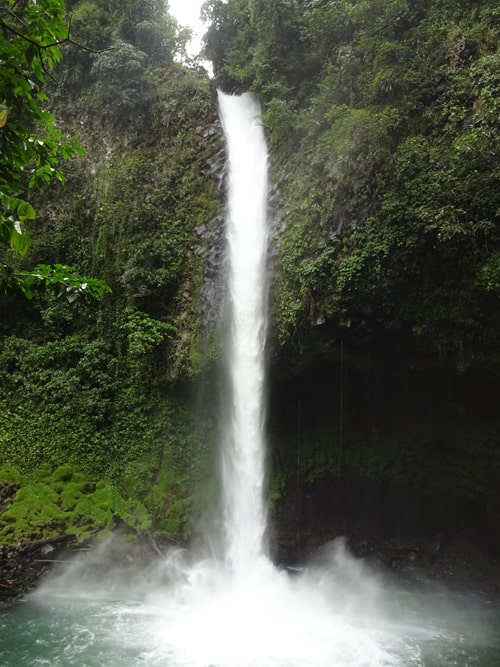 Just 5.5 km southwest of La Fortuna, it's easy to get to on a road that's only partly paved but in pretty good condition.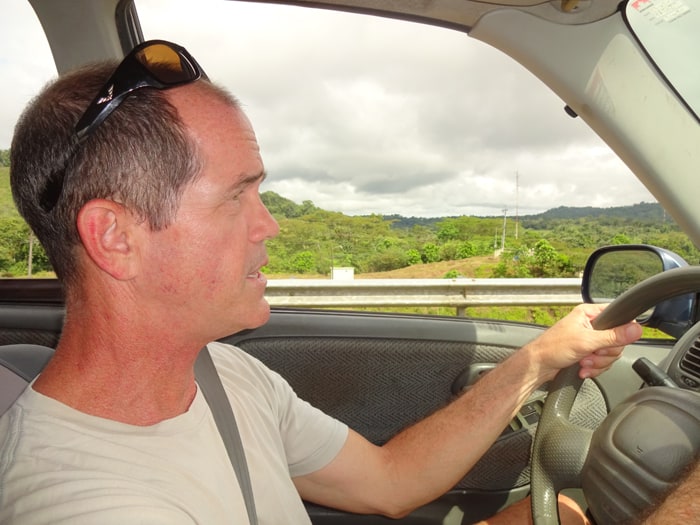 From the entrance, where you pay $11 to get in, it's a 15-minute walk to the fall, with gorgeous jungle views all around. There are well-built stairs until about halfway down, when you move to an easily negotiable trail. When we visited, men were hard at work building an extension of the stairs all the way to the bottom.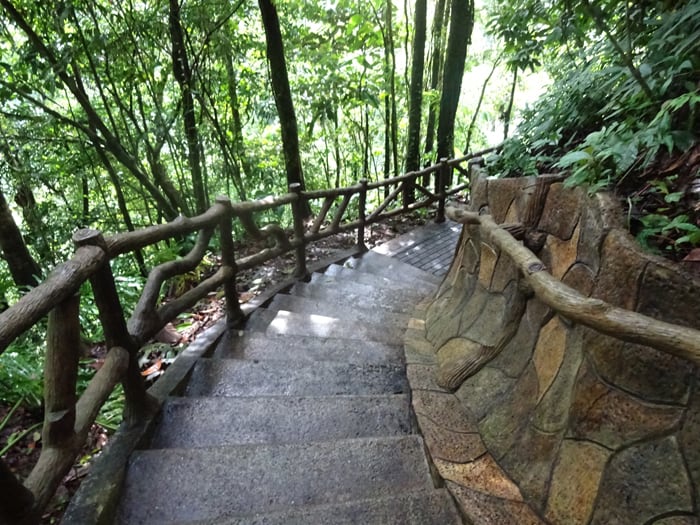 Orpheus and Aladdin plunged into the pool ahead of me and fought the powerful current trying to wade/swim as close to the fall as possible. I found it's nearly impossible to get very close because of the huge amount of water blasting outward from the place where the fall hits the pool.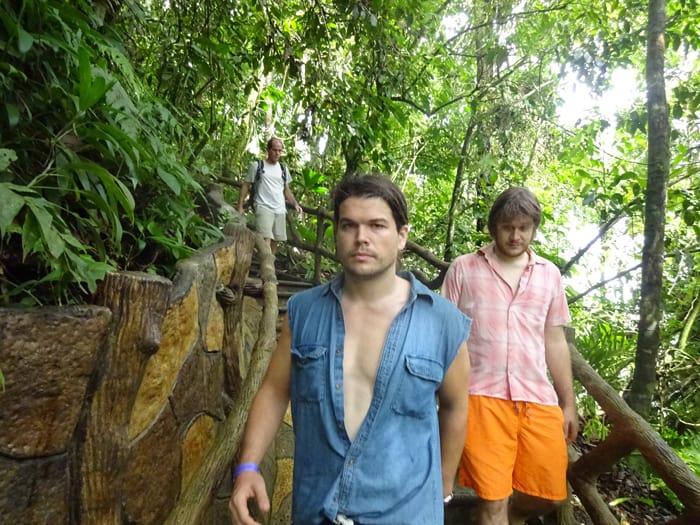 But Orpheus and Aladdin got close enough to earn their first whistle. The lifeguard warned them against getting too close, as the currents can suck you under in the deeper places.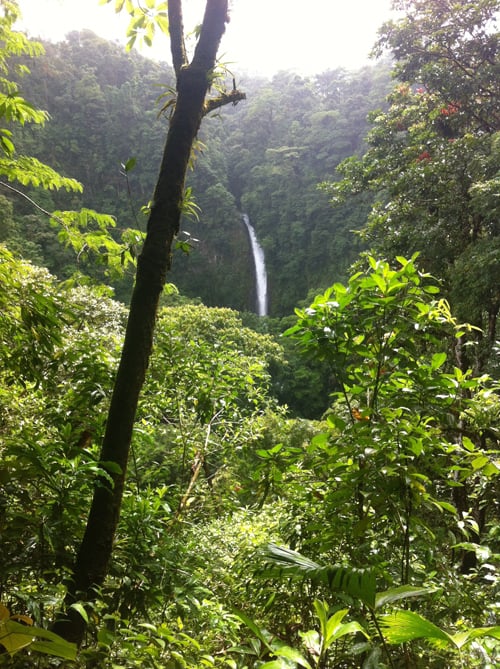 I was in no danger of getting the whistle, as I couldn't get too close if I tried. But it was fun to try staggering forward in waist-deep water with the spray blasting me in the face.
Orpheus decided to venture to the right, where the water gets deep, earning his second whistle. And when he appeared to ignore the warning, the whistle blew again, and again.
Orpheus ended up on the right shore and decided to walk back to the front around the edge.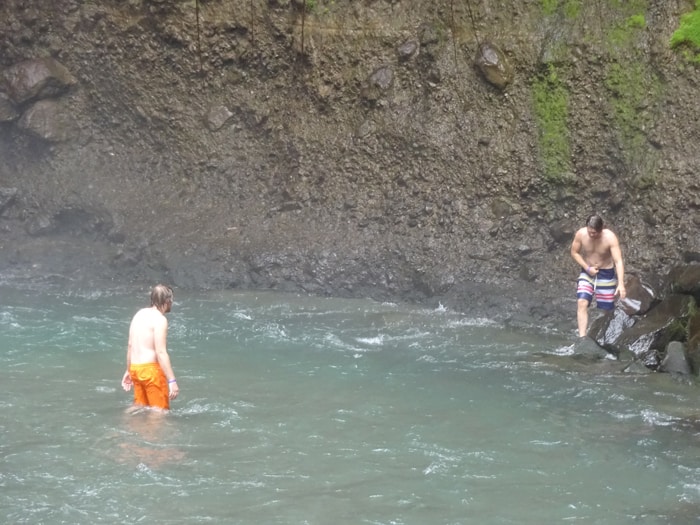 I climbed out of the water and asked the lifeguard, whose name was John Ramírez López, what the dangers were.
"In the swimming area, you don't want to go to the right or to the left, but head for a single point," he said. "Over time the river changes, so you can walk in a circle around the pool, but it's been raining here for four days, and so the water is really powerful. So it's not recommended to get too close. Just go to one place."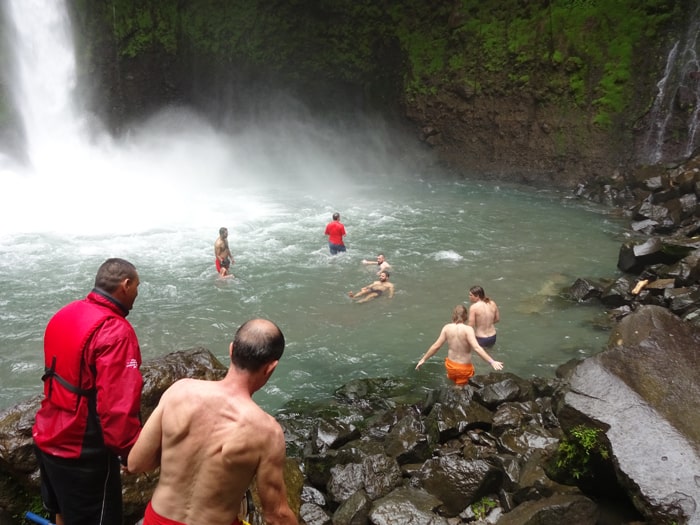 He said he has to rescue people about two or three times a month, but all have survived, "gracias a Dios."
"People get curious to walk around the edge," he said. "There's one part that's pure sand and then it drops off, and you can't kick your feet to go up. You have to take a deep breath and then swim under."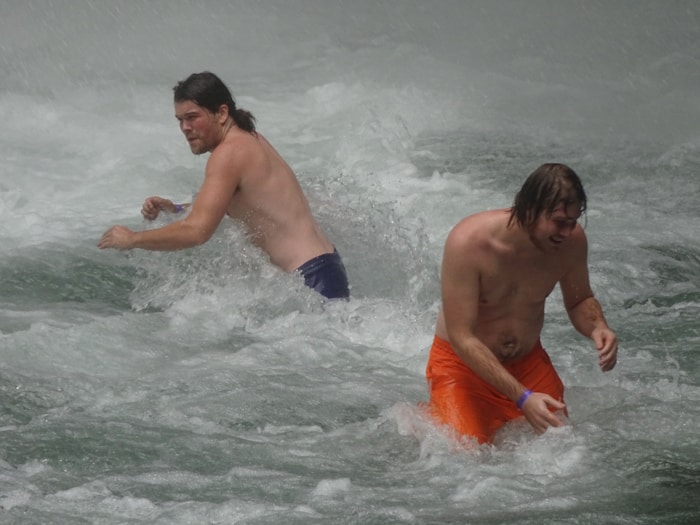 I'll pass.
Soon Orpheus was back in the middle of the pool and was now venturing to the left.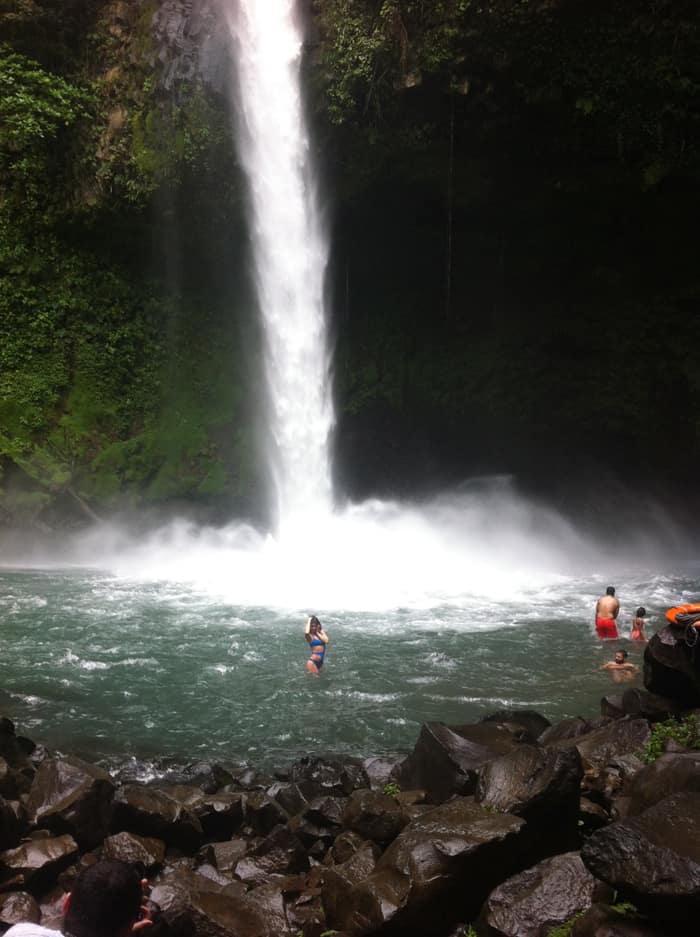 "PEET!" went the whistle. And when that went unheeded, Ramírez whistled twice more.
"Is that your friend?" he asked me.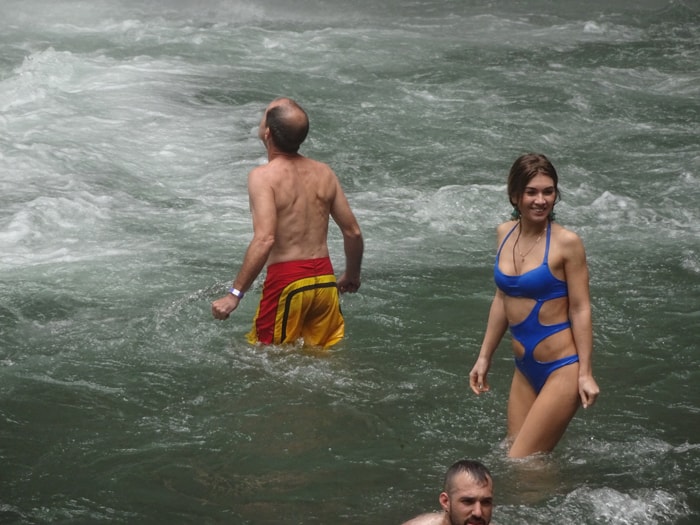 "My nephew," I said. "He's kind of crazy. But very strong."
In my opinion, this swimming area needs a big sign that tells people where to swim and where not to swim, and warns of the deep places and powerful currents that can suck you under.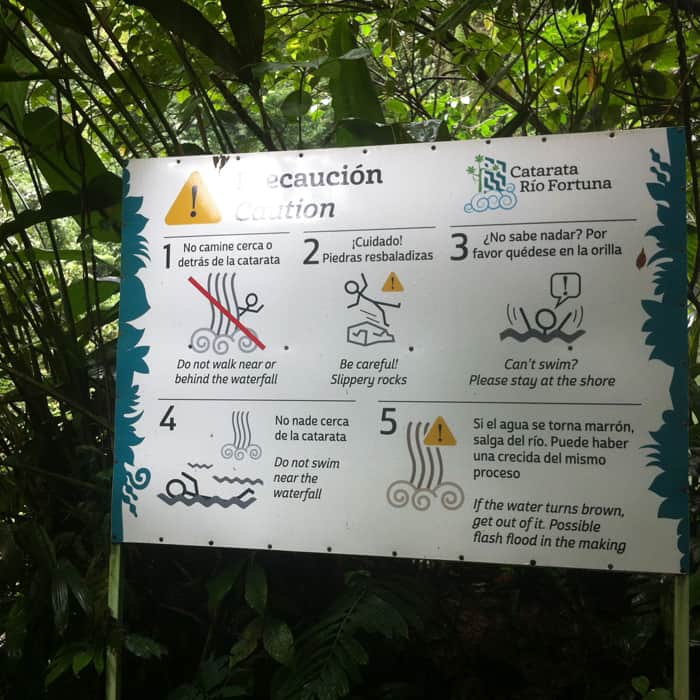 We headed back, and I tried counting the stairs from the pool to the top. I might have miscounted where I stopped to chat with someone.
But I counted a total of 492.
IF YOU GO       
Getting there: You can take a taxi from La Fortuna for about $10, according to the waterfall's website. To drive there, head south of town on the road toward La Tigra, and look for the sign instructing you to turn right shortly after Arenal Country Inn.
Hours: 8 a.m. to 5 p.m.
Phone number: 2479-8338
Admission: $11
For more info: http://cataratariofortuna.com
Contact Karl Kahler at kkahler@ticotimes.net.