Costa Rica will allow beaches and some national parks to reopen under strict sanitary guidelines, President Carlos Alvarado and Health Minister Daniel Salas announced Monday afternoon.
The news is among several changes that will take effect starting Saturday, May 16, in an effort to reactivate the country's economy while managing the spread of the coronavirus.
Costa Rica has reported nearly a month of declining active coronavirus cases. Authorities will gradually adjust restrictions every two weeks based on the epidemiological curve, the Health Ministry said.
Opening beaches and protected wildlife areas — which have been closed since mid-March — will help Costa Rica promote domestic tourism, part of a plan to support an industry that has been paralyzed by the pandemic.
But some of the country's most impactful restrictions, including the suspension of mass gatherings and a ban on arriving tourists, will continue.
Here is a list of changes announced Monday. These take effect May 16:
Beaches can open from 5 a.m. to 8 a.m. during the week.
The following national parks can open at 50% capacity: Irazú Volcano, Poás Volcano, Guayabo, Braulio Carrillo, Carara, Corcovado, Manuel Antonio, Cahuita, Arenal, Rincón de la Vieja, Los Quetzales and Tapantí. Monteverde, a private reserve, can also open. Tickets must be pre-purchased. (More parks will open June 1.)
Non-contact sports are fully permitted, as are contact sports without spectators.
Hotels of maximum 20 rooms can open at 50% capacity.
During the week, the vehicular restrictions have been reduced. They will now begin at 10 p.m. through 5 a.m. the following morning.
During the week, establishments with sanitary permits (e.g. restaurants, shops, shopping centers, theaters and cinemas) can remain open until 10 p.m.
In June, Costa Rica plans to further relax measures for restaurants, hotels and museums, if the epidemiological curve permits.
Costa Rica will keep the following activities closed indefinitely:
Mass gathering events and public spectacles
Event halls
Casinos
Community fairs
Amusement parks and similar events
Dance clubs
The current border restrictions will remain active until at least June 15. Under the current timeline, beaches won't fully reopen until July 13.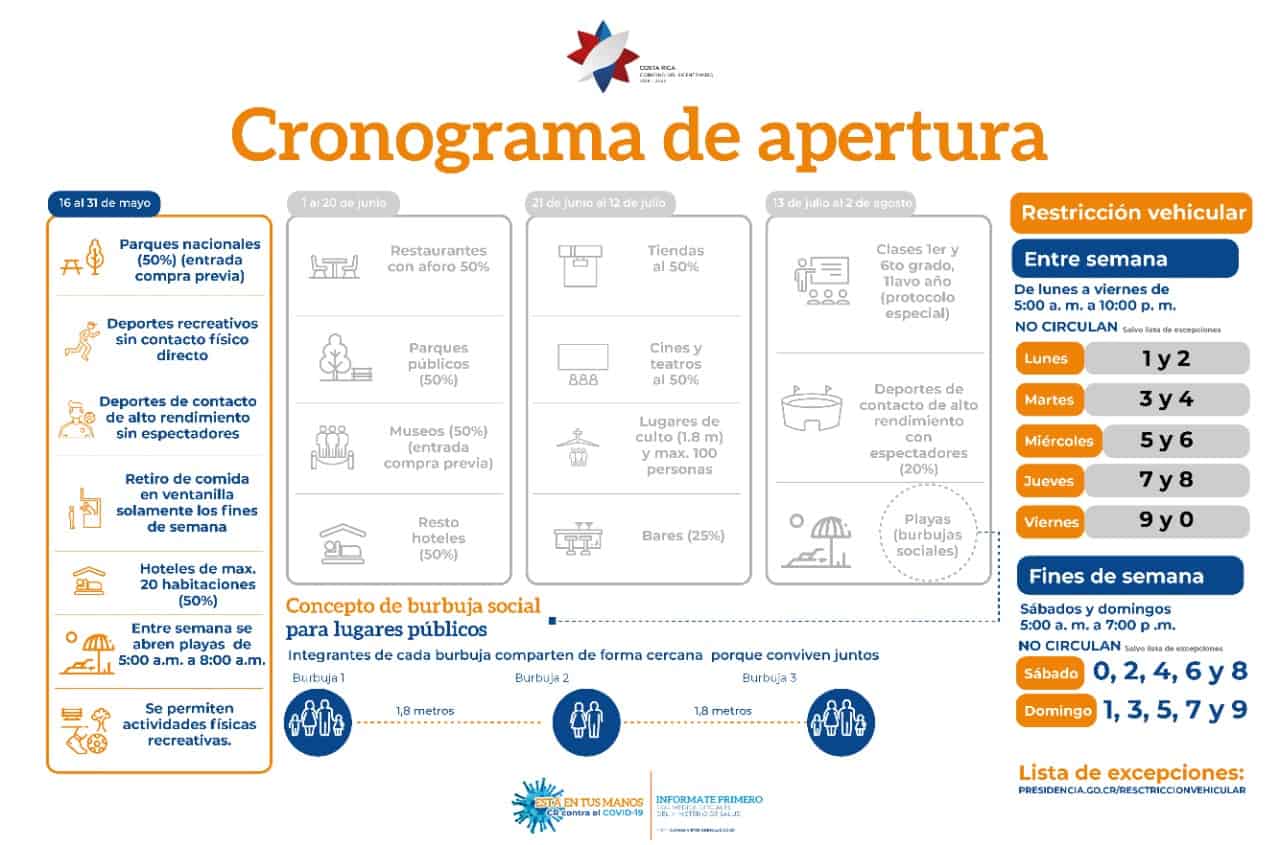 The easing of social distancing measures carries some risk, authorities acknowledged. Costa Rica's public health system has 140 intensive care beds — meaning it has a limited capacity to respond to a sudden rise in critical COVID-19 patients.
And while Costa Rica has largely managed to contain the coronavirus, the country could experience a rapid rise in cases since the majority of the population likely hasn't been exposed to SARS-CoV-2.
Costa Rica declared a State of Emergency due to the coronavirus on March 16. It has suspended mass gatherings since March 9 and closed its borders to arriving tourists since March 19.
The crisis has had a significant impact on the country's economy. The Central Bank projects Costa Rica's Gross Domestic Product (GDP) will decrease by 3.6% in 2020 due to the coronavirus pandemic.
All branches of economic activity have been hit by the crisis, the Central Bank says, but the tourism sector, which comprises an estimated 8.2% of Costa Rica's gross domestic product, has been particularly affected. Nearly 220,000 people are employed in the tourism sector, according to official data.
'Golden rules' for containing coronavirus spread
The Health Ministry announced a series of "golden rules" that should be observed by all residents of Costa Rica.
No one with a cold or flu, or with respiratory symptoms, should leave the house.
People with coronavirus risk factors should avoid going to public places.
While in public, maintain a distance of 1.8 meters (6 feet) between anyone not in your "social bubble" (i.e. the people with which you live).
Do not touch your face in public without first washing your hands.
Do not sing, shout or speak loudly in public.
Wear face masks, especially on public transportation or if remaining in a public place for more than 15 minutes.
If possible, take the temperature of patrons before allowing them into an establishment.
If you believe you may have contracted the coronavirus or have questions regarding the virus, contact Costa Rican health authorities by dialing 1322.