Before you fly Spirit Airlines, make sure you know what you're getting yourself into.
As part of our ongoing series reviewing the airlines that fly to and from Costa Rica, we travelled with Spirit Airlines on a recent round-trip to Fort Lauderdale, Florida (FLL).
If you don't read to the end of this story, do read the fine print if you're booking with Spirit Airlines. Otherwise, you could be in for a frustrating — and costly — travel experience.
But with the proper knowledge and expectations, flying Spirit can be a budget-friendly and perfectly acceptable experience.
Here's our Spirit Airlines review.
Flight details: Flying Spirit Airlines to Costa Rica
Spirit Airlines offers non-stop flights to Costa Rica from Fort Lauderdale (FLL) and Orlando (MCO), Florida. As of February 2020, Spirit only serves Costa Rica's Juan Santamaría International Airport near San José — it does not fly to Liberia.
We booked a round-trip ticket with Spirit Airlines from San José to Fort Lauderdale for less than $200.
We purchased the ticket using a Chase Sapphire Preferred credit card. The card has a 60,000 point signup bonus, worth $750 toward travel, and it provides travel protection in case of major delays.
This trip-delay insurance can come in handy, especially with Spirit. Since they don't maintain interline agreements with other carriers, if weather or a mechanical issue cancels a Spirit flight, the airline may not book you on another carrier.
Spirit planes are configured in high-density economy class, and its tickets are sold as what they label the "Bare Fare." The reason the base price for a Spirit ticket is often cheaper than other airlines is because it comes unbundled. (In other words: everything costs extra.) Bringing a full-size carry-on, checking a bag, choosing your seat, drinks or food — you've gotta pay for it. And unless you shell out for a so-called "Big Front Seat" or an exit row, you'll get an industry-low 28 inches of seat pitch. 
Spirit recently unveiled new — and ostensibly more comfortable — seats, but those might not be installed on existing planes. 
To summarize, Spirit Airlines often appears to be the cheapest option, but that's before considering many add-ons other airlines provide as standard.
Spirit Airlines: Check-in and airport experience
The cost-cutting measures with Spirit Airlines continue at check-in.
Printing a boarding pass with an agent costs $10 per ticket. The rationale is that Spirit can minimize labor costs when passengers check-in online and print their own boarding passes (for free) at home or at the airport's check-in kiosks.
The not-so-good-news: The Spirit iPhone application, which claims to have mobile check-in, crashed every time I tried to use it before my departure from Costa Rica. Thankfully, Juan Santamaría International Airport has plenty of check-in kiosks. 
Once through security and while queuing for boarding, gate agents were vigilant about the size of passengers' carry-on bags. A personal item (think: a purse or small backpack) is free with all tickets, but a larger carry-on (think: a roller bag or hiking daypack) is not. Bringing a large carry-on is more expensive than checking a bag, and some unlucky passengers had to pay a hefty charge at the gate.
Some may call this a "hidden fee," but I found Spirit to be quite transparent throughout the booking and check-in process. Both online and at the airport, the airline repeatedly explained what would cost extra.
Spirit: In-flight experience
Unless you pay to choose your seat, Spirit will assign you one randomly. On both flights, I was unlucky and ended up with a middle seat.
It wasn't as bad as I expected, though I admittedly had rock-bottom expectations. Is it the most comfortable seat in the world? Far from it — but it was passable.
But for some people, these shortcomings may be deal-breakers:
There is very limited space under the seat in front of you. If you put your personal item there, it significantly limits legroom. The legroom is otherwise okay if you're less than 6 feet tall and put your personal item in the overhead bin.

The seats don't recline. That's fine by me — I wouldn't want anyone reducing the already cramped personal space. Spirit says its seats are "pre-reclined" to offer more passenger comfort.

The tray table is awful. There's no other way to describe it. It's tiny — so forget about getting any work done on a laptop. Calling it a tray "table" is an insult to perfectly good tables everywhere.

The storage is similarly bad. Rather than a full-size seatback pocket, the seats have just enough elastic to hold the safety card.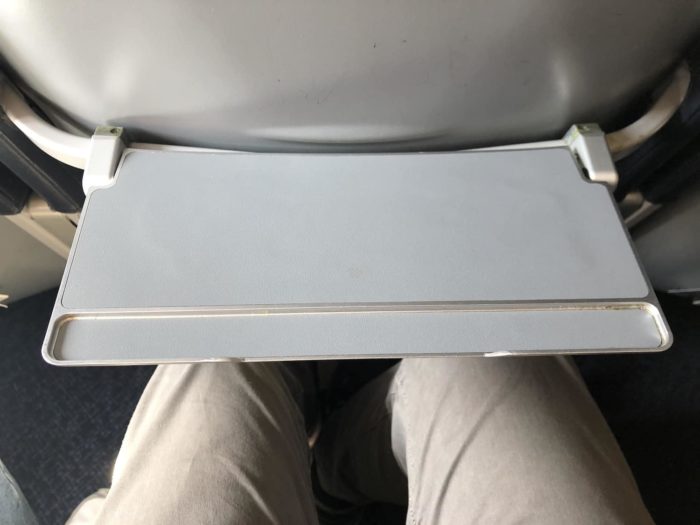 To continue the no-frills experience, there was no in-flight entertainment of any kind (except for the window). This means no Wi-Fi, no streaming movies, no seat-back screen, no magazine. Come with a book or with content downloaded onto your phone/tablet, or you might get bored.
Spirit does say it's installing fleet-wide WiFi in 2021.
Finally, there are no complimentary refreshments of any kind. Even water costs $3. There are alcoholic beverages and snack foods available for purchase with a credit or debit card only.
Flying can be dehydrating, so bring a water bottle (and maybe a snack).
Summary: Flying Spirit to Costa Rica
Spirit got me from Point A to Point B on-time and without much hassle. If that's all you need, I could comfortably recommend Spirit.
However, if you need more — any luggage, for example, which costs at least $25 each way for a checked bag and $30 each way for a carry-on — the prices can quickly add up. And if you'd ultimately spend a comparable price with Spirit than you would with a different airline, consider booking with a more full-service carrier.
If the prices are comparable, a different airline could make your journey more comfortable. (JetBlue offers free WiFi, Southwest has two free checked bags, Delta provides a full meal, and so on. And all of their seats are more comfortable.) 
Ultimately, I spent $193 for the "bare fare" and $45 for a checked bag on the return leg — that's $238 total. That was exactly $50 cheaper than the next-lowest price, which was on Southwest.
Was saving $50 worth it to fly Spirit, when the alternative was an airline that would've allowed me to bring two checked bags in each direction, provided a much more comfortable seat, and served free snacks and drinks? In my specific case — a budget-conscious person traveling alone with minimal bag requirements — I was happy to spend less money.
But for many others, spending a little more for a full-service experience (or at least a full-size tray table) would've been worth it.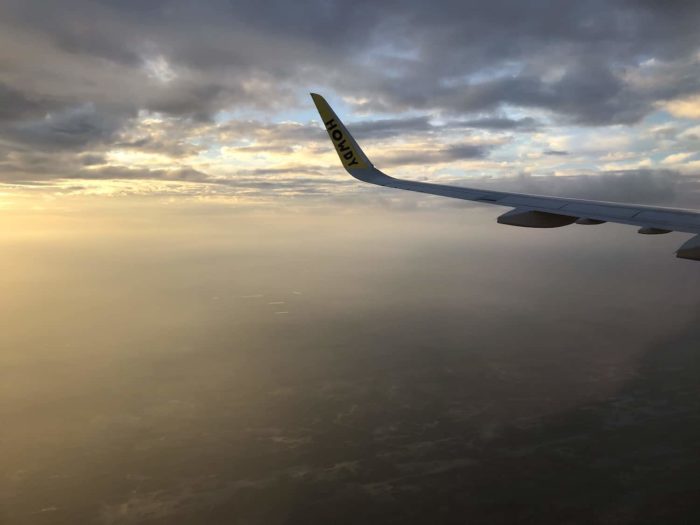 Spirit was not made aware we were reviewing their flights. We may receive a small commission if you sign up for a credit card using the affiliate link.