Costa Rica welcomes more than 3 million tourists each year, and the vast majority of them arrive via airplane.
Because of our large international readership, we at The Tico Times think it important to share our travel experiences on the various airlines that serve Costa Rica. We'll begin our series with a review of Avianca, the flag carrier airline of Colombia.
Avianca is among the world's oldest airlines, and it celebrated its centennial anniversary last year. Its subsidiary, Avianca Costa Rica, is the last remaining vestige of LACSA (Líneas Aéreas Costarricenses SA), Costa Rica's national airline.
We flew four legs on Avianca in January: To and from Juan Santamaría International Airport near San José and Bogotá, Colombia, each with a layover in El Salvador.
Flight details: Flying Avianca to Costa Rica
Booking flights through Avianca is a straightforward process. To book directly, visit their website at avianca.com. Avianca flights will also appear on travel booking sites (such as Expedia or Kayak).
Avianca serves both Juan Santamaría International Airport (near San José) and Daniel Oduber Quirós International Airport (in Liberia, Guanacaste).
Avianca is a member of the Star Alliance, which means you can earn and redeem miles if you belong to any Star Alliance member airline's frequent flyer program. (These include United Airlines, Air Canada, Lufthansa and Copa, among many others.)
We booked two economy tickets using Chase Ultimate Rewards points and a Chase Sapphire Preferred credit card. The card has a 60,000 point signup bonus, worth $750 toward travel, and it provides travel protection in case of major delays.
Avianca: Check-in and airport experience
Twenty-four hours before our flight, Avianca e-mailed us with the option to check-in online. We took advantage to make our airport experience as smooth as possible, and we downloaded our boarding passes to our phones to scan at the airport.
You can also check-in at airport kiosks or with an agent for no extra charge.
No matter your fare class, all Avianca flights between Central American countries (and from the U.S. to Central America) allow for a free carry-on bag and a free checked bag. That's a perk you won't get with many other airlines. (For Avianca's policies, click here)
We were through check-in, immigration and security quickly in both Costa Rica and Colombia, and we had plenty of time at our gates before boarding.
While we only transited through El Salvador International Airport, the experience at Avianca's Central American hub was considerably more hectic. The building feels cramped, and during both layovers, we saw lines to use public bathrooms and a scrum in the middle of the terminal as passengers traveling to the United States waited to pass a second security screening.
Avianca: In-flight experience
Avianca does a lot of things well, but it leaves some things to be desired.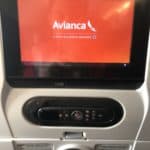 We'll start with the good: Avianca's Airbus A320 and A321 aircraft, which operated our flights, offer between 31 and 32 inches of pitch in economy, which felt plenty roomy. The seats also had moveable headrests with adjustable wings for neck support.
Each economy seat had a small personal touchscreen TV and a wired remote. The entertainment systems were loaded with dozens of TV shows, music and games — available in Spanish, English and Portuguese. Every row of three seats shared two power outlets.
During all four flights — even the short hops between El Salvador and Costa Rica — the flight attendants offered a snack and drink service. The snacks were on the larger side — a small wrap or sandwich, rather than the traditional (tiny) bag of pretzels. The food was never great, but the gesture was nice.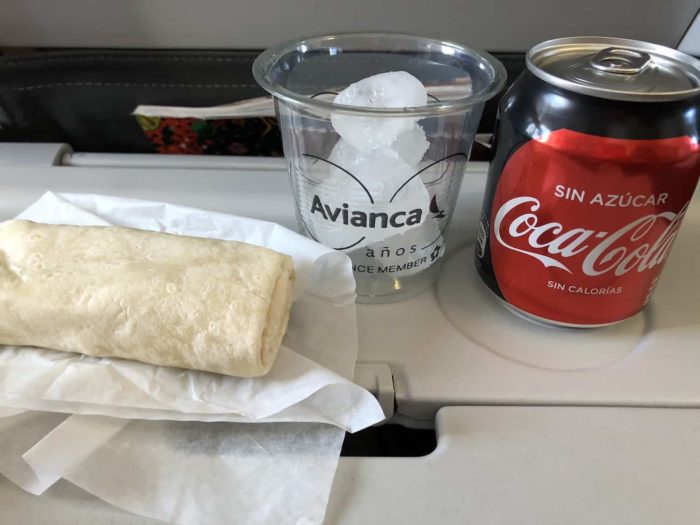 Finally, because of the generous checked-bag policy, we never had an issue finding overhead bin space for our larger backpacks.
Now for the bad: None of our four flights had WiFi. Avianca says it's expanding internet options on its planes, but for now, don't count on getting work done. And on two of our four flights, the tray table was in rough shape — one still had trash in the cupholder, and another was wobbly to the point of being unusable.
Summary: Flying Avianca to Costa Rica
Flying Avianca was overall a positive experience, even if there are areas for improvement.
Avianca is a full-service airline, and it treats passengers like one: You won't feel nickel-and-dimed for bags, the seats are comfortable enough, and you'll get a drink and a snack even on short flights.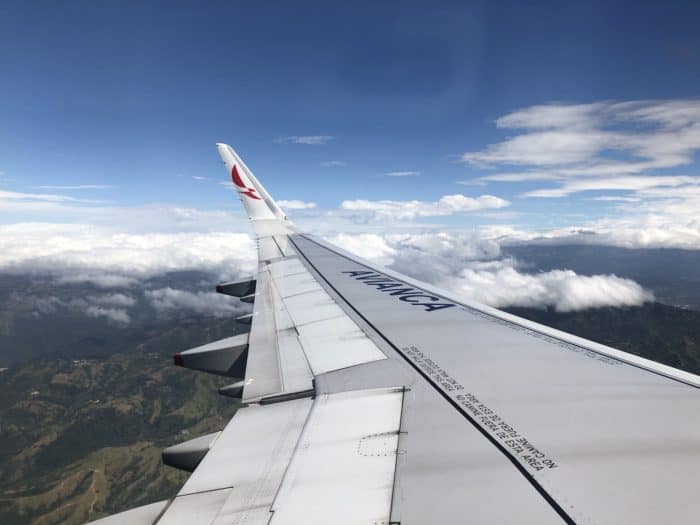 But there are notable areas for improvement. Better cleanliness would go a long way, and WiFi is increasingly an expectation for passengers — especially on longer flights.
I would gladly fly Avianca again. But how does it stack up against other airlines that serve Costa Rica? Stay tuned in the coming weeks to find out!
Avianca was not made aware we were reviewing their flights. We may receive a small commission if you sign up for a credit card using the affiliate link.