I was found all alone on the ground in Tamarindo. I had fallen out of a tree and was in great pain. I had a bump on my head and had somehow lost a part of my tail. A nice lady found me and got me to Sibu Wildlife Sanctuary where I am receiving lots of food, warmth and love. I was about 3 months old when I was found. I weighed only 516 grams, but now I'm a whopping 604 grams! My favorite things to eat are lettuce and watermelon. I like playing with other baby monkeys, and Cleo is my best friend. She is smaller than me, so it's easy to steal her lettuce! One day, when I'm big and strong, I will be released back into the jungle, but for now I'm happy in my home at Sibu.
Visit www.sibusanctuary.org to see how you can help Georgie and his friends.
Location: Sibu Wildlife Sanctuary is located in Santa Marta, located a few kilometers north west of Nosara on the Nicoya Peninsula.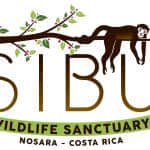 SIBU's mission is to rescue injured, orphaned, and displaced wild animals and provide them immediate medical care, rehabilitation, and eventual release into the wild. When the animals are determined to be strong, healthy and old enough to be re-integrated into the jungle they begin a step-down release program. Animals unlikely to survive in the wild receive a permanent enriching habitat for their life-term care.
Become a monthly donor here.