Costa Rica's Health Ministry has issued a sanitary alert over several brands of alcohol that may be adulterated with deadly amounts of methanol.
According to the alert, alcohol sold under the following labels may be adulterated: Guaro Montano; Aguardiente Barón Red; Aguardiente Timbuka; and Molotov Aguardiente.
Authorities are investigating reports of at least eight deaths in June and July related to methanol poisoning.
The Health Ministry says the Guaro Montano, Timbuka Aguardiente and Molotov Brandy brands have all been registered for legal sale in Costa Rica, suggesting vendors are — perhaps unknowingly — selling counterfeit products.
The Health Ministry recommends the following:
Do not consume Red Baron-branded alcohol. It is not part of Costa Rica's sanitary registry and therefore may be dangerous.
Do not consume or purchase Guaro Montano, Timbuka Aguardiente or Molotov Brandy until the health alert is lifted, unless you can verify it is the original product.
Report to the Ministry of Health (denuncias.drpis@misalud.go.cr) if you have symptoms of methanol poisoning after consuming alcohol.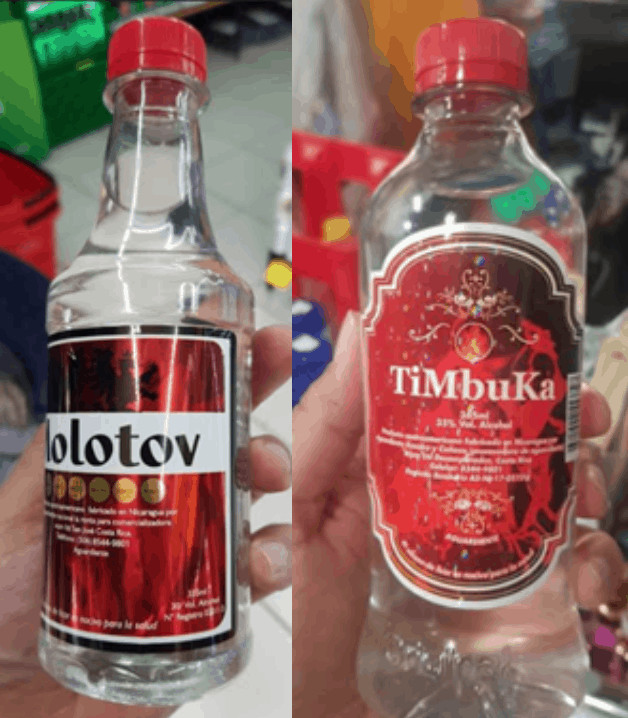 According to the World Health Organization, a trace amount of methanol is common in fermented drinks. However, higher concentrations — such as when methanol is added deliberately to alcohol — can be deadly.
Symptoms of methanol poisoning may not appear immediately. They include acute abdominal pain, acute headache and ataxia (lack of coordination of body movements), according to the Health Ministry.
"After a variable period of time, victims start to develop headache, vomiting, abdominal pain and vertigo. They may start to hyperventilate and feel breathless," WHO says. 
Editor's note: A previous version of this story featured a different lead photo for illustrative purposes.