Jason Tayler "JT" Ficociello is a happy craft beer brewer.
The U.S. expat lives in Puerto Viejo and gets to do what he loves ever since he was a 14-year-old teenager in Vermont. Back then he only brewed small batches with the help of his trusty copy of Charlie Papazian's The Complete Joy of Home Brewing.
"In the States you need to be 21 years old to drink but you don't need to be that age to buy malted barley, hops, yeast and then mix it together with water and ferment it," he said cheekily while sitting at his hotel, Kaya's Place, just across from Puerto Viejo beach.
Now he brews a lot more beer.
His other business, Bribri Springs Brewery, started back in 2012 and, now, its craft beers are poured straight from kegs at Kaya's bar or from his own carefully chilled bottles.
The Tico Times team stayed at Kaya's Place a few days back in December.
JT had just arrived from a stay in Vermont where he visited his parents and his son, Luke.
While he was there, three of his brewed drinks fermented in the Caribbean, waiting for a professional tasting. There was a specialty cider; a "Basi" that's fermented with sugarcane and spices; and the "Ursa Major", a mouthwatering "ras" imperial stout. It was JT's favorite and, for what is worth, mine too.
JT served us a tasting round with around three or four gulps in tulip-shaped glasses so we could get a "full bang of the aroma" in our noses.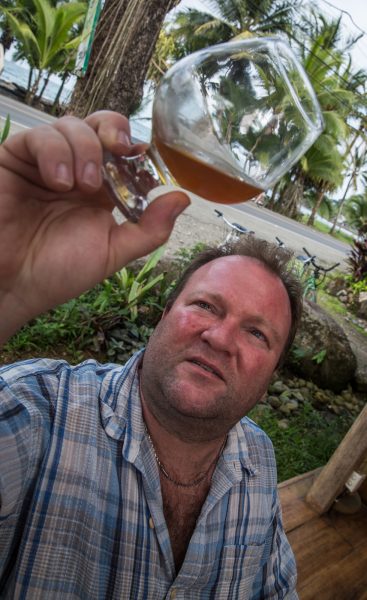 The aroma is rich and deep, a product of JT's meticulous attention to every detail, even the water. Bribri Springs gets its namesake from its farm in Bribri and the source of its beer's main ingredient.
"The water is everything in beer. That [spring] water is awesome," assures JT.
JT's brewery is still the only craft beer business in the Caribbean. Every beer-loving visitor knows about it — I know because a lot of them told me to try the Aurora Borealis, which is a fruity beer. The version I drank was infused with watermelon, but I wasn't a fan.
Everything else was amazing. Before the tasting, I took a shot of the Sun Down Brown and thought it was great. It was flavorful and full of malt. It's exactly why I love dark beers like brown ales, stouts and porters.
The main reason I thought it was so good was that I hadn't tried the Ursa Major, which is awesome and perfect. It was the last beer we tasted because JT made sure we drank the Basi when it was cold and the cider when it was even colder. But he let his Imperial Stout get warmer.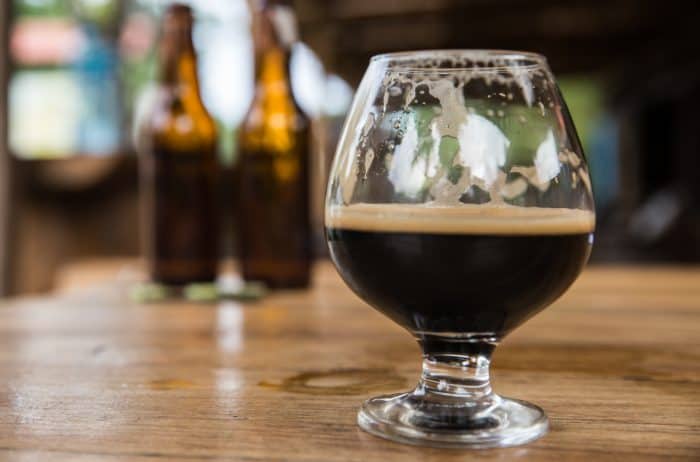 "Creamy. It's good," he said as he watched the dark liquid stick to the glass, almost like a foamy custard. "I'm very happy with that: it's creamy, the bubbles are the right size."
He said it tasted like chocolate, I agreed.
"It's the grains," JT said.
I could tell you a lot of good things of the cider and the Basi too. They were both light and fizzy, perfect for a sunny day in Puerto Viejo. The Basi is an unclassifiable 18 percent alcohol drink that mixes both fruits and spices but tastes "wild and crazy, kinda like me," as JT says.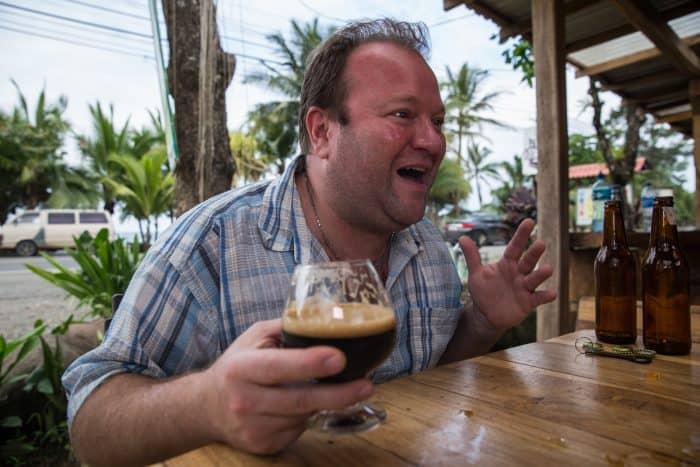 But nothing I write about those two is nicer than telling you that the Ursa Major has earned the right to not get any other kind of comment on this article. Awesome and perfect, that's it.
It's virtually impossible to drink Bribri Springs outside Talamanca: you either buy it there or wait until JT visits one of Treintaycinco's craft beer celebrations. He's usually at the monthly Salón Comunal or the recently Cerveza Indie Fest that is organized by the Asociación de Cerveceros Artesanales.
"In this world of Imperial, everybody who drinks craft is an ally," JT says.
So be an ally, grab your car or take a bus and head to the beach. Make the most of your Puerto Viejo trip and drink a glass of craft beer at Kaya's because it's the only place on Earth you will ever taste it.
---
Kaya's place hosted The Tico Times during the December Deep Dive.
This article was corrected at 3:20 p.m on Feb. 4, 2019. The original article named Justin Tayler Ficociello as the owner of BriBri Springs Brewery. His name is Jason Tayler Ficociello.
This story was made possible thanks to The Tico Times 5 % Club. If only 5 percent our readers donated at least $2 a month, we'd have our operating costs covered and could focus on bringing you more original reporting from around Costa Rica. We work hard to keep our reporting independent and groundbreaking, but we can only do it with your help. Join The Tico Times 5% Club and help make stories like this one possible.
Support the Tico Times