Taj Mahal is well-known and might not be as "off the eaten path" as some of the other restaurants I review, but it was back when I first reviewed it for my high school newspaper in 2005.

Or was it 2006? If anyone from Country Day School is reading this and has a copy, I'd love to see it.
While the owner has changed since then, Taj Mahal still has the best Indian food I've tasted in Costa Rica. Some say it's even better now. The new owner, Kapil Gulati — who also owns another great chain of restaurants called Naans & Curries — is doing a great job.
It seems that the majority, if not all, of the wait and kitchen staff employed by Gulati have relocated to Costa Rica straight from India. I enjoy small talk with them, in English, while I wait for my food. I also like grabbing a table in the back patio so I can watch the chef work at the clay tandoor oven which is full of red-hot, burning coals.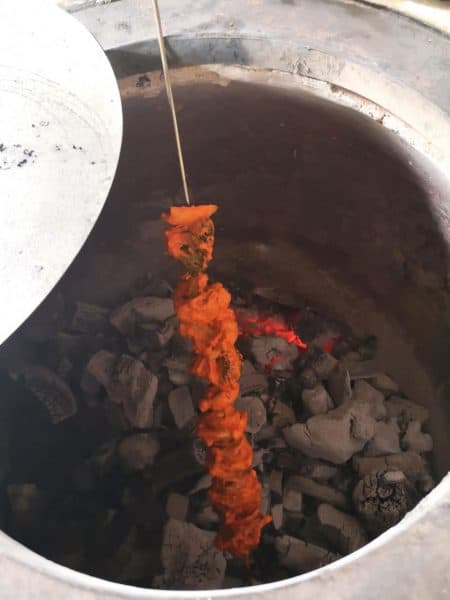 Taj Mahal offers an extensive food menu and a full bar. The food menu is nine pages long and broken down into sections like appetizers, soups, salads, breads. There are different options of meat like chicken, beef, lamb and seafood. They also offer a wide variety of vegetarian dishes. Portions here are generous, so I don't usually try a lot of plates, but what I do fit in is absolutely satisfying.
This time I ordered Masala Papad, which is their play on the classic papadum. These are the thin, disc-shaped chips. They're made from black gram flower, which gives them a unique flavor and texture.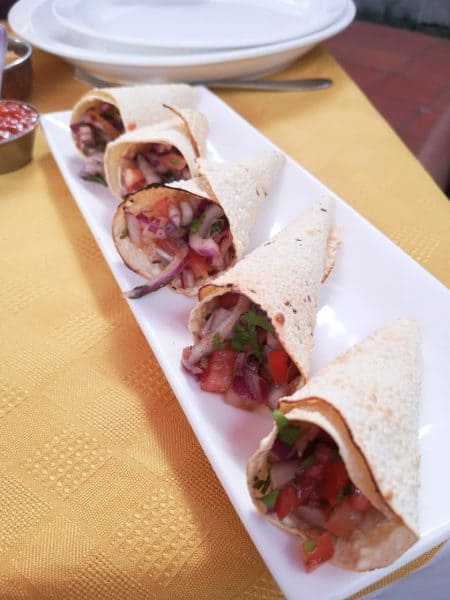 At Taj Mahal, their version is served as an appetizer, and the dough is rolled into a cone shape before being toasting to a crisp. This cone is then filled with a fresh mix of red onion, chopped tomato and cilantro. I guess it's what we would call pico de gallo. I would definitely order it again.
Then I had an order of Karahi Chicken, as I usually do. This recipe from the northern part of India consists of boneless chunks of chicken, cooked in a sauce of tomatoes, onions, coriander and garam marsala.
Of course, I had to get an order of garlic butter naan bread to eat with it. The naan and chicken are both cooked in their clay tandoor oven, which is how it should be. It really doesn't get any better. I ordered mine spicy, but you can choose medium, or mild, to your liking.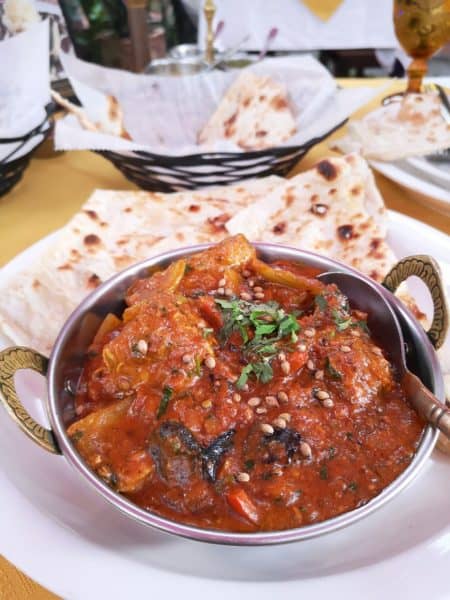 By this point, I was fully stuffed.
Taj Majal is located in the alto de las palomas area of San Rafael de Escazu, in what was once someone's private residence. This expansive house is now a beautifully decorated restaurant, which features a large room in the back that would be ideal for private events, as well as a beautiful, green garden area full of local fruit trees. The garden is also home to two amazing peacocks. It's not something you see every day.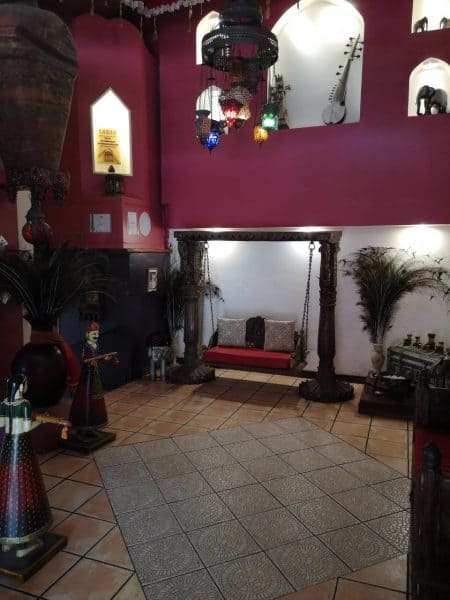 Taj Mahal, though not a formal restaurant, is perhaps not as casual as the places I usually write about in this column. It is slightly more expensive too. Main dishes average around 10,000 colones each (about $17), without including sales or service taxes.
For me, it is totally worth it. The exotic spices and foreign flavors are a joy for the palate. I have fond memories here and look forward to enjoying many more meals in the future.
Taj Mahal is open seven days a week, from noon until 10:00 p.m. They have live entertainment starting around 8 p.m. on Friday night, showcasing traditional Indian dancers. There are a couple of parking spots available on the property, as well as street parking with a private security guard. Search "Restaurante Taj Mahal" to arrive conveniently using Waze or Uber. All major credit cards are accepted.
---
William Ayre is a Canadian born chef and restaurateur who has spent the last half of his life doing business in Costa Rica, where he now considers to be home. Inspired by Anthony Bourdain, Ayre's passion of experiencing different cultures through food has taken him to 35 different countries over five continents. Whether it's a 20-course meal at a fine dining restaurant in Toronto, or cantina hopping in search for the best chifrijo here in San José, he fits in just fine.