San José — In a display of the movement's continued momentum, tens of thousands of protesters once again shut down streets throughout Costa Rica's capital Wednesday.
A wave of people stretching nearly two miles from Paseo Colón to the Legislative Assembly reasserted their displeasure against Law 20.580, Strengthening of Public Finances, which public-sector unions say would place a disproportionate burden on the working class while protecting large industries and the rich.
The fiscal reform is meant to help address Costa Rica's deficit. The nation finished 2017 with a 6.2 percent deficit, and the Central Bank of Costa Rica (BCCR) warned the country's economy could deteriorate without significant tax reform. Tuesday, BCCR issued the government a loan of nearly 500 billion colones (about USD $470 million) in order to pay their expenses for the third quarter of 2018.
While union representatives and the government have met in recent days to resolve their' disagreements on how to approach tax reform, talks have stalled.
As a result, strikes continued with renewed vigor in a demonstration nicknamed "March of the Cats," a tongue-in-cheek response to those who believe the movement represents a small minority of Costa Ricans. When Costa Ricans refer to a small group or poor turnout, they may call it "cuatro gatos," four cats.
Many of the protesters Wednesday wore cat ears, donned custom-made T-shirts, or carried feline-themed signs.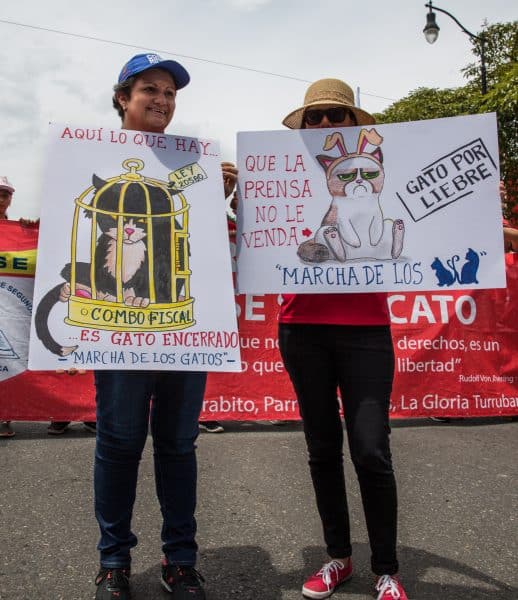 But even those in costume voiced a serious message: That the government ought to recognize how many of its constituents are willing to speak out against the proposed tax reform.
Sergio Garro Mora, a farmer from Los Santos, said he joined the march to represent the poorest citizens of Costa Rica. He drew cheers and applause as he rode through the crowds in a traditional painted oxcart, pulled by two of his animals which he transported to San José. He was followed by a procession of tractors, each overflowing with people.
Since the government doesn't regularly visit the farms, Mora explained, he wanted to bring it to them.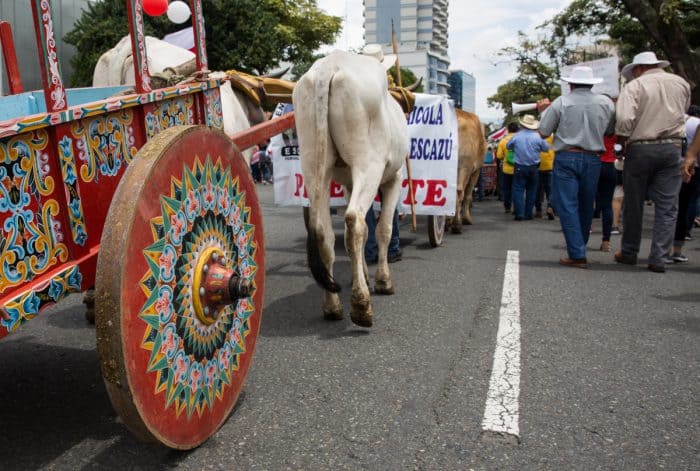 "I come from the fields, but I'm no fool — I'm informed," he said. "We are paying taxes, and the rich are stealing from us. We farmers are on the streets telling the government that we cannot support this.
"We hope that something positive comes of this. This fight is for the people who are the least protected."
The march remained mostly peaceful, though La Nación reported a person was detained after her car hit at least five protesters near the Supreme Electoral Tribunal (TSE) building. The daily also reported transit police stopped more than 20 buses from deviating from their scheduled routes to transport protesters into San José.
But mid-afternoon, thousands of people packed the streets and parks surrounding the Legislative Assembly.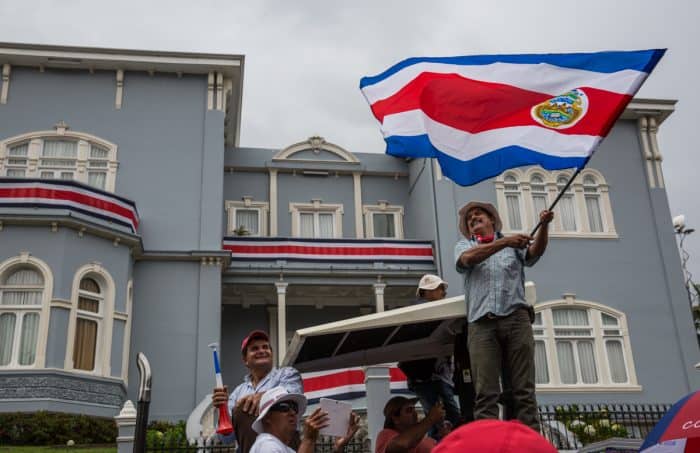 That crowd included Sedias Morales Luis, one of about a dozen members from the indigenous territory Tjai-Cabecar who demonstrated near the Parque Nacional with signs written in Spanish and in the Cabécar language. Morales said many indigenous communities throughout Costa Rica already feel "exploited" by multinational industries and worried the proposed tax reform could worsen malnutrition in his town.
"As Costa Ricans, we need to be fighters to defend our rights," he said. "Whether you are indigenous or not, we all deserve the right to march."
He shared that sentiment with thousands of others, who marched despite the government's efforts to declare the strike illegal. In an open letter to the country Tuesday, President Carlos Alvarado said his government "reiterates its willingness to … clarify or fix" portions of the proposed reforms but that Costa Rica's future rests on fiscal changes being made.
"What we do as a society in the coming days will determine the future of our nation and our families," he said. "Time has run out. The time to resolve this has arrived."
But Wednesday's march proved things are far from purr-fect.