UPDATE: The National Emergency Commission announced that as of 9 a.m. on Sunday, all 150 people that were trapped on Route 32 have been rescued. The route will remain closed as the Public Works and Transport Ministry (MOPT) continues to clear the road from debris.
Hundreds of vehicles were trapped on a section of Route 32 between San Jose and Limon after heavy rains battered Costa Rica Friday night and Saturday morning. There were at least 215 reports of floods and 23 landslides after a high-pressure system brought unusually high levels of rainfall to eastern Costa Rica.
The National Emergency Commission (CNE) is spearheading a joint effort with the fire department, Fuerza Publica, and the Costa Rican Red Cross to help people trapped on Route 32.
So far, 143 adults and 20 children have been freed, but others still remained trapped. There were multiple landslides on Route 32 including on kilometer 18, 21, 29, 35, and 39. The National Roadway Council (CONAVI) has already cleared other affected roads, but the agency is still working on clearing Route 32.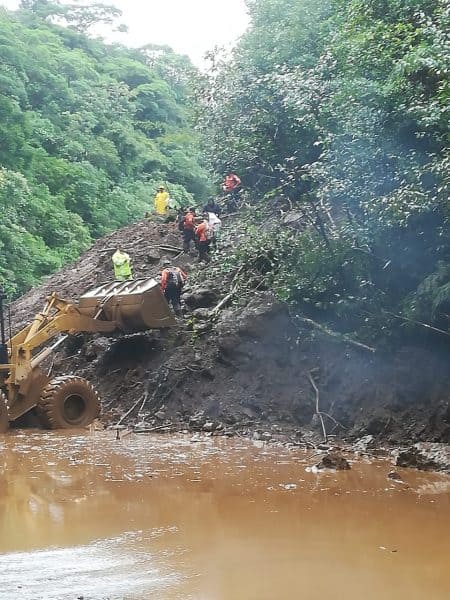 While most of the damage and flooding was reported in Limon, there were reports of damage in Cartago and Heredia. According to Water and Sewers Institute (AyA), Sixaola, San Box, Puerto Viejo, and Hone Creek have no electricity and a clean drinking water plant in Valle de La Estrella is completely flooded, affecting more than 2,000 residents.
The government also opened seven temporary shelters across Limon, Heredia, and Cartago. The four shelters in Limon are located in Batan, 24 Millas, Limon, and Bri Bri while Heredia has one shelter in Puerto Viejo de Sarapiquí. Both shelters in Cartago are in Turrialba, one in Tres Equis and another in Pithaya.
In Turrialba, the National Meteorological Institute (IMN) reported 260 mm of rainfall in just 8 hours. Werner Stolz, of the IMN, says that the normal rainy season weather pattern has returned, but people shouldn't let their guard down because the ground soil is already saturated from the heavy rainfall.