The death toll from weeks of violent unrest in Nicaragua rose to 100 Thursday as embattled President Daniel Ortega rejected calls to step down and the Catholic Church, which has tried to mediate the conflict, refused to resume its dialogue with the president.
At least 16 people were killed and 88 injured on Wednesday and into the early hours of Thursday as pro- and anti-government supporters clashed in a number of cities, the Nicaraguan Center for Human Rights (CENIDH) said Thursday in an updated toll.
It said this was one of the most violent days yet in a wave of protests that began on April 18 against Ortega and his ruling party, the Sandinista National Liberation Front. Over 900 have been injured.
The protests were initially triggered by now-aborted reforms to the near-bankrupt social security system. But the unrest quickly broadened into a rejection by many Nicaraguans of Ortega and his wife, Vice President Rosario Murillo, who are seen as autocratic.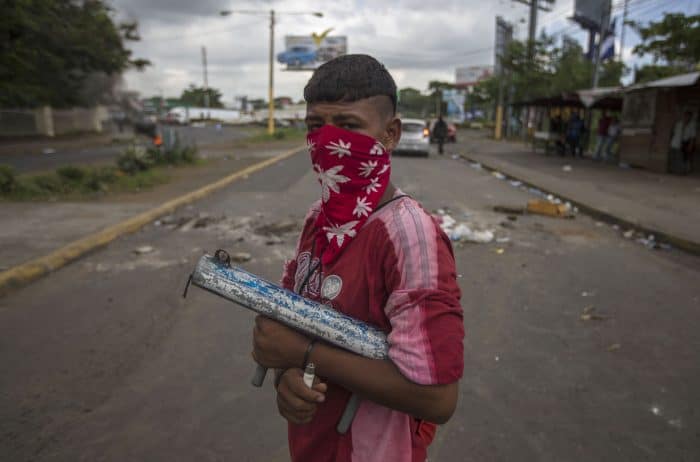 The government and opposition had agreed on Monday to resume peace talks mediated by the Catholic Church that stalled last week.
However, the Nicaraguan Bishops' Conference announced Thursday that it will not resume the dialogue as long as "the people continue to be repressed and killed" by "groups close to the government."
The CENIDH said the latest killings occurred in the capital, Managua,and the cities of Esteli and Masaya, while incidents also took place in León.
"The aggressors were the repressive police and shock forces" who report to Ortega and his wife, according to the rights group.
'Conspiracy'
"Massacre! Shots are being fired against peaceful demonstrators," Managua's auxiliary bishop, Silvio Baez, wrote on social media late Wednesday.
The head of the Organization of American States, Luis Almagro, on Thursday condemned the killings by "repressive forces and the armed forces," and called on Ortega's government to stop the violence.
The U.S. State Department issued a statement condemning the "government's violent response to peaceful Mother's Day marches in Managua and other cities yesterday, including assaults on mothers mourning their children killed since protests began April 18."
Ortega, meanwhile, denounced a "conspiracy" by the opposition aimed at "terrorizing" the people, referring to Wednesday's unrest.
"There are no shock forces or paramilitaries close to the government, so we cannot accept that we are accused of tragic and painful events that we have not provoked and we would never provoke," he said in a statement.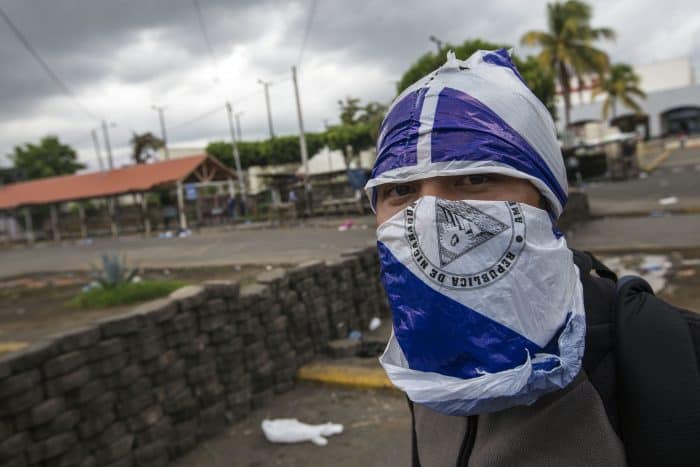 The facilities of the official radio station Radio Ya and a rural credit cooperative were burned and the facade of the national baseball stadium was destroyed.
Offices of the opposition channel 100% Noticias, censored for several days in mid-April by the authorities because of its coverage of demonstrations, and the transmission installations of the opposition radio station Dario in León were also attacked, their owners reported.
'We are all going to stay'
Deputy National Police director Francisco Diaz said "criminal groups" attacked a pro-government event in Managua "with firearms and mortars," leaving seven dead and 91 injured by gunfire, including 20 policemen.
The opposition said Wednesday that one person died when pro-government activists opened fire in Managua on a rally in support of mothers who have lost children in the protests.
The unrest poses the biggest crisis ever faced by Ortega, a former guerrilla leader who first ruled between 1979 and 1990 before returning as president 11 years ago.
In a speech to thousands of supporters in Managua Wednesday night, he vowed to remain in power.
"Nicaragua belongs to all of us, and here we are all going to stay," said Ortega, 72.
The speech came a day after the country's richest and most influential businessman appealed for presidential elections to be moved forward from 2021 in a bid to calm the unrest.
The comments by Carlos Pellas, who controls the vast Grupo Pellas empire, came as a surprise, as the powerful industrialist and other business leaders have traditionally supported Ortega.
"From my point of view, and it is something largely shared in the private sector, we must find an orderly way out of this, in a constitutional way, which implies reforms including a (presidential) election moved forward" from 2021, he said in an interview with newspaper La Prensa.
Ortega must "show the willingness to dialogue and accept fundamental changes," said Pellas, 65, who has not previously spoken out publicly about the crisis.
Amnesty: Nicaraguan government using mobs to suppress opposition