Located in a small space at the corner of the Plaza del Río commercial plaza in Escazú, west of San José, you can find the W22 Galería, which opened in December 2017. The place might look small at first sight, but once you step inside you'll find Cobi Babchuk, an art dealer from the United States with a big, ambitious vision.
His goal: to create a space where Costa Ricans can enjoy the world's finest works of art from contemporary artists.
As his latest project, Babchuk has organized an exhibition called the Escazú Project, which highlights the work of international artists including established artist Zigi Ben-Haim and emerging artist Basmat Levin, along with the Costa Rican artist John Paul Fauves.
"This is our second show," Babchuk told The Tico Times during our interview at the gallery. "It's called the Escazú Project because it's the first time we've brought a show like this in Escazú. We highlight the established artist of Zigi Ben-Haim, which has his permanent collection on the Guggenheim among others."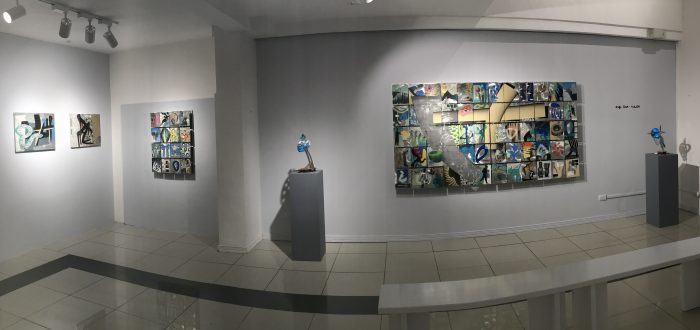 The Costa Rican curator María Soledad Zúñiga chose pieces for the exhibit based on the characteristics of these emerging artists, and arranged them according to the gallery's space.
Each participating artist has a very different cultural background. Zigi Ben-Haim was born in 1945 in Baghdad, Iraq, and had to flee with his family to Israel, the place where he became immersed in art during his teenage years and graduated from the Institute of Fine Arts in 1970. Later on, he studied at the California College of Art in Oakland and the San Francisco State University, where he began developing his artistic style using a mixed media technique combining shiny, lightweight aluminum panels with layers of canvas, paper and paint to create a sense of disproportion.
With the use of these materials, Ben-Haim has developed a critique of modern society and culture, a paradox between progress and decay. His pieces all feature a ant, meant to symbolize the way humans carry loads through their day-to-day existence.
According to Babchuk, the inspiration for the ant is rooted in trips Ben-Haim made to the Costa Rica in the 1960s and 70s.
"The Costa Rica ant here is in his early work. It was carrying a leaf… now, because of the environment and what's going on in the world, the leaf is carrying a brick and the ant is carrying metal. They don't carry nature anymore. They carry the things that you see around us," Babchuk said.
As for Basmat Levin, she was raised in Jerusalem and considers herself a global nomad, using international travel as way to meet people who inspire her work. As she travels the world, she takes photographs of people and later turns those into paintings. She also enjoys creating artwork inspired by flowers.
According to Babchuk, one of the reasons she was convinced to exhibit her art in Costa Rica for the first time is because the vibrant colors of the country mirror her constant use of color in her work.
"She was born in Israel and worked out of Shanghai. Her style is [features] very bold colors, figures, and shapes. She's also very well known in China, where she's displayed [work] at the biggest gardens and in the biggest street fairs," Babchuk said.
Costa Rican artist John Paul Fauves has never exhibited his work in his home country. He worked with an art tutor as a child and was later taught by Costa Rican artist Joaquín Rodríguez del Paso for more than 15 years. He shared his work online and got a foothold in the international market.
He developed a series of paintings entitled "A Loss of Innocence" that portrays his feelings about the modern human condition. His art critiques modern icons and includes portraits of Disney characters losing their innocence.
For Babchuk it's a source of pride to be the first gallery in Costa Rica to exhibit Fauves's work.
"He's very famous in Europe and United States. He has shown his work in galleries in Miami, London, Italy, Los Angeles… and this is the first time he chose to show in Costa Rica. You can see why, because these are not traditional paintings," Babchuk told The Tico Times.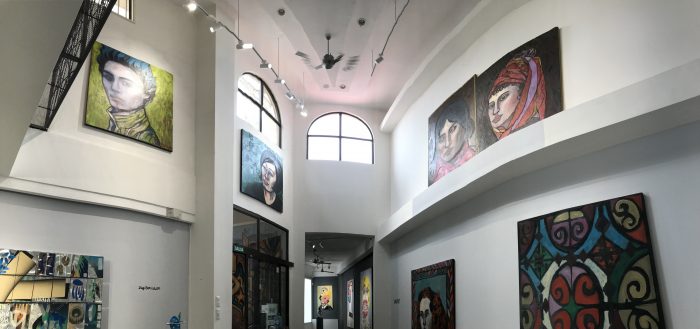 These three artists are renowned on a global level. Ben-Haim has a permanent collection at the Guggenheim Museum in New York and has collaborated with NASA; Levin has exhibited her work throughout the world; and Fauves has achieved global recognition for his unique style, featured in Forbes, Vice Mexico, and Italian Vogue.
The exhibit moves Babchuk toward his goal of presenting Costa Ricans with quality contemporary fine artwork that has been displayed around the world.
The Escazú Project opens today at the W 22 Galería in Plaza del Río, Escazú, west of San José, from 7:00 p.m. to 10:00 p.m. The exhibit will be open until June. For more information visit the gallery's webpage or Facebook page or the event's Facebook page.