Music as a way of life, a career, and a path toward achieving big dreams: that's what drives the Costa Rican musician, composer and singer Deborah Nowalski, better known as Debi Nova. Her love of music and remarkable discipline have led to success, and she says the obstacles along the way have all been worth it.
"After so many years, I look back and I love what I do," she told The Tico Times. "I enjoy getting on stage. I love singing, connecting with people, and composing."
She began playing the piano at the age of four, then took a step toward transforming her passion into a career at the age of 17, when she moved to Los Angeles to study at the University of California (UCLA). She released her first album, "Luna Nueva" ("New Moon"), in 2010. Her single "Drummer Boy" reached fifth place on the Billboard dance charts.
In 2014, she released her second album "Soy" ("I Am") and in 2017 her third album "Gran Ciudad" ("Big City"). She received the MTV Chiuku Agent of Change Award for her work in the United Nations' UNiTE to End Violence Against Women campaign, and serves as an ambassador by the Youth and United Nations Global Alliance (YUNGA).
Nova has collaborated with international artists such as Franco de Vita, Sean Paul, Sergio Mendes, the Black Eyed Peas, Mark Ronson, Belinda, RBD and Ricky Martin, as well as Costa Rican musician Manuel Obregón. In 2014, Nova was nominated for a Latin Grammy Award.
On a sunny, warm morning at Cala Luna in Langosta Beach, Guanacaste, The Tico Times sat down with Nova, 37, and spoke about her life and work. Excerpts follow.
How do you create your music?
Most of the songs I compose on the piano, and the guitar. For "Gran Ciudad," we recorded it in Río de Janeiro with the Brazilian producer Mario Caldato. We recorded everything in a block, all of the instruments at the same time. We recorded it in six days.
[For that album] the melody came first. Sometimes it was a group of chords that I liked… It is a bit of the story of how I got to Los Angeles when I was 17 years old and what it meant to go to a different world in search of a dream.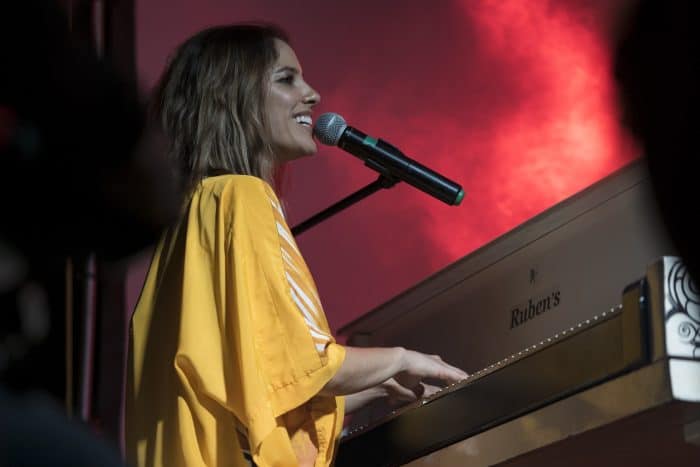 Could you tell us more about that?
It was intense. I was 17 years old and with great enthusiasm about creating a musical career. I obviously… found many obstacles and difficulties. Those first three years were very hard and lonely. At the same time, it was something that gave me an impulse to keep learning and getting stronger toward that big change.
I was far away from my family, and making a life in Los Angeles was complicated… I had relationships with people who sometimes take advantage of you. I had the obstacles that occur in a big city where you don't know anyone and have to defend yourself.
How do you compose a piece?
Generally there are phrases that capture me and that's what I write down on some notepad, but it mostly happens in the moment. Sometimes you just sit down and nothing that you like comes out. It's making decisions in the moment and being present.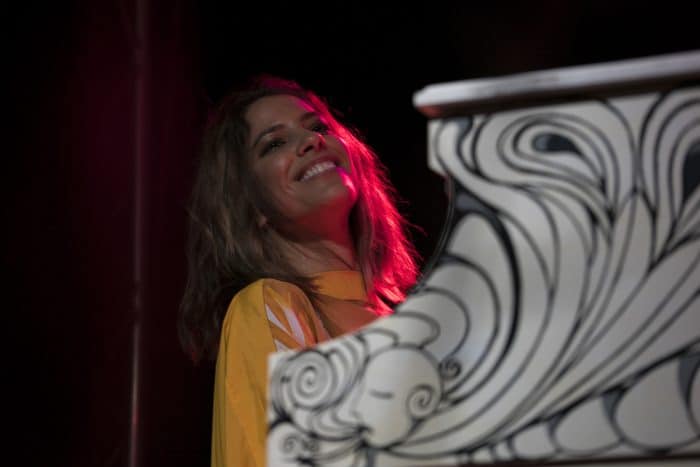 What does it feel like to represent Costa Rica as a musician?
It's very nice. I feel there's a lot of talent in the country and that maybe the world hasn't had the opportunity to hear what going on, so if I can contribute a little grain of sand for people to have curiosity and listen to more [Costa Rican] music, I really feel very honored.
What was your experience at the Tamarindo Art Wave Festival playing with Manuel Obregón?
Well, I live half-time in Tamarindo since 2012. Tamarindo has been very good to me and this is the second time we've done this. Last time I also played with Manuel, and thanks to that many nice things emerged. Actually, Manuel played a song called "Hábito" on my album thanks to the fact that we connected here at the Tamarindo Art Wave Festival.
Check out Debi Nova's song and video "Hábito" (Habit) from her latest album Gran Ciudad:
The Tamarindo Art Wave Festival held its second edition on Jan. 25 – 27 at Tamarindo Beach, Guanacaste, where both national and international artists gathered for three days full of musical and artistic festivities.
Read our #SoyMigranteCR feature, which featured Debi Nova and other Costa Ricans proud of the immigration in their family trees.
Our "Weekend Arts Spotlight" presents Sunday interviews with artists who are from, working in, or inspired by Costa Rica, ranging from writers and actors to dancers and musicians. Do you know of an artist we should consider, whether a long-time favorite or an up-and-comer? Email us at kstanley@ticotimes.net.