My mom named me Gustavo Adolfo. I was born in Puntarenas, next to the sea, but my home was in Cedral, a small town of Montes de Oro (Miramar). There, I grew up surrounded by mountains and coffee plantations. Later in life, Cartago was my destination for university and work – that is, until a Master's program opportunity in Canada presented itself while I was searching for websites related to plant diseases, my area of expertise. And thus, my first adventure outside of Costa Rica began.
Brandon, Manitoba, Canada: aka, the Wheat City. That's my home now. I've been in Brandon for almost a year and a half, and the first thing that comes to mind when someone asks me about this place is how flat the landscape is. The first time I traveled to Brandon from Winnipeg, I was overwhelmed by the large fields and absence of mountains. My mind couldn't process the flatness of this place, because I had just left the diverse topography of Tiquicia. I can't explain this. It's something that you have to experience. It's just flat, nothing but flat.
Later, as part of my thesis research, I had the opportunity to travel across the province, only to confirm that the area is covered with wheat, soybean, canola, and other crops, while anything resembling a forest is rare. This feature makes summer sunsets a particular show – it's as if our beloved star hides behind the horizon against its will, and fights back to stay over the prairies as long as possible.
Once I got used to the landscape, the multiculturalism of Canada knocked at my door. I got my first glimpse of it at the customs queue in Toronto's airport, but even a small city like Brandon has a lot to show. There I was in the middle of Canada, talking to and meeting people from Russia, Germany, India, Nigeria, Japan, France, South Korea, the United States, Australia, Mexico, the United Kingdom, Central America, and the list goes on. Different accents. Oh, the accents! That's when your English skills are really challenged. I had many conversations without understanding a word of what they were saying. True story.

But that experience is something that we all should have. Learning from people from so many different backgrounds, from their knowledge and ignorance, is more valuable than any degree; it opens your mind to a different world. And I did my part and added something to the exchange, of course.
Phrases like "No, we are not Puerto Rico" and "No, we don't have Armed Forces" became regular for a while. Then, things like our approximately 12-hour-days all year long, and how easy it is to go from a beach to a mountain or volcano in just a few hours, became part of the common dialogue. Some of them now want to visit Costa Rica. Others told me about their amazing vacation in Tortuguero, Guanacaste and Monteverde. There was, I must say, a warmer interest in my country than I expected.
Talking so much about Costa Rica brings homesickness to the surface. When that happens, I focus on the positive things: I haven't experienced a traffic jam here; I love that I can pay for the bus rides with my Student ID Card and that I can find products like plantains and chayote due to the Central American immigration to this city; and I really like the self-checkout in the supermarkets. On the other hand, I prepare myself gallo pinto every morning, with a bottle of that Salsa that cost me four times more than in Costa Rica. There's no Feria del Agricultor on Saturday morning where I can get fresh things like manzanas de agua, my all-time favorite fruit. No tamales during the past Christmas. No fireworks to celebrate the New Year.
Speaking of Christmas and winter, the coldest temperature I've experienced in Costa Rica: 0° C at the top of Chirripó, and nothing lower than 16° C under normal conditions. Brandonites laughed at me when I told them that. I've had to seriously adapt to the cold. I wear three layers to go outside because the temperature is between -15 and -30° C, and if you add the wind on top of that, it can feel like -40°C. Seriously, the air hurts your face. Snow boots, gloves, scarf, are all labeled to keep you warm up to -60°C, because that's a thing. Not using them means frostbite. But don't be confused; the first snowfall I saw was one of the best experiences of my life. I was in awe. I even enjoyed walking to the university with snow up to my knees due to a blizzard. I don't know if subsequent winters will keep me as entertained as the first one, but I know now I can deal with it.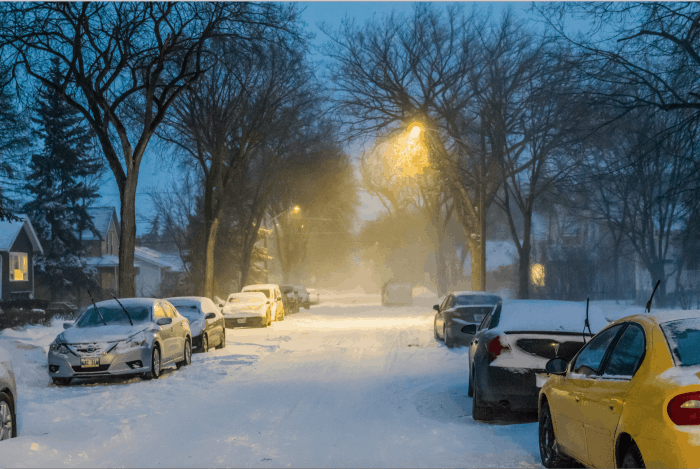 But no snowfall compares to the amazing Aurora borealis, aka Northern Lights – that beautiful dance of solar particles entering the atmosphere that dresses the dark night sky with green and purple tones. That was a bonus. I never thought I'd see them until I arrived here and someone told me about it. Now I've been lucky enough to watch them a few times, even from my backyard.
Funny thing: kindness and politeness are best represented in Canada by the simple act of holding a door open. Any door. Anywhere. I don't want to reinforce any stereotype, but that is indeed one of the most important things I have noticed. Not holding the door for someone else is rude, and may lead to some rude comments in return. Another funny thing: don't use outdoor shoes inside any house, especially if you are visiting. It took me one embarrassing moment to learn that. If you're in Canada, check the integrity of your socks on a regular basis; trust me, it's very important.
Luckily for me, a few Ticos live close, so I can go and talk to them, release all the maes and pura vidas in me, and have some fun. I admire them so much, because they have been here longer, facing more difficulties than I have, and planning a longer stay. Their support and advice have been very important for me.
I am thousands of kilometers away from home, and I miss it. But I am happy with my time here, because I've met wonderful people and I've been able to see more of this wonderful world we have.
A word of advice: don't' take Costa Rica for granted. Be curious, open your mind to appreciate the many things our country has to offer. But if you have the opportunity to travel to other countries, do it! You'll be pleasantly surprised by the richness of different cultures, languages and places.
Are you a Costa Rican living abroad? Would you like to share your experience – what your first days abroad were like, lessons learned, how your time overseas has influenced your view of Costa Rica, advice for folks back home? Contact us at kstanley@ticotimes.net.
Read previous Please Send Coffee! columns here.