Read more of Marshall Cobb's Dispatches from Monteverde here.
Early in the morning this past Thursday, my insomnia and I surfed the net. One story in particular caught my eye. It involved a storm in the Caribbean that would eventually turn into a hurricane. The hurricane version already had a name reserved for it: Nate.
When I confirmed that Nate was not going to involve Houston and our friends and family still digging out from under Hurricane Harvey, I moved on. Later that day, one of my friends here atop a mountain in Costa Rica warned that we would soon experience torrential rains, probably accompanied by mudslides, power outages and related chaos.
See also: How to help the victims of Tropical Storm Nate in Costa Rica
"That can't be right," I thought. "Nate is going to turn into a hurricane in the Caribbean. We're atop a mountain on the western side of Costa Rica. Why would we suffer from torrential rains?"
The hours progressed, and the rain came in — sideways. At 40 to 50 kilometers an hour. For almost two days.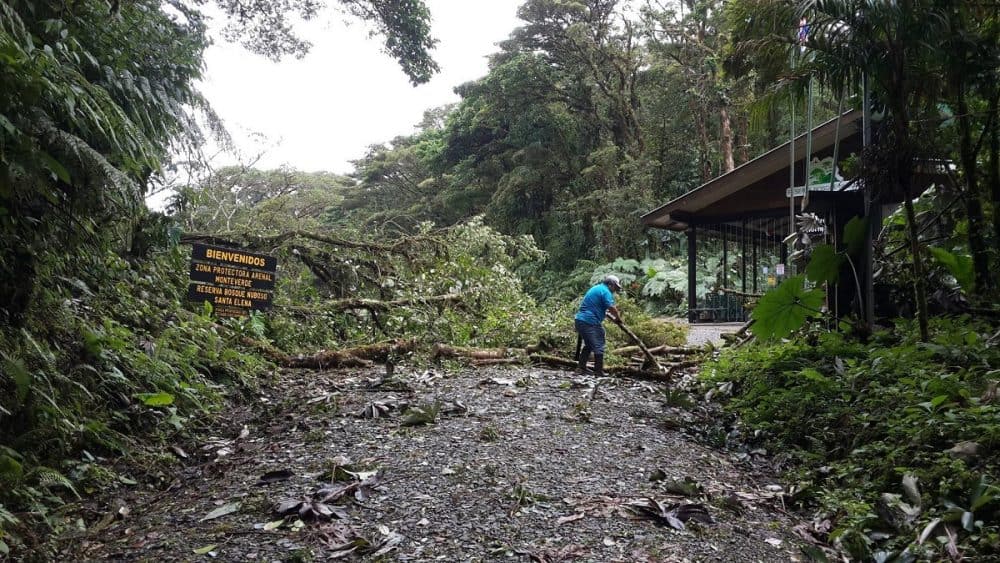 Before my internet connection failed, I got to learn quite a bit about the weather phenomena called a temporal via links my friend, a local biologist, forwarded to me. These links showed massive amounts of wind and precipitation being sucked over from the Pacific by the depression, which by now was off the eastern coast of Nicaragua.
All of us atop our small mountain were stuck in the middle. It had already been raining for three weeks straight. The ground was completely soaked. Every new drop was run-off — and then our little temporal added another 20 or 25 inches of rain to the mix.
The effects started in the wee hours of Friday morning. As power, water and telecommunications went out, the landslides started.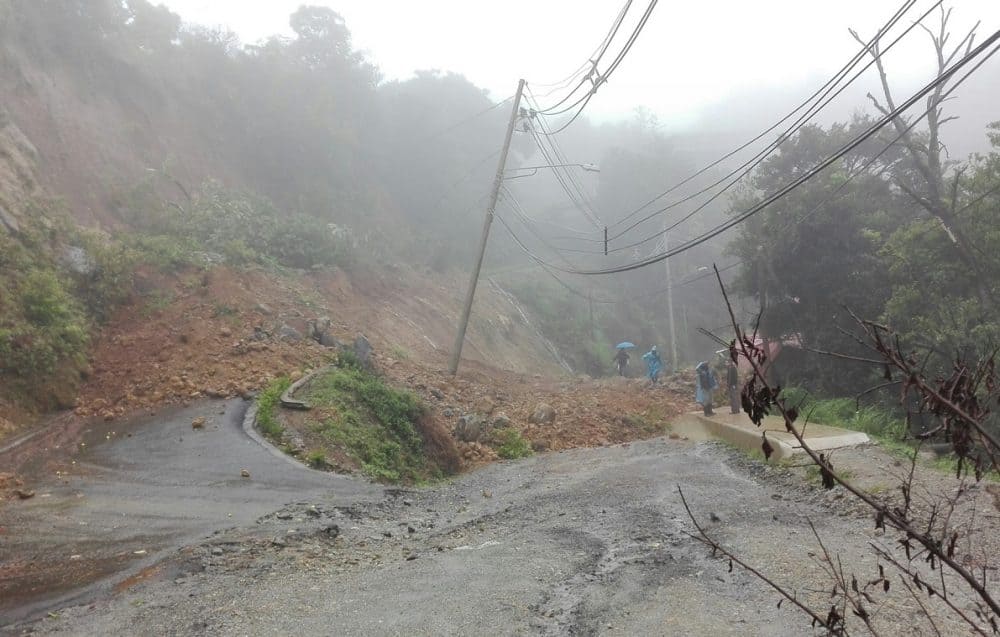 As dawn approached on Friday, the lack of utilities was compounded by the rain that pooled within the houses on the westward facing side. We pressed every available towel into action, but slowly lost the fight. Roofs are meant to withstand rain from above. Walls, window frames and doors here are not able to repel rain coming in sideways at 50 kilometers an hour.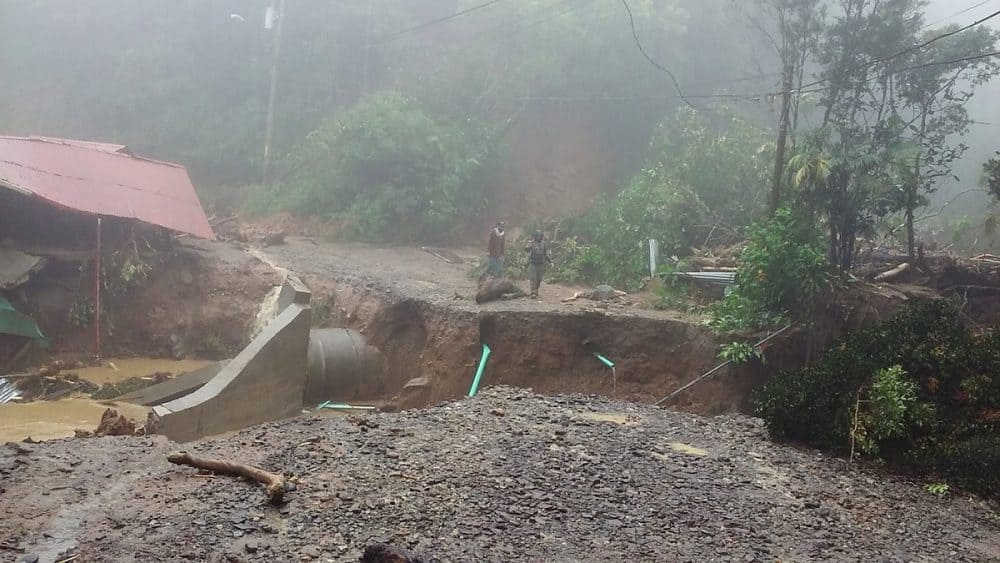 Reports started filtering in, but with most utilities out, it was more in the way of rumors and less in the way of facts. Most of my news came from the cashier and a few other people wandering around the only business in town with power (a grocery store with a generator). The word was that our area was cut off from the rest of world by landslides and bridges that no longer existed. There are only a few routes up the mountain to the Monte Verde District to begin with, and much of this highway system involves dirt road roads that are challenging even when it is dry and sunny.
People in the zone began frantically searching Friday morning for information regarding friends and family that might be at risk. Much of Monteverde proper, which contains the Quaker community, sits along a ridge line that looks out over the San Luis Valley far below. As we collectively found out, a huge landslide had closed the main road to the Monteverde community from Santa Elena and Cerro Plano. Another landslide on the route down to the San Luis valley had cut off the only other way into or out of Monteverde — and other landslides had also trapped all those within the San Luis valley.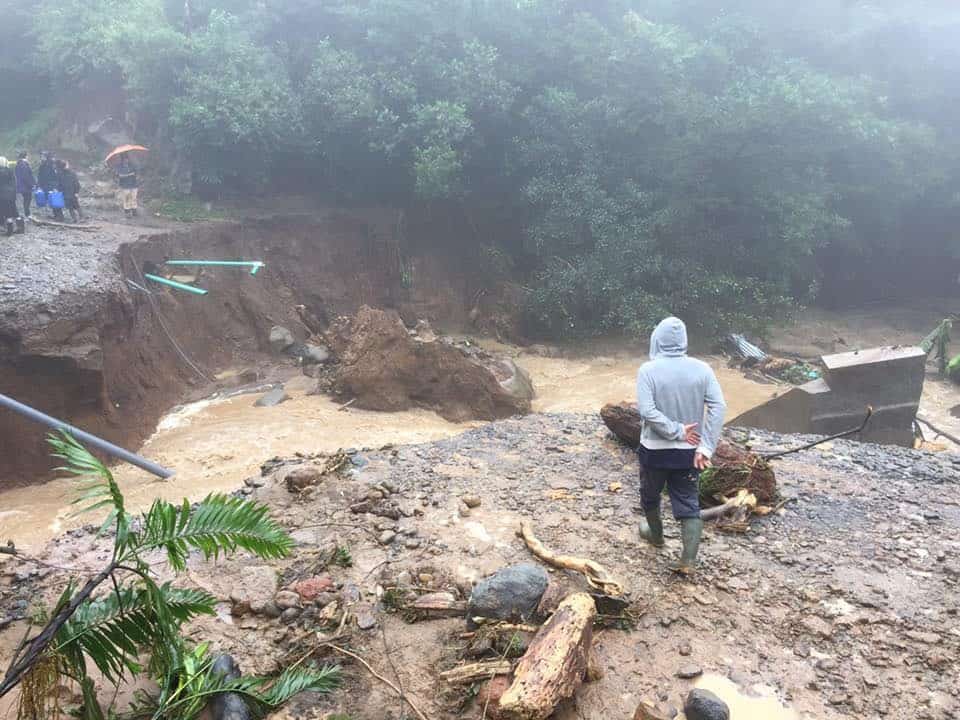 As the surreal Friday wore on, more and more of the pieces of the story began to fill in, due in part to the great work of Radio Zona Alta Monteverde. In addition to the landslide, the main road to Monteverde proper had also been washed out by a creek-turned-river. Furthermore, pools and dams located higher up in the mountains were feared to be poised to burst, which could then further destroy much of lay below, including Monteverde and San Luis. Many were concerned about the elderly and invalid that might need medical attention, or at least potable water. All were also advised to stay away from the site of the landslide and new river cut-out lest they fall victim to another landslide.
Power began to return to much of the zone on Saturday. Our local team of firemen set up a line to get those that need to flee Monteverde out. With the return of power eventually came working phone lines for many in the zone. It soon became clear that the damage to property and roadways was severe, but at least in our general area, the population itself had emerged intact.
Word began to filter back that the Quaker community was meeting regularly, sharing resources and information. When phone service and internet returned at least in part to Monteverde on Saturday night and Sunday, multiple residents commented that they were lucky to be part of the best-organized, best-supplied, most resilient community around. I agree, and also believe this description fits the larger community in and around the district.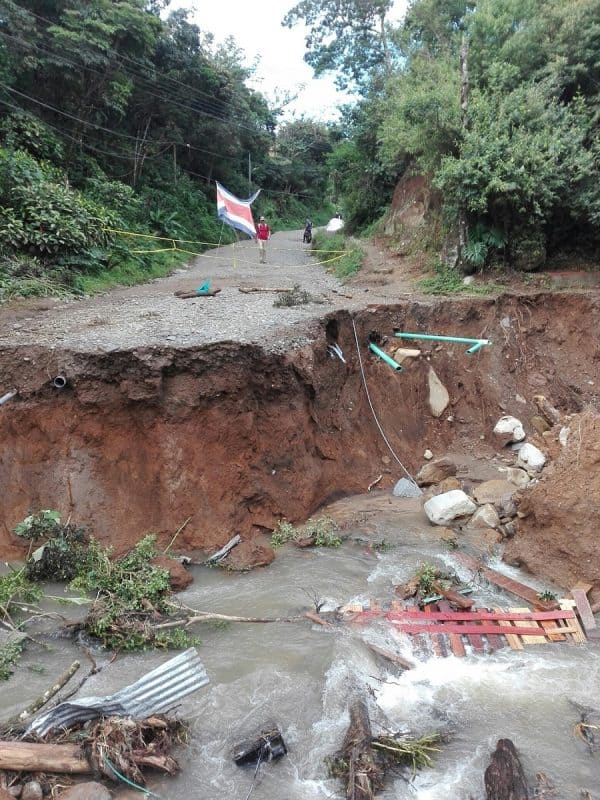 I am writing this on Monday. Fortunately, we have had little rain of consequence in the past few days. Many of the landslides on the roadways have been cleared. Businesses are open. At least one route down the mountain is open, Route 605, and trucks are coming up with fuel and food.
Using oversized equipment provided by the Ministry of Public Works and Transport (MOPT), the landslide cutting off Monteverde from the world has largely been cleared. The chasm created by the new river path remains, but I and others found out this morning that a convoluted footpath does exist where those not afraid of mud and debris can get across the river. It is not exactly safe. It requires, to use a local expression, a MacGyver.
Rumors abound of a Bailey Bridge which can soon be installed across the span. I will happily cross that particular bridge when it exists, but will continue to wear my mud boots just in case the footpath remains the primary option. Our boys, who attend the Quaker School, are not-so-secretly hoping that it takes at least a few weeks, perhaps as long as a year, to build a bridge.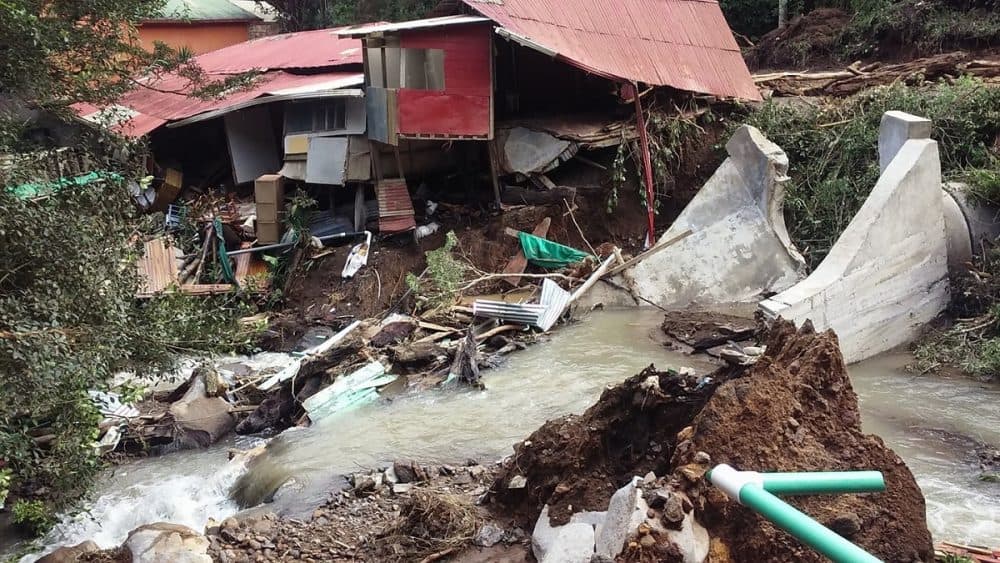 It will take quite a while for those in this region, and the entire west coast of Costa Rica, to regain their footing both physically and financially. October is generally the worst month for tourism in our area, as few care to come for daily doses of rain. With access to Monteverde blocked for some time yet, the jewel of the eco-tourism business in the area — the Monteverde Cloud Forest Reserve — is closed. Many other businesses and tourist attractions in the greater area are also damaged or inaccessible. This issue extends beyond tourism dollars as it also affects teachers, farmers, workers at the Cheese Factory, and just about everyone in the zone.
When we left the Gulf Coast of the United States over two years ago, I thought I had moved on from the time when hurricanes and tropical storms could turn my life upside down. As it turns out, 1,500 meters of elevation is not nearly high enough. My disappointment in Mother Nature is, however, more than offset by the fact that my family and I are fortunate to once again be surrounded by wonderful, resourceful, friendly people.
Marshall Cobb and his family moved to the Monte Verde district in 2015. He takes breaks from working on his novel by posting blogs on his website and can be reached at: marshall@marshall-cobb.com.