Education shapes a society and is the key to its improvement. This valuable social asset is one of the most important aspects of Costa Rica, according to outgoing U.S. Ambassador S. Fitzgerald Haney. For the past year and a half, Haney has worked hard to solidify Costa Rican-U.S. relations, and has decided that he and his family will continue to live in Costa Rica after he returns to private life. (President Donald Trump has nominated Sharon Day as the new ambassador.)
Haney is a graduate of the Georgetown University School of Foreign Service with years of experience in marketing, financial services and manufacturing; he worked at locations throughout Latin America and beyond, and has served on various NGO and community boards such as the Foundation of Jewish Culture, Ayecha (a resource organization for Jews of color), and the U.S. Holocaust Memorial Council.
In 2015, President Barack Obama nominated Haney as the U.S. Ambassador to Costa Rica. While it seemed that his tenure in Costa Rica might end with the inauguration of President Trump on Jan. 20 of this year, Haney was given some extra time to serve as Ambassador in Costa Rica, and left his post on July 15.
On a warm morning at the U.S. Embassy in Pavas during Haney's final weeks as ambassador, The Tico Times spoke with Haney about his life and work in Costa Rica, and his plans for the future. Excerpts follow.
We all thought your time as Ambassador was going to end on Jan. 20, and then you were able to stay these extra months. What have you been able to achieve with this additional time?
I think the most important thing that we were able to do was to reaffirm [and] to strengthen our bilateral relations. We went to the White House in August 2016 with President Solís and we met with President Obama and Vice President Biden. That was where we announced a large assistance package from a security standpoint for Costa Rica. With the change of administration, there was some question as to the future of the relationship, and we were able to reaffirm it in March when we went to the White House again with President Solís. We met with Vice President Pence, Secretary of Homeland Security John F. Kelly, Under Secretary of Political Affairs Thomas Shannon at the State Department, and others.
In a period of transition and uncertainty… I was able to continue to work to solidify the relationship and reaffirm that the relationship remains strong.
What can Costa Ricans do as we look on at the worrying events of recent months?
I think we all citizens should be as involved as we can be regardless of what's going on in the world. There are a number of spots in the world that we all should be concerned about.
Venezuela is one that comes first to mind, which is in our region and in our hemisphere very close to Costa Rica. It's where we're seeing a complete dismantling of a democratic system. That should concern all of us as people, regardless of where you fall politically, but as people who are lovers of democracy [who] will have the benefit of living in a democratic system, either in the United States or in Costa Rica, what's happening to the people of Venezuela should worry us.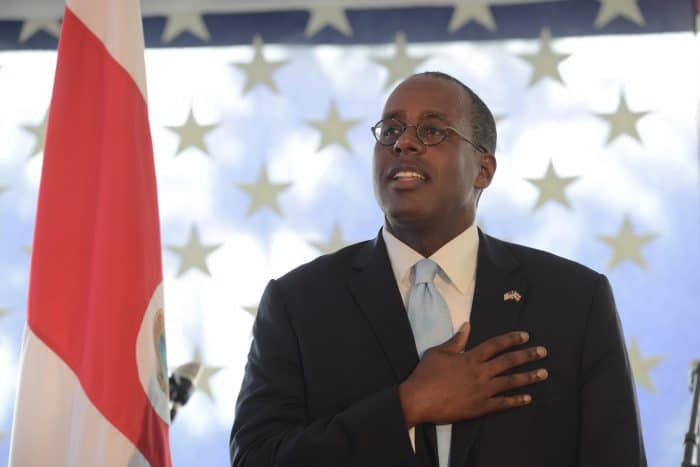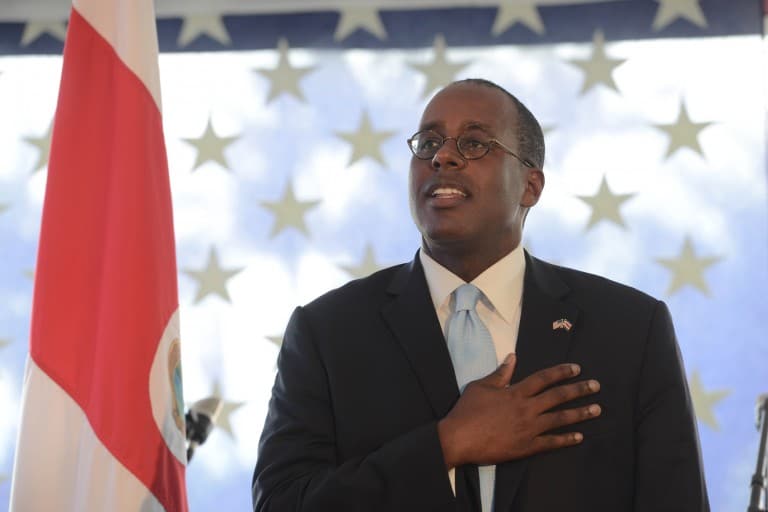 What has the additional time meant for you and your family?
A lot. We're very happy here. Even after I finish as ambassador on July 15, we'll stay in the country for the foreseeable future. Just as [it gave me] time to solidify the relationship with the United States and Costa Rica, it was time for me to solidify our family [in terms of] our relationship with Costa Rica. It's been very good.
What has your family's experience been like here in Costa Rica?
It's been very positive. I think any time you make a move for children it's very difficult. At the beginning it's always challenging. Usually the pattern is: you arrive at the country, your first year is very difficult, the second year things get better, the third year things are fantastic and then it's time for you to go again. They always say there are tears at the beginning because you're leaving friends and you're coming somewhere new you don't know, and then there are tears at the end again because you're leaving friends, you're going somewhere new you don't know.
The kids are in a position where they are very happy. They're very stable. They have friends. They like their schools. They like living here, so I think we're good. Happy kids make it easy for mom and dad to be happy.
We've also gone everywhere. One of the things that we kind of had an agreement about when I said yes that we'd move to Costa Rica [was] that we'd try to get out of San José once a month as a family. We've been all around the country. We've been to Guanacaste, down south to Golfito, to Limón a few times. We've been to Liberia, San Carlos, San Ramón, Pérez Zeledón, Quepos, Jacó, Manuel Antonio, Corcovado, Tortuguero, Arenal, the volcanoes. We try to do as much as we can as a family and take advantage of living in such a beautiful place, and also for them to get out of the GAM [the Greater Metropolitan Area] and see what the other part of Costa Rica looks like.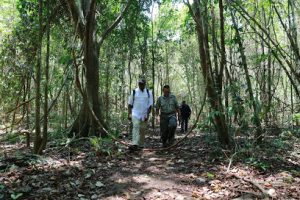 In each of these spots that you've visited, what have you learned about Costa Rica?
I think the one overarching thing that Costa Rica has, besides it's natural beauty and biodiversity, are its people. The Ticos themselves have been very open with us, very welcoming.
Costa Ricans tend to be very self-critical, which I don't think is a bad trait because I tend to be the same way. It's always interesting getting into a conversation and just talking about what they think their country could be doing better, how they see the United States, how they see U.S.–Costa Rican relations, the challenges, and the opportunities. I've learned a lot just talking to [people]; the food vendor, the person taking the tickets at the national park, or the family that comes with a cooler and sits down on the beach next to us.
That's been one of my biggest educations. It's very easy to get stuck in the Embassy and stay here. It's much more fruitful to get out, get to know the country, and get to know the people and really deal and hear from them… their fears and their hopes, both about Costa Rica and about the U.S.-Costa Rica relationship.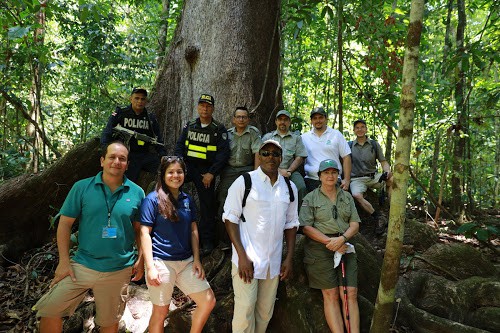 Which have been the challenges, opportunities, fears and hopes they talk about?
In general, it's like almost anywhere in the world. Usually at the top is prosperity and economic development, the opportunity for their kids to have better lives than they have, and make sure that their kids have the opportunity to do things they never got to do. That's universal.
That's usually quickly followed by the security situation in Costa Rica, in the region, and people's obvious recognition that things are getting more difficult. Most people are very thankful for the assistance the United States has been able to provide working with our partners here in Costa Rica.
There's been an outpouring support and gratitude. A lot of people know about things such as the 110-foot cutters that we're donating this year and next year. For the first time we will give the [Costa Rican] Coast Guard the ability to actually patrol all of Costa Rica's Pacific territory, which is huge. It's ten times the land territory.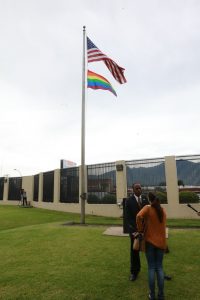 Also, we've given 20 boats over five years, and we're about to transfer three helicopters. These are cargo helicopters for Costa Rica, which they don't have for the borders. Also, [we're] helping set up the Border Police, and the new Coast Guard station in Golfito, and Kilómetro 35 as a border post, and on and on.
And all the training we've been able to do. In my two years we talk a lot about the equipment, but one of the things we don't talk a lot about, and I think is just as transformative, is the fact that we have trained 8,000 different officials from Costa Rica. We've brought on our trainers, paid for Colombian trainers or sent Ticos to other countries to really develop the knowledge base here because that's the most important thing.
What other things has the Embassy achieved?
Fewer people know all the other wonderful things we know at the Embassy on other things. We worked with the Ministry of Public Education (MEP) and the Peace Corps for two and a half years to re-launch how English is taught in Costa Rica. For me it's super exciting, because if I'm a parent I'm thinking about the future.
Having a child who goes through a public school in Costa Rica be able to come out and really be bilingual is amazing.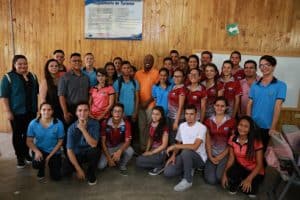 Or the fact that we've worked with the Office of the First Lady [Mercedes Peña] on a program called TeacHER, which is about encouraging young girls. I have four children, a boy and three daughters, and [I'm] encouraging young girls to really think about STEAM education: science, technology, engineering, arts and math.
There are so few women in those careers when they get older and the reason [for this] is because as girls they are not encouraged to pursue them. Working with the First Lady and UNESCO, we launched a Central American program to provide teachers in the schools with the curriculum that'll get girls really excited about STEAM. Things like that that could change a little girl's life here in Costa Rica.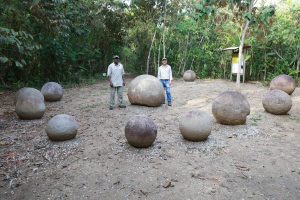 We're also working with the National Police Force on a program that comes from the United States: policemen in the schools, talking about anti-bullying, domestic violence and how to address a conflict in a non-violent way. It also builds community relations between the police and the kids, so the kids see the Fuerza Pública as allies, as someone they can go to as friends as part of their community. That's really important in some of the more difficult areas.
What humanitarian programs have you focused on?
The Peace Corps has been here over 50 years doing very good work all throughout Costa Rica. We just did a humanitarian mission in Talamanca with the Caja to help bring materials to build to EBAIS clinics there, which didn't exist.
The Caja did amazing work trying to make sure to provide the services to the indigenous population in that area as they would anywhere else in the country, which is their duty. That is who they are, but it's difficult, obviously, so we helped provide the transportation helicopters, which Costa Rica doesn't have, to transfer tons and tons of materials to actually fill these clinics, so they can be permanent places for people to get healthcare. It's fantastic.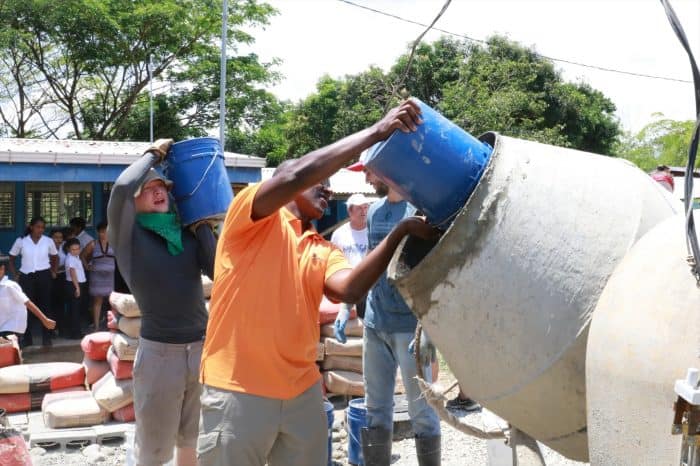 What are you proudest of during your time as ambassador?
I would say I'm probably proudest of the change of perception in Washington, DC about the importance of the relationship between Costa Rica and the United States. Costa Rica's seen very rightfully as the Switzerland of Central America, as the most stable, the most democratic, with a great social safety network for citizens on education and universal healthcare and safety citizen security. It did not have the wars of Central America in the 1980s. It doesn't send immigrants to the United States. Actually there are more U.S. citizens living in Costa Rica than Ticos living in the United States. It's one of the very few countries in the world where that happens, but it's true.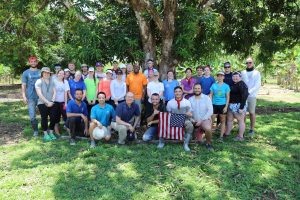 People say: things work in Costa Rica. It wasn't that Costa Rica was ignored, but there wasn't a big emphasis on it in Washington because it's a country were the majority of the major issues facing the rest of the region aren't here. Thank goodness. A lot of my initial work was trying to refocus Washington to say Costa Rica does, should and can play a pivotal role in the region for us as a country.
What pivotal role would that be?
Our objective is to have a hemisphere that is democratic, prosperous and secure. Costa Rica, [on] all of those three pillars, has a large voice and it always has had a large voice. It has the longest democratic traditions in the hemisphere and so it can play the role of speaking out when it sees injustice, speaking out when it sees anti-democratic activity.
It's important as a role model and as a voice in Latin America.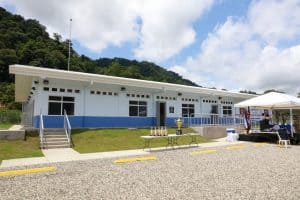 In security, it's a major strategic partner for us in the region because the institutions work, it's democratic, and it's relatively prosperous versus its neighbors. It's helping itself to be more secure, it helps the region be more secure and obviously it helps the United States as well.
That kind of thinking had to be reoriented a little in Washington because it was always focused on the democratic and the human rights side, and that's great, but it didn't go deeper than that in a lot of areas.
The fact that the Trump administration has appointed a new ambassador so quickly to Costa Rica is great evidence of that. You know, the fact that the Trump administration signs this year's budget wnere Costa Rica has its own line items or partida directa, which has never happened before, is also a sign of the importance of the relationship to the United States. I'm very proud of that because it's a shift in how we look at the hemisphere and the partners in it and the importance that Costa Rica has for the United States.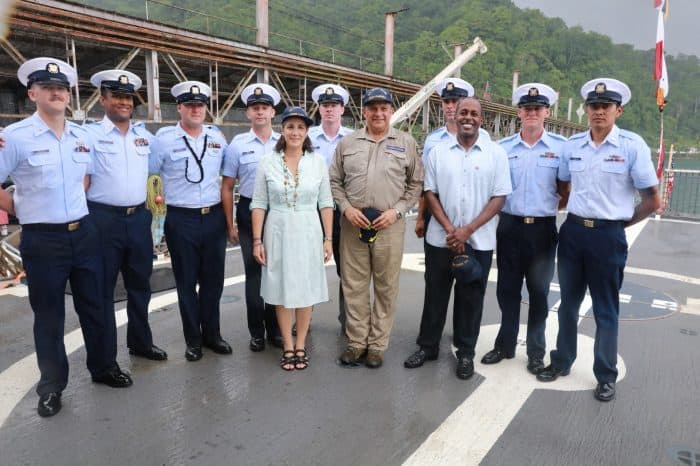 Which are the challenges that Costa Rica faces?
Every country has challenges, and Costa Rica doesn't escape them, unfortunately. They're not very different what you're going to hear region-wide. [There's] inclusive economic growth as a challenge. If you look at any kind of statistics on poverty or unemployment, job creation, job opportunity, there are almost two Costa Ricas, in a way.
There's one in the Central Valley, export-oriented and export-focused. There's one that's more in the provinces and outside of the Central Valley where things are a lot more difficult, unemployment's higher, crime is higher, and opportunities are fewer. You have more young people leaving to come into the Central Valley because that's where the jobs are. That's the challenge. The challenge is making sure that all of Costa Rica continues to prosper.
Costa Rica is blessed with all the natural beauty and biodiversity, but it's also troubled or challenged because it's on the path of everything that wants to go from south to north: we're talking about irregular migration, we're talking about drug trafficking, we're talking about human trafficking.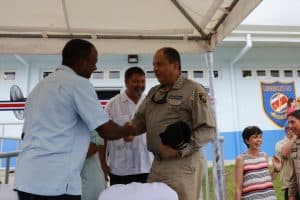 Whatever it is, if it's produced south from here to its markets – the United States and or Europe – it has to go through the isthmus, and so Costa Rica's prone to a lot of the drug trafficking. Therefore, the international criminal organizations are starting to set up shop in a very open society, which is what Costa Rica is with the rule of law.
Colombia's basically tripled its cocaine production over the last two to three years. Bolivia just passed a law saying it can double its [cocaine]. Peru's [cocaine production] increased. All of that is flowing to the number-one market, which unfortunately is the United States, and that all has to pass through Costa Rica.
In the last year, [Costa Rica has made] progress on anti-money laundering, on anti-bribery. These are laws that hopefully help the rule of law in the country to be on the side of those who do good, and not on the side of those who don't care and do things wrong.
One more question. When you were offered the position, why did you accept it, and how did it change your life?
It's a huge honor when you get a call from the White House and they ask if you're interested in being the president's personal representative to a country for the United States. Your initial response always is, "Wow. I'm just honored and it'd be fantastic." But it is a huge life change in a lot of different ways.
When you get that call, your first question is, to where? They don't necessarily tell you to where right away. When they said Costa Rica, for me it was very easy. I knew the country. I'd visited the country. I knew a lot about the country before I came here. When I worked in Mexico I was doing business in Costa Rica for years. It was a known entity for me. Now, my family had no idea. They had never been [to Costa Rica].
When you're coming from the outside, even though I studied International Relations as both an undergraduate and graduate and I've lived abroad the majority of my adult life, it's still a huge shift and change. You're like: I'm going to leave the private sector and leave a career path that I was very much on to serve my country for a couple of years. It's an honor. I'm very glad I did it.