Despite harsh climate conditions, there's no need to worry — yet — about the ability of Costa Rica's hydroelectric plants to support the country's energy needs, the state-run Costa Rican Electricity Institute (ICE) reports.
According to the ICE, the water levels of the reservoirs at all five of Costa Rica's main hydroelectric plants maintain normal figures for the season. So far this year, power companies are turning to thermal plants only as backup generation sources.
The country has seen a decrease in wind generation in recent days, and higher than usual temperatures in the past few weeks have lowered levels at many aquifers that supply the reservoirs of hydroelectric plants at Arenal, Cachí, La Angostura, Pirrís and Reventazón. These reservoirs supply some 40 percent Costa Rica's electricity needs.
However, thanks to water the institute stored in advance to compensate for potential shortages, the ICE states that "all of them are at optimum levels to face the rest of the dry season," which in Costa Rica usually runs from December to April.
Good levels at reservoirs also could mean stable electricity tariffs. Increased reliance on thermal plants — which burn fossil fuels — is one of the main reasons for the ICE and other power companies to ask for higher tariffs during the dry season.
ICE Electricity Manager Luis Pacheco said that the institute will continue to monitor decreases in wind and hydro generation.
As an example, Pacheco said that on Feb. 22, wind power plants were able to generate only four percent of the country's installed capacity of more than 300 megawatts, compared to more than 20 percent of the country's energy needs during the first weeks of January.
This decrease prompted ICE to turn thermal plants and buy power from the Regional Electricity Market, Pacheco said.
Costa Rica uses five renewable sources to produce electricity: hydro, geothermal, wind, biomass and solar. Generation based on renewable sources in the past two years closed at over 98 percent.
Power generation using fossil fuels in 2016 represented only 1.88 percent of the total, ICE reported.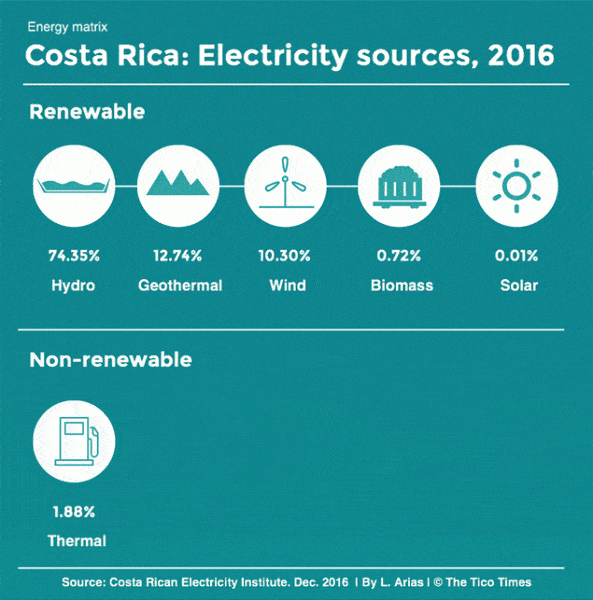 Save
Save