A homemade bamboo bike may just be the perfect tool for combating climate change if Dr. Kate Rawles has her way.
The British full-time writer and former university lecturer has planned a yearlong journey along the Andes Mountain range from Cartagena, Colombia to Chilean Patagonia, to raise environmental awareness about climate change and pen a second book.
Rawles and her partner, Chris Loynes, recently came to Costa Rica to begin research on the project while partaking in ecotourism in Arenal and the Osa Peninsula. The environmentalist said she sees Costa Rica as a model for environmental-friendly planning with its ample national parks and high levels of renewable energy use.
"I look at what's happening in Costa Rica as a win-win situation," Rawles told The Tico Times over lunch recently in San José. "People can look to a country where they're protecting the environment and seeing real benefits from it with ecotourism and renewable energy."
Her broader plan for her ride along the Andes includes collaborating with local people and institutions in each country to gain first-hand anecdotes on global climate issues. With cursory plans to travel through Colombia, Ecuador, Peru, Bolivia, Brazil and Argentina, Rawles expects to ride her bamboo bike through South America at a slow pace in her concerted effort to get to know the various regions and peoples.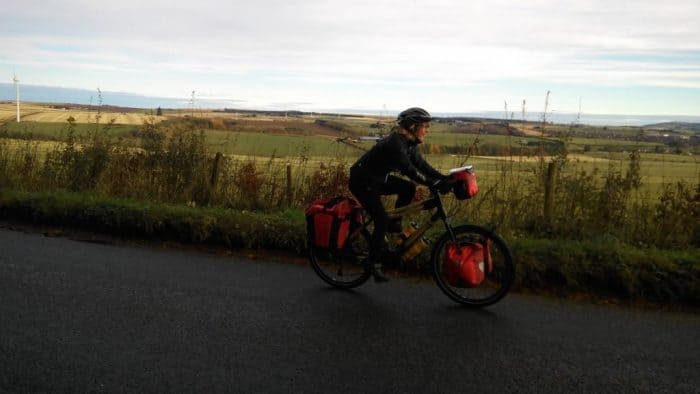 The whole time, the bike, made largely of bamboo and hemp, will serve as a medium through which climate change can be discussed with people Rawles meets along her route, she said.
"These adventurous bike rides are a way to use bikes as communication to draw attention to bigger environmental issues," Rawles said.
Rawles is so committed to her message of leaving behind low carbon footprint that she and Loynes took a cargo ship across the Atlantic to reach Costa Rica. She is planning on taking a bus to Panama and then getting on another boat to start her biking trek in Colombia.
A decade ago, Rawles said she became frustrated with how little it seemed people knew about climate change. So in 2006, she rode from Texas to Alaska in three months and wrote her first book, "The Carbon Cycle," to chronicle her journey.
On her trek through the United States, she said she met indigenous people in Alaska who were reporting record highs in temperatures and the appearances of species in abnormal zones coming in search of food.
She said this time she'll travel at a more methodical pace in order to meet more characters and hear more stories of people impacted by adverse changes in their environments. Part of that slowed-down pace included the recent detour to Costa Rica, where Rawles and Loynes got the chance to talk to tour guides in the ecotourism sector.
For Rawles, it's just the beginning of a long adventure to come.
"I wanted to start this journey with a positive story and Costa Rica seems just that," Rawles said.
Follow Rawles' journey on Twitter or on her blog.