Update: 12:37 p.m. President Luis Guillermo Solís adds communities in Alajuela and Heredia provinces to Red Alert. Evacuation operations will extend to: Bajos del Toro, San Carlos, Guatuso, Los Chiles, Upala and Río Cuarto de Grecia in Alajuela and at Sarapiquí in Heredia.
Update 10:48 a.m. President Luis Guillermo Solís ordered the mandatory evacuation of 4,000 residents of Northern and Caribbean communities as recent forecasts state tropical storm Otto will become a hurricane in the next hours.
Solís at a press conference on Tuesday morning issued a Red —Emergency— Alert prompted by the high possibilities that Otto hits mainland Costa Rica between Wednesday and Thursday.
The president asked residents of the Caribbean communities of Boca Pacuare, Parismina, Tortuguero, Puerto Lindo, Delta Costa Rica, Isla Calero and Las Barras to immediately leave their homes.
"We are on a Red Alert, we have to move fast today because tomorrow we might not be able to evacuate some areas. People in these areas will be relocated to secure zones as we need to preserve the lives of Costa Rican families," Solís said.
---
Original story continues here:
President Luis Guillermo Solís called for a voluntary evacuation of residents of the Caribbean region who are currently facing heavy rains and flooding. The situation likely will worsen starting Wednesday when experts forecast tropical storm Otto will grow into a category 1 hurricane.
The situation prompted the government to decree a Yellow — Preventive— Alert throughout the country. The alert means that emergency agencies expect effects of the tropical storm to reach most of Costa Rica.
"We hope that those who are able to evacuate will do so as soon as possible," Solís said and added that overflowing rivers, landslides on roads and harsh weather conditions are preventing authorities from reaching many of the affected locations. "Not even by helicopter, as current weather conditions prevent them from taking off," he said.
President Solís addressed his warning primarily to Caribbean residents in Limón, Moín, Playa Bonita, Doce Millas, Tortuguero and Parismina. The coastal communities are facing heavy rains and also waves up to 10 feet expected to last throughout the week.
Solís said he will send National Police officers to prevent the evacuation from resulting in acts of vandalism or burglaries on empty properties.
The government also confirmed that the Public Education Ministry ordered that classes be cancelled at 107 schools in Limón province, at Sarapiquí in Heredia and in various communities of Cartago.
Damage report
Intense rains since the weekend caused flooding in 1,183 homes and forced the National Emergency Commision (CNE) to open five shelters to relocate 370 people in the southern Pacific region and one in the San José canton of Curridabat for 18 evacuees.
On Monday evening, emergency agencies also evacuated 214 people in the Caribbean canton of Matina, prompted mostly by overflowing rivers. The CNE reported a total of 135 communities affected by rains, 99 of them in the southern Pacific, where 17 are isolated by floods and landslides.
The agency also reported damage and blockades along several roads in the southern Pacific, including Route 2 between Buenos Aires and Palmar Sur, Route 245 at Puerto Jiménez, Route 238 from Golfito to Conte, and Route 608 between Laurel and Coto 47.
There are also reports of damage on Route 218 between Llano Grande and Rancho Redondo in Cartago. In the province of Alajuela, the CNE reported damage on the road to Vara Blanca between Zarcero to Ciudad Quesada and in Bajos del Toro from Valverde Vega to Río Cuarto.
Government officials and emergency agencies will resume meetings on Tuesday to assess the evolution of tropical storm Otto.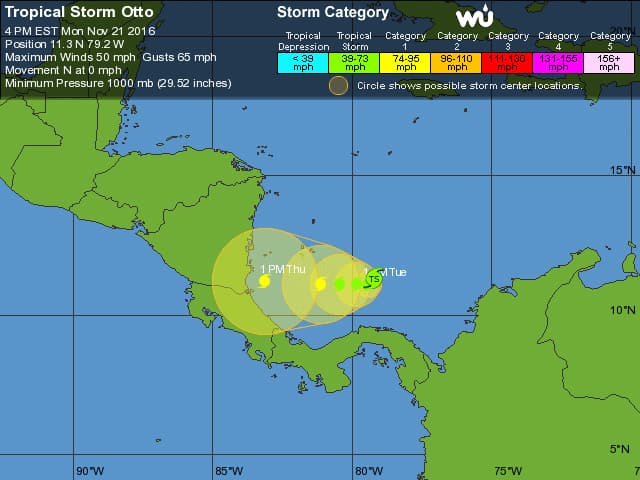 Hurricane Otto
The U.S. National Hurricane Center on Monday reported that tropical storm Otto was located in the Caribbean some 440 kilometers northeast of Puerto Limón and will become a hurricane on Wednesday afternoon. National Metereological Institute (IMN) director Werner Stolz said Otto was moving slowly on Monday evening as a cold front influencing local weather was preventing it from moving into Costa Rican territory.
IMN forecasts state that rainfall levels on Wednesday and Thursday will reach some 100 liters per square meter in the Caribbean and the northern regions. Cumulative rainfall in the southern Pacific region could range between 60 and 120 liters per square meter.
Meteorologists also warned of strong winds of up to 80 kilometers per hour, mainly in the high areas of the Central Valley and the Northern Zone. The cold front will leave Costa Rica on Tuesday when Otto is expected to enter territories near Bluefields on the Caribbean coast of Nicaragua.
The IMN forecasts Otto will then begin losing its strength and will most likely become a tropical depression on Friday.
See what people are posting on social media about #Otto.