If you've sampled social media at any time during the past couple of months, you've probably tapped your toes to "Soy Yo" ("I'm Me"). The music video for Colombian band Bomba Estéreo is everywhere: as the saying goes, it broke the internet with its contagious Latin rhythm and strong lyrics emphasizing self-love and diversity.
What you might not know is that its sassy, unforgettable, 11-year-old star is part Costa Rican, and proud of it.
"Costa Rica is important for me because it is part of my heritage," Sarai González told The Tico Times in a phone interview last week from her home in New Jersey, giggling as she thought about what she likes about her father's homeland. "It's really awesome! I like the heat because it's so tropical. It's like a vacation. And the food!"
The video features Sarai dancing her way unapologetically through city streets no matter how many raised eyebrows she faces along the way, to lyrics such as "Que no te preocupes si no te aprueban. Cuando te critiquen tú solo di, soy yo" ("Don't worry if they don't approve of you. When they criticize, you just say: I'm me").
Her performance quickly made waves around the world and was widely acclaimed as an antidote to the anti-immigrant sentiments that have surrounded the campaign of U.S. presidential candidate Donald Trump. The New York Times proclaimed that "rarely in American life, especially in an era of ugly debates over immigrants, had popular culture created a young, brown, working-class character so heroic, free of victimhood, full of straight-up dignity."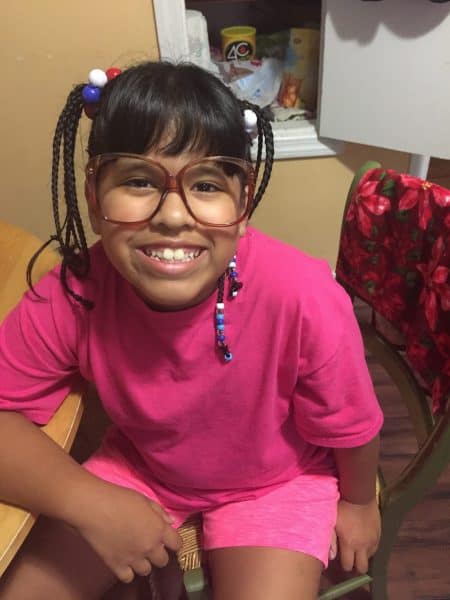 Sarai was born in the United States to a Costa Rican father and a Peruvian mother. She is the oldest of three children and lives with her family in New Jersey. Her love for art, music and performance led her to this, her debut acting role.
Her father, Juan Carlos González, encouraged Sarai by enrolling her in the online platform Actors Access in order to participate in casting calls.
"You submit the person's information, headshot and a profile," González told The Tico Times about the initial process. "There was a casting for the music video, so I sent all her information. I don't know how many they picked to audition, but one of them was Sarai."
"At the audition they told me to do faces, like sad and mad, at the mean girls. They also put on the music and I had to dance," Sarai recalled. "Just dance, say my name to the camera, and do the emotions with my face."
The rest is history.
Sarai's father is from Naranjo, Alajuela, and says he has kept alive his family's pride in their heritage. When he left Costa Rica for the United States, he was Sarai's age.
"I was only 11," he said. "For some reason, I always used to tell my parents that I wanted to go to the United States. I don't think they moved because of that, but they wanted to have a better future for myself. There have been so many blessings that God has given us, especially my kids and wife. I've been very happy that my parents moved here. [But] I'm always thinking about Costa Rica."
Like her dad, Sarai loves Costa Rican dishes, but when pressed, couldn't choose just one.
"It's tough," she said. "My grandma from my father's side is always making dishes, and I think all of them are my favorite. There's so much food that's so good in Costa Rica."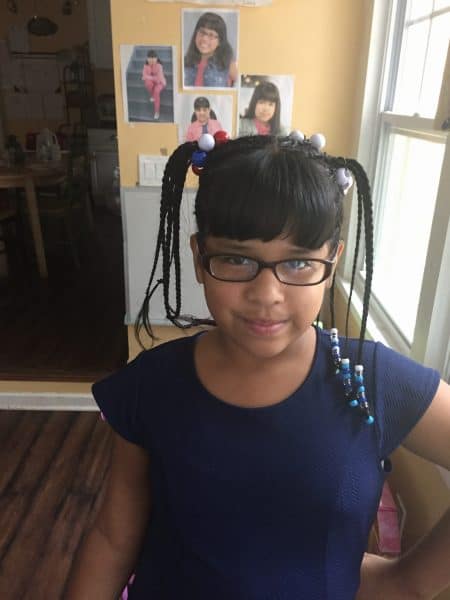 A love for food, dance and fun: they're all part of the zest for life that comes across in her performance. Creating things out of love and working hard are values that Juan González says he strives to teach his daughter.
"I believe that everything wrapped together comes down to love. Without love, nothing is going to happen," he said. "Everybody who is writing things to Sarai, making drawings, you guys interviewing her… everything that is happening, I believe is coming out of love."
He minces no words when it comes to Trump.
"This video relates to Trump's campaign because he represents a bully. He bullies the Hispanic community. He thinks that because of his money he can discriminate against minorities.  The 'Soy Yo' video fights against bullies, and against Trump's political concept," he said.
So where does a young girl go after she's inspired a hashtag, memes, and praise from celebrities including "Hamilton" creator Lin-Manuel Miranda? Where does she go after starring in a Get Out the Vote ad and becoming an icon of Latina pride?
The White House, of course, where Sarai attended the Hispanic Heritage reception on Oct. 12. President Barack Obama, who gave Sarai a big hug during the event, emphasized the importance of creating a unified United States in which Latinos are recognized for their contributions and hard work.
"We can always achieve more together than we can apart," he said.
That's a message also embodied in three minutes of joyful empowerment: a video that unified people from the United States, Colombia, Peru, Costa Rica, and even Denmark, home of video director Torben Kjelstrup.
All of them, and one young Latina who has touched people's hearts in an astonishing way.
Tico Times Interim Managing Editor Katherine Stanley Obando contributed to this piece.