Smooth movements, clean technique, and becoming one with the silks while dancing in the air: With the music on, Carolina Cabañas approaches the aerial silks, lifts her feet off the ground, and starts to fly. Rather than defy gravity, she makes it her friend. Soon enough, it disappears, letting her almost float while dancing five meters above the floor.
Cabañas is one of the pioneers of aerial acrobatics in Costa Rica. The artist started dancing ballet at the age of nine, and tried many disciplines like jazz, flamenco and hip hop, among others. However, dancing in the ground just wasn't enough for her, and she took it to the next level when she discovered aerial dance as a teenager. Cabañas now practices aerial hammock, aerial silks, trapeze and aerial hoop, and has tried "everything" in aerial disciplines.
Eight years ago, Cabañas founded the Danzaire Company, a group of artists creating and performing all around the country; three years ago she founded the Danzaire Aerial Dance School, where she trains students and teachers. It was thanks to Cabañas that the first International Festival of Aerial Dance of Costa Rica (FIDACR), a Danzaire initiative that she directed, took place in early 2016.
The Tico Times visited Danzaire to talk to the artist about her role as a pioneer of the discipline in the country, and how it has influenced her entire life. Excerpts follow.
How did you get into aerial dance?
I was in high school. I was dancing ballet, and during one staging the director said she wanted an aerial performance. At that time, 16 years ago, no one was doing this [in Costa Rican performances], but by chance, I found a sign about [aerial acrobatics] classes. A man called Heiner and a dancer named Carolina Hovenga taught aerial silks and trapeze. As far as I know, they were the very first ones teaching aerial acrobatics here. Those were introductory classes, no mats or anything.
More people started practicing at the Culture Ministry and at Metamorfosis [artistic group]. Eventually that initial group was disbanded, but I, along with some other friends, kept practicing a lot. I wanted to take it seriously. I was self-taught… I couldn't even watch videos because by that time there was almost nothing, so I was just exploring, doing research, studying. After a while, the Culture Ministry brought in the French artist Fred Deb, who has her own aerial dance teaching methodology. Through the social project Parque La Libertad, a program for circus-school trainers got underway, and they brought in companies from Spain, Argentina, Colombia.
[Eventually] Fred Deb took me to France to work with her. I met a lot of people there, and when they organized festivals in different parts of the world they invited me to work with them.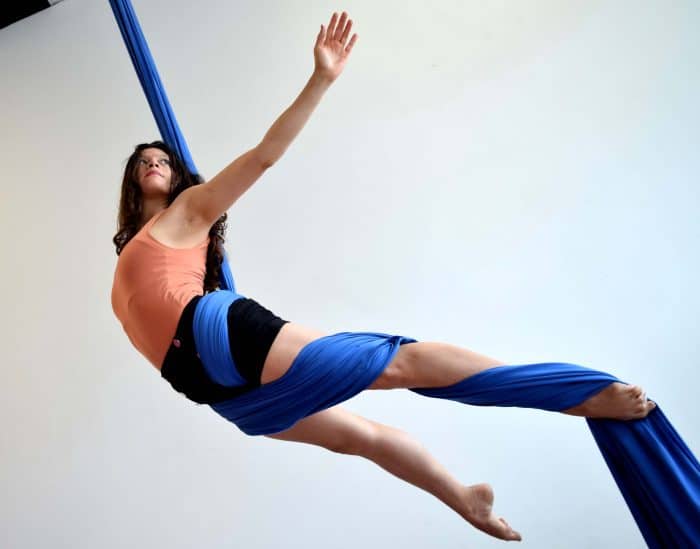 What was the main objective of the first International Festival of Aerial Dance?
We designed it taking into account that Costa Rica is different from the United States or Europe, where they have the necessary resources. We created our festival in order to generate resources so aerial dance can be practiced and developed. In Costa Rica there are not many spaces to perform, to discuss, to talk about what is being done, to practice, to learn new techniques, and meet artists from abroad: if you can't go to Europe to see those artists, we bring them here. To watch them is a blessing. Those performances… open your mind, your eyes, and your heart. That's another objective, to generate audience. Here in Costa Rica art is a luxury, I mean, it isn't a priority for some people, that's why they don't see it as something serious. In many South American and European countries art is part of the society. Here, people look at you as if you're a weirdo, like "You do what? And you hang where? And why do you do that?" They don't believe that what you do is something serious.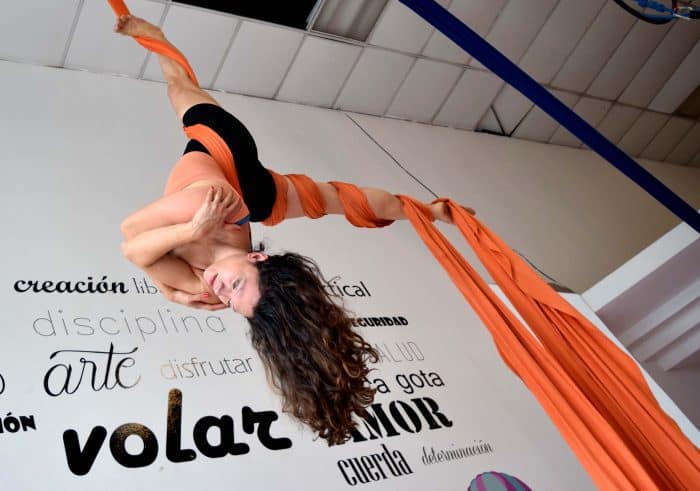 What do you love about aerial dance?
When I move in the air, I'm moving in another dimension…. I'm taking advantage of the challenges gravity presents. It's an infinite world of possibilities and creativity, and the source of inspiration never ends. I never get bored. Sometimes it's difficult to consider myself a normal person, to have a conversation with someone about something else. I'm like, "What am I gonna talk about?"
I tried to study nutrition and gastronomy, I tried to finish university, but life always gave me opportunities to work as a dancer. So I never graduated. I did get into a dancing program at the University of Costa Rica called Danza Abierta [Open Dance]. It's a training program for dancers that lasts 4.5 years.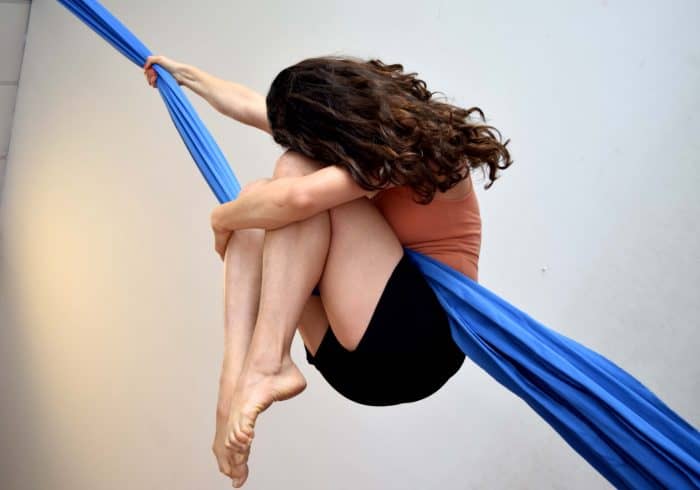 How has aerial dance influenced in your life?
In every aspect. On a personal level, it has helped me a lot… I was always an insecure person, perhaps due to some situations where I grew up. Aerial dance has helped me to have confidence in myself, to feel part of something. There are people who are doing something with their lives but are not happy; maybe they are not doing what actually fulfills them. I feel really lucky to be able to do what I want, even though it's difficult. I don't live like a queen. But abundance is in your inner happiness, in the heart. Thanks to aerial dance I have my friends, my family. Thanks to aerial dance, I met the father of [my son]. And now it has given me a job. It has given me so much, on an emotional, economical and professional level.
Also, it has also been really nice to see how the country, through Danzaire, has been able to generate that platform, and show it's not an empty practice. We try to make a difference. People know us because we are a serious group and we are commited to what we do, and that has also opened doors for us.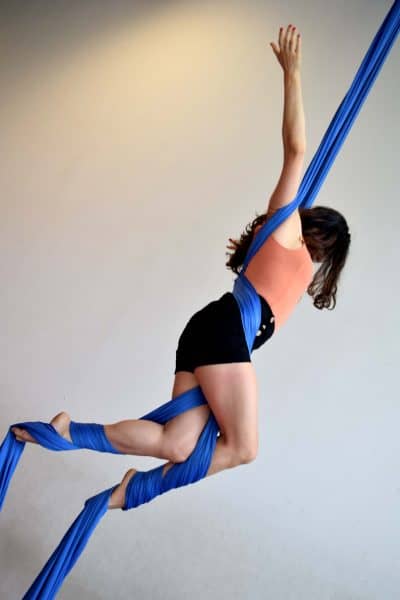 What's the future of Carolina Cabañas and Danzaire?
I would really like to expand Danzaire, both nationally and internationally. I'd like to introduce more formative programs and generate awareness… expand the teacher training course and make people want to learn more and improve, for generations to come.
As for the festival, we want to make it an annual event, because people are now contacting me saying they want the festival to return soon. We have to take advange of that interest.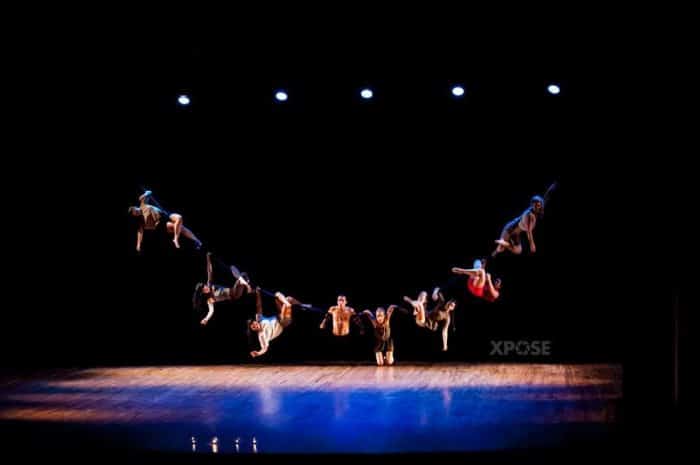 Read our first-ever Weekend Arts Spotlight from August 2015, "6 questions for an aerial acrobat," here.
Our "Weekend Arts Spotlight" presents Sunday interviews with artists who are from, working in, or inspired by Costa Rica, ranging from writers and actors to dancers and musicians. Do you know of an artist we should consider, whether a long-time favorite or an up-and-comer? Email us at kstanley@ticotimes.net.