The Tico Times is pleased to present a new series for your weekend reading pleasure: Sunday interviews with artists who are from, working in, or inspired by Costa Rica, ranging from writers and actors to dancers and musicians. Do you know of an artist we should consider, whether a long-time favorite or an up-and-comer? Email us at kstanley@ticotimes.net. This week, we begin our series on a high note, in every sense.
Priscilla Ovares Salazar, 26, is a talented young acrobat. She is a member and trainer at the Danzaire Company, an aerial acrobatics and dance academy in San Pedro, where she practices aerial silks, trapeze, lira and vertical dance; she has a background in gymnastics, dance and cheerleading. The Tico Times sat down to talk to her at the academy, with students "flying" on the silks just above us.
TT: What is aerial acrobatics?
PO: Here in Costa Rica, the best-known aerial acrobatics are trapeze, aerial silks, lira and vertical dance. The trapeze consists of a horizontal bar with two lateral strings; the lira is a hoop hanging from a string; aerial silks consists of two hanging silks, or you can have a drop hammock, which is silk hanging like a hammock. Finally, vertical dance is practiced on a wall with the use of a harness. Aerial acrobatics has a really long history. It may have started in the circus in Europe.
How long ago did you start, and how did you get into this?
I started with gymnastics and cheerleading, and I danced at the University of Costa Rica (UCR). I knew I had acrobatic skills, and I started with aerial silks about six years ago with Carolina Cabañas at the Signos Teatro Danza academy, when its owner and director was Ofir Leon, rest in peace. I began trapeze and lira at Danzaire about a year and a half ago. Most of all, I came to this as a form of therapy. What I mean by that is that two years ago my dad passed away, and I wouldn't seek any psychological help. I didn't want it. Instead, I decided to start working here at Danzaire. It really fills me with happiness to do what I do. To live at the expense of art is quite difficult, but it can be done, as long as you have had the correct formation, get completely into it, and, most important of all, are passionate about it.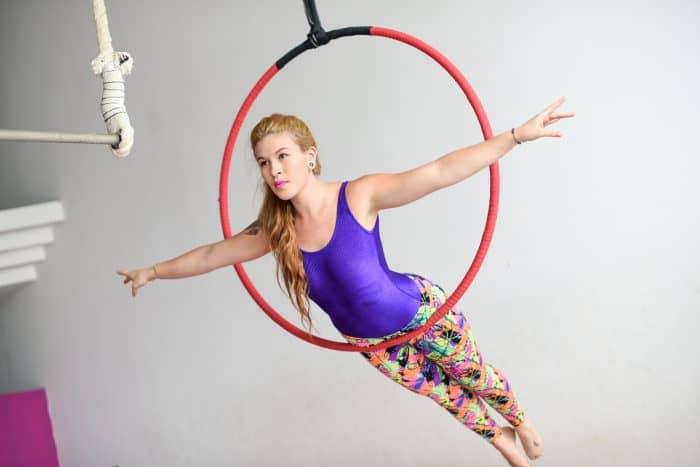 What do you enjoy the most about aerial acrobatics, and what are the benefits and risks?
What I enjoy the most is that you can create and share information with other acrobats. I love to research to learn new things and then come here to the academy to improve them. Teaching is a unique experience: you can see in students how you started, and know that if that person continuous with passion and commitment, perhaps one day he or she will get where you are. Aerial acrobatics calms down your energy, helps with concentration, exercises your body and helps to get to know your own body, because you have to work from the inside.
As a negative: if you are not careful you can put your body at risk. Safety is the most important thing while you practice aerial acrobatics, so you must know very well what you are doing and how to do it, or be with a qualified person, so you can avoid injuries or accidents. It is really important to know who you are practicing with. You can't just go and take a class in a park in the first tree you find, with a teacher who may not have enough experience. It is also important to have frequent medical checkups.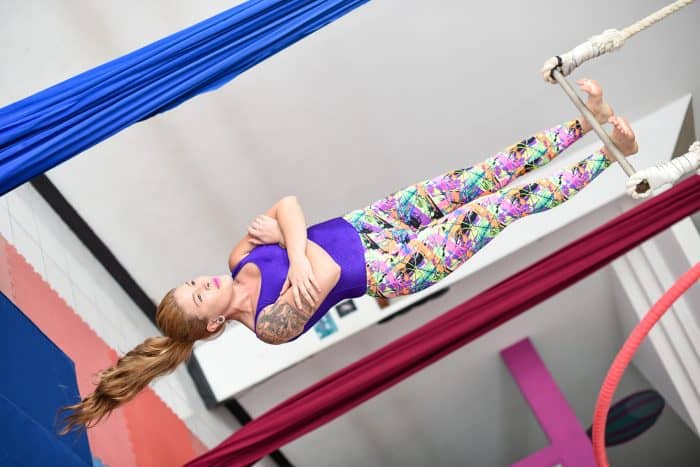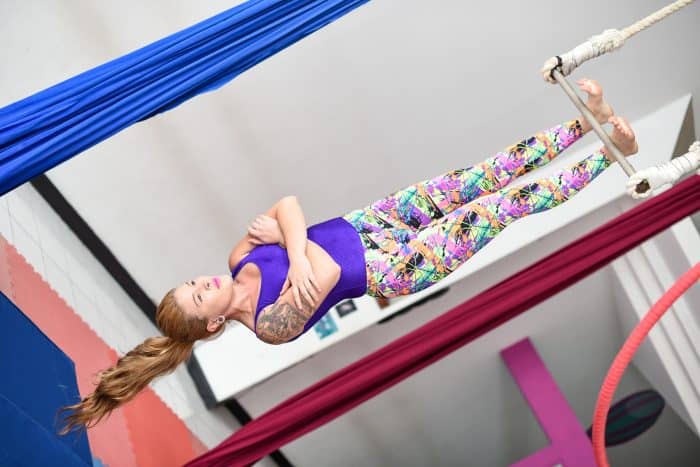 What is your advice to those who have just started or are considering taking this up?
First, decide whether you really want to exercise your body. Then, enjoy it! People ask if weight, physical disability, age or inexperience with physical activity are obstacles to participation. The truth is that none of those can stop you from achieving a dream. Passion is the primordial component of success; then comes discipline, the respect for what you do, daily training. Aerial acrobatics is a high-impact sport, but as long as you practice it the way it is supposed to be done, you will be able to practice it for many many years.
It is always important to keep a positive attitude. Even though sometimes you can't do something, do not get frustrated. Everything is about practice. You have to be persistent. Love yourself; that includes taking care of your body. Also, it is always useful to supplement aerial acrobatics with another practice, whether that's gymnastics, dance, strength work or flexibility exercises.
What does aerial acrobatics mean to you?
To me it means freedom, risk, and strength. Women are strong by nature, but when you do something that looks so pretty and different, and that requires a force that perhaps not everybody has, that strength grows.
When I'm up there, what I feel is happiness. You know, freedom, energy, excitement, and euphoria. I think about every single part of my body: if I have to set my feet a certain way, stand straight, look to the right or to the left. In aerial acrobatics you must be connected from your toe to the last hair in your head. Concentration is quite important. I'm really conscious of my breath; it helps to get strength and energy.
What are your future aspirations?
I would love to have my own academy, but obviously that is a long-term aspiration. Even though I already have experience, I think I need the double or triple of experience to have my own academy. Also, I studied tourism, so I would like to have a retreat center for foreigners who would like to get to know the country while having fun practicing aerial acrobatics, or even implement workshops with people who already practice it. Before that, I would like to audition for a European school [of acrobatics], or an Asian one or even one in South America.