MASAYA, Nicaragua — Protesters circled around the iconic statue of San Jerónimo that leads into the city of Masaya, a half-hour south of the Nicaraguan capital Managua, as they bellowed out chants of "democracy, yes! dictatorship, no!" and "a united people will never be defeated!"
The large mass of white-shirted protesters tried to march into the center of town to decry what they say is a rigged election, where President Daniel Ortega has ensured he will run virtually unopposed on Nov. 6. But they were stopped by dozens of Ortega supporters who linked arms in a horizontal line across the street and wove the red and black flags of the president's party, the Sandinista National Liberation Front (FSLN).
The two crowds stood parallel to each other for a tense few minutes, as one side tried to move forward and the other raised fists and shouted insults. Eventually the pro-Ortega crowd backed off and the opposition spilled into Masaya's streets.
Through a series of seemingly well-planned events — the Sandinista-controlled legislature's elimination of presidential term limits, the ouster of Ortega's main electoral competition and Ortega's appointment of his wife Rosario Murillo as his running mate — the family is now all but guaranteed to remain in power for years or even decades.
In June, the FSLN-allied Supreme Court banned the 70-year-old Ortega's only viable opponent, Luis Callejas, from competing in the country's upcoming presidential election. At court decision also ousted 28 lawmakers representing a trio of opposition parties.
Callejas, from the Independent Liberal Party (PLI), was put forth by a coalition of opposition forces. But that coalition has since splintered, with some parties fronting their own candidates while others call for an election boycott.
Recently, I traveled to Nicaragua to get a sense of what people were feeling about this one-sided election. When I arrived, I was met with a barrage of questions from immigration officers, who asked what I would be reporting on and who I would talk to.
After a long delay, when I was finally allowed into the country, I got mostly hushed lips from FLSN supporters.
It wasn't until the march through Masaya that I saw both pro-Ortega and opposition supporters head-to-head, looking anything but the "united people" that the opposition's chants purported.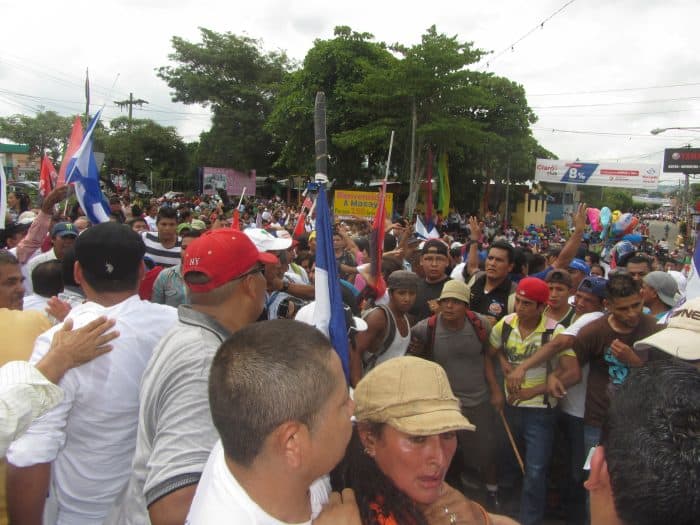 'Electoral farce'
Former PLI presidential candidate Luis Callejas, who was booted from the elections with the Supreme Court's June decision, attended the Saturday march through Masaya and urged people to abstain from voting in November.
"There are no elections in this country," Callejas told The Tico Times. "There are appointments. Now they got what they wanted and what follows is an electoral farce that will perpetuate the dictatorship of Daniel Ortega and Rosario Murillo, and leave power only in the hands of the Ortega-Murillo family."
It sounds counterintuitive to take to the streets to lobby for a more democratic government while simultaneously telling people not to vote. But political leaders from the PLI and the Reformed Sandinista Movement (MRS), a Sandinista splinter group that vehemently opposes Ortega, said the president's tight grip on power has left them with no alternative but to urge an election boycott.
MRS vice president Víctor Hugo Tinoco said he and other party leaders are urging citizens to not leave their homes on election day. "People have to abstain from voting because the only form of visibly protesting this is on election day. We're saying don't vote … there's no other candidate and no way to have free elections."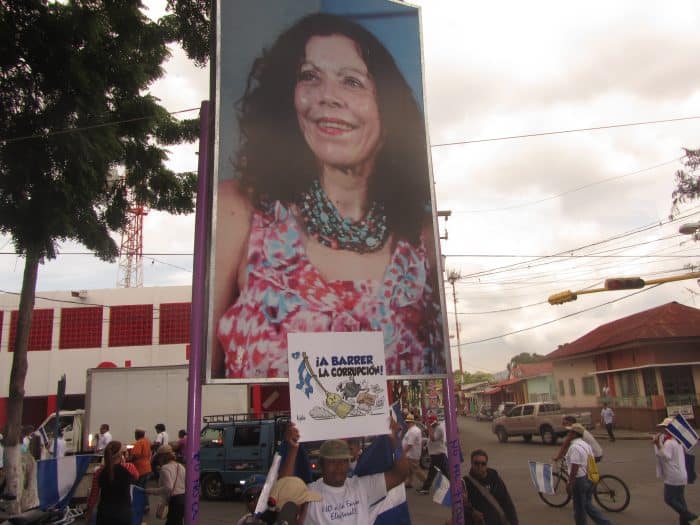 Tinoco is a Sandinista dissident who at some point became disillusioned with what he now refers to as Ortega's "dictatorial reign." Those who have broken off from the president now point out the eery similarities of Ortega's absolute power with that of the Somoza dynasty's 40-year rule over Nicaragua, which ended when Ortega and the Sandinistas overthrew the dictatorship in 1979.
Ortega served as Nicaragua's first democratically elected president following the revolution, from 1985 to 1990. He again won the presidential election in 2006 and was re-elected in 2011.
As the hemisphere's second poorest country settles into the idea of five more years of an Ortega presidency, opposition leaders say many Nicaraguans who lived through the Somoza dynasty see Ortega and Murillo's law-bending ways in a terrifying light.
"Thirty years after the revolution, we continue to be one of the poorest countries in the Americas," Callejas said. "That isn't going to change until we find a democratic path that respects the laws and the Constitution. However, we've fallen again into this trap of totalitarianism that doesn't take us forward."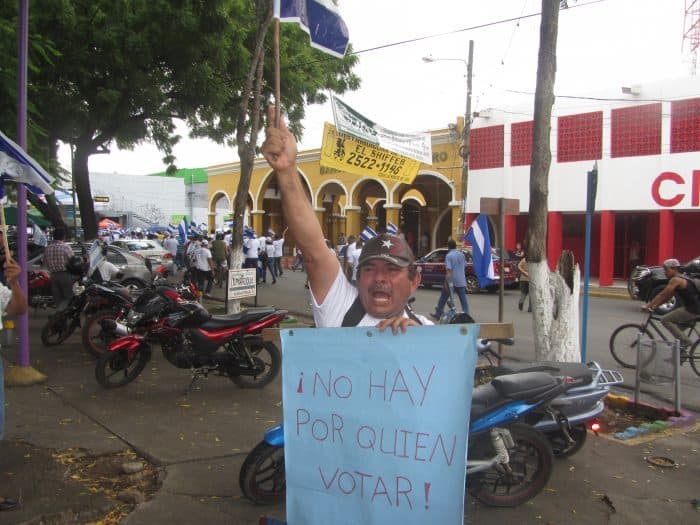 Young Sandinistas
Though Ortega may appear to have "totalitarian" control over Nicaragua, he still has a great deal of support within the country. A June survey of Nicaraguan voters from all parties found that more than 65 percent of them planned to vote for Ortega.
But how did he earn that support? And what do his supporters make of his bizarre plan to buy $80 million worth of military tanks from Russia? Or the slow-moving, ultra-controversial project to build a canal through the country?
Maybe the simplest answer is his history of helping Nicaragua's poorest citizens. When Ortega took office in 2007, he launched free universal health care and eliminated public school fees.
A 2009 report from Katherine Hoyt of the North American Congress on Latin America (NACLA) highlights how those and other progressive social changes helped the rural poor. "Any objective assessment of Daniel Ortega's government in Nicaragua must take into account the programs it has put in place that are improving the lives of the poor," she concluded back then.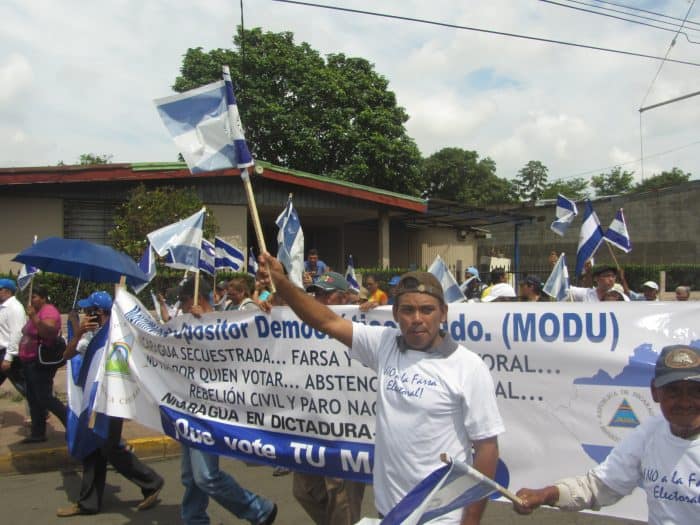 Though I found it nearly impossible to ask in-depth questions to Ortega supporters during my visit, I was struck by how many high school-aged kids were at the Masaya counter-march representing the FLSN.
Dánae Vilchez, a reporter with the opposition-friendly, Nicaraguan news magazine Confidencial, later told me that it's been almost impossible for reporters like her to interview Sandinistas about the elections.
"None of them will speak," Vilchez said. "It's been very difficult for journalists here because, even if you can get them to talk, they just repeat what they're told to say. They don't say anything substantial."
She said the government rounds up young students from the public schools and promises them food or money if they'll go to anti-Ortega rallies to show resistance. Any supporters who do talk to reporters, if they don't get permission from higher-ups, could face punishment, Vilchez said.
Tinoco, the Sandinista dissident, said the government manipulates impoverished kids from rural, public schools, telling them they're part of a new revolution.
Tinoco said these young people have become Ortega's most loyal backers — even though many are likely too young to vote — alongside the dynasty's longtime cronies.
"If the elections were completely free and legal, I don't think they'd win more than 35 percent of the popular vote," Tinoco said.
Though opposition leaders make parallels between the Somoza dynasty and Ortega's rule, there seems to be no revolution on the horizon. Many people seem at once indifferent to Ortega's actions and entirely cynical that any change will occur anytime soon.
One person told me that Nicaragua could become a democracy — maybe in 30 years.
A taxi driver cynical of both Ortega and the opposition joked during our drive from the airport that the only solution at this point would be to reset everything by dropping a bomb.
Opposition leaders like Callejas maintain that after the formality of the November elections, they will demand a do-over in which the ousted candidates, including Callejas, can participate.
"We're trying as a country to change and develop," Callejas said. "But that's not a project that will take five years. It requires a long-term effort of respecting our Constitution, our laws, and we can't do that when we've fallen again to totalitarianism and dictatorship."