The U.S. poet Richard Wilbur once told an interviewer, "One of the jobs of poetry is to make the unbearable bearable by clear, precise confrontation."
There is, perhaps, no place or situation in Costa Rica more unbearable than inside one of the country's overcrowded and underfunded prisons.
Though it's not unusual for inmates to turn to drugs or violence to find some semblance of distraction, others reach this escapism through the more innocent medium of poetry.
The 17th annual International Book Fair began Friday with a special performance titled "Free words, liberated poems," where a half-dozen male and female inmates from La Reforma and Buen Pastor prisons recited poems they wrote while behind bars.
Culture Minister Sylvie Durán spoke before an intimate crowd at San José's Casa del Cuño, introducing the poets and highlighting the importance of allowing space for prisoners to create art.
"Many of us have found within ourselves the strength that comes from art, whether that motivation come from the beautiful things in life or the dark things," she said.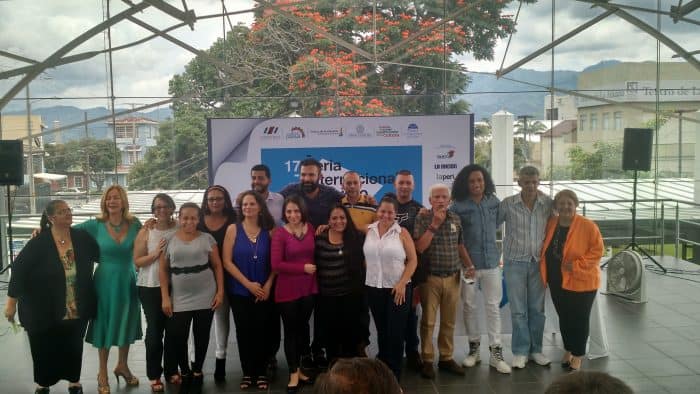 What's immediately evident from the words laid out by the prisoners in their poems is a desire to change public perception. Metaphors lean heavily toward the unavoidable theme of freedom, and combined into narratives, shine some light on the country's prisons.
As José Ocampo, a prisoner in La Reforma, writes:
It's my hope to transmit

A feeling to the people

Immersed in an underworld

Where you suffer even more pain

Like the prejudice from those who are free.

But they too are prisoners.

Prisoners of contempt,

Of their vanity, of their classism,

Of their superiority or of their status.
Farit Barrientos Arias, who has been in La Reforma prison for the past three years, also presented his poetry during Friday's opening to the International Book Fair. The 31-year-old from Desamparados has been writing poetry regularly for the past 10 years.
Each one of his works is based off what he lives everyday in prison, he said, adding that the act of writing has become a necessary retreat for him.
"I feel like I'm taken out of the cell and for a little bit, I feel transported to another place," Barrientos said. "It's as if I can disappear from there and appear somewhere else. It helps me a lot, it really is like a medicine."
Barrientos said he's constantly made aware of how the public views prisoners as automatically dangerous or degenerate. He channels this awareness into his poetry to try and help lift stigmas off of himself and other inmates, he said.
"Some of us want to receive help and sometimes it's frustrating to see peoples' attitudes," Barrientos said. "What I hope is that through poetry maybe we can at least change peoples' perceptions of us."