The lighting of the Olympic cauldron Friday night at Rio de Janeiro's Maracanã Stadium gives way to more than two weeks of competition at the 2016 Summer Olympics.
Eleven Costa Rican athletes will be competing in this year's games, in seven sports, ranging from judo to beach volleyball.
They'll be vying for Costa Rica's first medals in 16 years. Not since former gold-medalist Claudia Poll won two bronze medals in 2000 in Sydney in the women's 200- and 400-meter freestyle swimming has a Tico athlete finished on the podium at an Olympic Games.
Notable athletes like cyclist Andrey Amador and sprinter Nery Brenes could be the country's best bets to find themselves near the top among their competitions in Rio. Or lesser known names like swimmer Mary Laura Meza and triathlete Leonardo Chacón could shock the world with big results of their own.
Below is a quick guide to Costa Rica's 11 Olympic competitors, with their individual events and dates. (All start times according to the Costa Rican Olympic Committee.)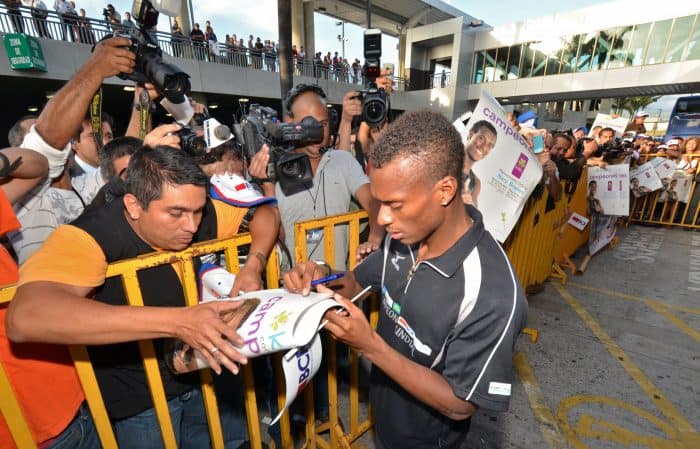 Nery Brenes, Track
The Limón native is entering the Olympics on a tear. Brenes, who will compete in both the men's 200- and 400-meter dash, has set personal and national records in both categories over the past few months.
400-meter first round: Friday, Aug. 12 at 6:05 p.m.
200-meter first round: Tuesday, Aug. 15 at 8:50 a.m.
Roberto Sawyer, Hammer Throw
The 29-year-old has already medalled in Rio this year, winning the silver at the Ibero-American Games in the hammer throw in May. Sawyer currently holds the hammer throw national record with a distance of 77.15 meters.
Hammer throw first round: Wednesday, Aug. 17 at 6:40 a.m.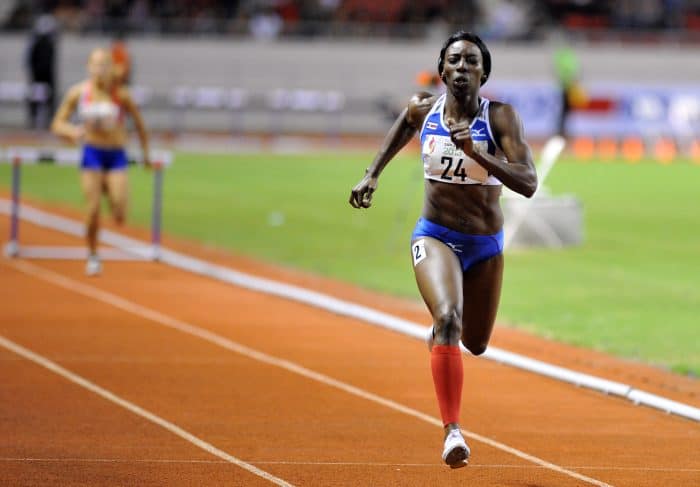 Sharolyn Scott, Hurdles
Scott is a four-time Central American champion in the 400-meter hurdles. She is entering her second Olympics Games after a first round exit in that category in London in 2012.
400-meter hurdles first round: Monday, Aug. 15 at 6:30 p.m.
Mary Laura Meza, Swimming
Meza is competing in the women's 100-meter butterfly in her second Olympic Games. The 26-year-old swimmer has competed in the past five World Championships, and cut her time down below 1:02 minutes in 2015.
Women's 100-meter butterfly: Saturday, Aug. 6 at 10 a.m.
Miguel Murillo, Judo
The 22-year-old is the youngest Costa Rican athlete competing in this year's games. Murillo enters a 32-man, elimination-style tournament in the men's 73 kilogram weight class.
Men's judo (73 kg) v. Shohei Ono of Japan on Monday, Aug. 8 at 8 a.m.
Nathalia Alfaro & Karen Cope, Beach Volleyball
The first ever duo to represent Costa Rica in women's beach volleyball enters as a heavy underdog to more established teams. But that hasn't deterred Alfaro and Cope, who will open up in a group against Venezuela, Australia, and the Netherlands.
Women's beach volleyball Group F:
Match 1 v. Bawden/Clancy of Australia on Saturday, Aug. 6 at 9 a.m.
Match 2 v. Meppelink/Van Iersel of the Netherlands on Monday, Aug. 8 at 2:30 p.m.
Match 3  v. Perez/Agudo of Venezuela on Wednesday, Aug. 10 at 3:30 p.m.
https://www.facebook.com/TicoTimes/videos/1257316050974959/
Leonardo Chacon, Triathalon
Competing in his second Olympic games, the 32-year-old triathlete suffered a bad crash during the bike portion of the triathlon at the 2012 London Games, yet still was able to finish 48th. He'll look for a smoother race this time around and to build momentum off a ninth place finish at the 2015 Pan-American Games.
Men's triathlon final: Saturday, Aug. 20 at 8 a.m.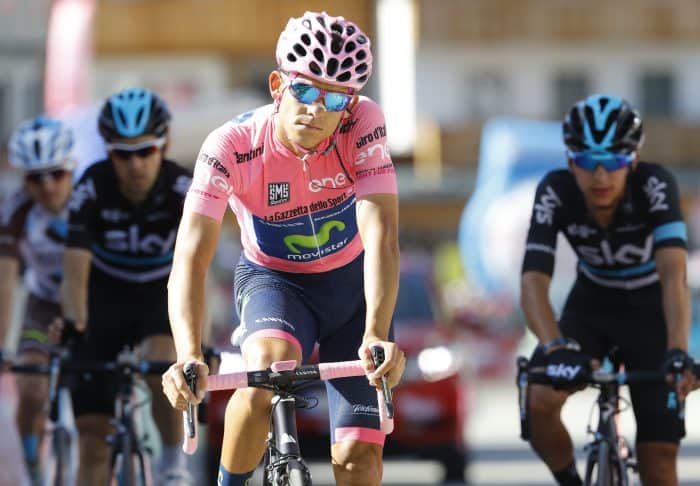 Andrey Amador, Cycling
The most decorated Costa Rican cyclist of all-time follows up another brilliant performance in the Giro d'Italia with a trip to the Summer Olympics. Amador will only compete in one event, the men's road race final, where he is looking to improve on his 35th place finish in the 2012 games in London.
Men's road race final: Saturday, Aug. 6 at 6:30 a.m.
Andrey Fonseca, Cycling
The young mountain biker classified for the Olympics at the Pan-American Championships in Colombia last year. He will have to wait until the very last day of the Olympics for his first and only event, the men's mountain bike final.
Men's mountain bike final: Sunday, Aug. 21 at 9:30 a.m.
Milagro Mena, Cycling
The aptly named Milagro Mena is a last-second addition after a Russian competitor was expelled due to the country's doping scandal. Mena is a 23-year-old cyclist who will compete in the women's road final.
Women's road final: Sunday, Aug. 7 at 6:30 a.m.