Hundreds of migrants from Africa, Asia and Haiti blocked the Pan-American Highway border crossing between Costa Rica and Nicaragua Tuesday morning, halting traffic for hours along the most important road between both countries. The highway had re-opened by noon.
The demonstration in Peñas Blancas, Guanacaste was peaceful but a forceful reminder that thousands of migrants are waylaid here as Nicaragua continues to block their path north to the United States.
More than 2,000 migrants from around the world are estimated to have entered Costa Rica from Panama since April, according to the Costa Rican Red Cross.
Kim Hackbarth, a U.S. tourist traveling to Nicaragua from Costa Rica on a bus, told The Tico Times the scene on the highway was calm but police at the border were wearing riot gear.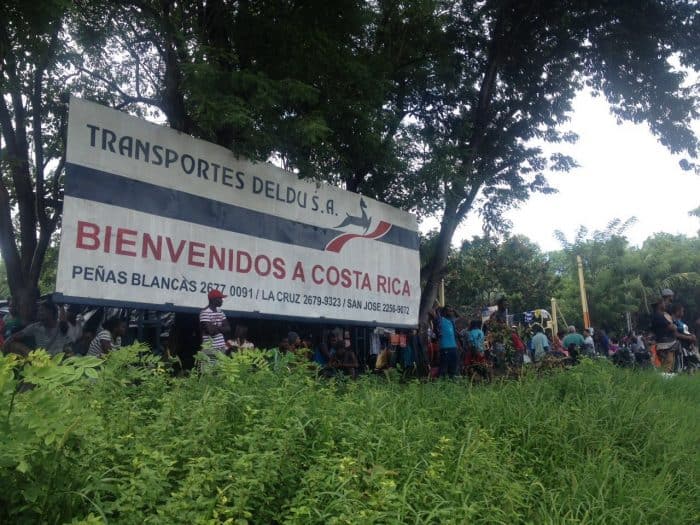 Dozens of migrants are camped out near the border crossing. The Red Cross has opened several temporary camps along the border with Nicaragua, including in Peñas Blancas and Los Chiles, to provide basic food, shelter and medical care for migrants. Another camp is located in Paso Canoas, on the southern border with Panama.
Central America has seen a sharp increase in migrants from other continents in recent months. And a rush of Cuban migrants that started last November 2015 caused a humanitarian crisis in Costa Rica and Panama.
The region's governments agreed earlier this year to airlift most of the estimated 7,800 Cuban migrants who were marooned in Costa Rica to the U.S. border, where they turned themselves over to U.S. immigration authorities and claimed protection rights under the Cuban Adjustment Act.
But a similar deal is highly unlikely for the migrants blocking the highway Tuesday, principally because there are few legal ways for non-Cubans to enter the U.S. without a visa, unless they can prove they are refugees.
Costa Rica's Foreign Minister Manuel González and Communications Minister Mauricio Herrera have said it would be too expensive for Costa Rica to deport the migrants, a task further complicated because many migrants have destroyed or hidden their official identification.
Migrants say that smugglers offering to sneak them across the border into Nicaragua charge more than $750. Many say they've been robbed or caught in the attempt.
Recommended: Migrants flowing through is likely Costa Rica's new normal, minister says