WITCH'S ROCK, Guanacaste — "How do you catch a unique rabbit?"
"Unique up on it."
"How do you catch a tame rabbit?"
"Tame ting."
You can't spend much time with the legendary surfer Robert August without getting riddled with a lot of jokes. On our trip to Witch's Rock, the unique rock formation in the middle of the water of Santa Rosa National Park, we had a 45-minute boat ride from Playas del Coco. Every few minutes he'd lean over with another zinger.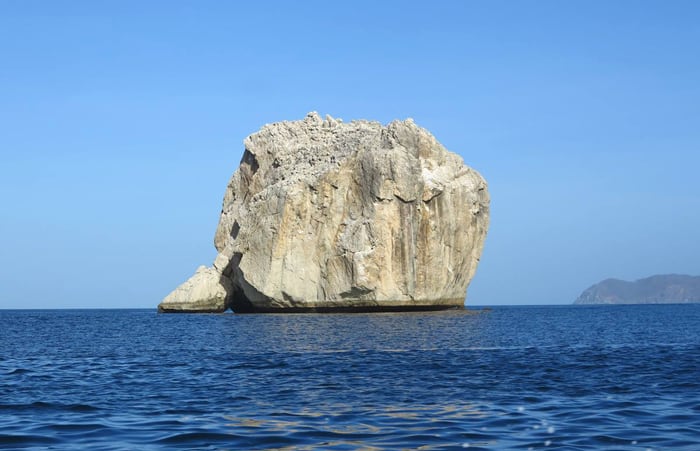 As luck would have it, on this particular trip, hosted by Mario Avendaño's La Bruja Surf Trips, August was joined by his 16-year-old daughter Christine, her friend, Rony Koren, and me. You just can't beat getting schooled in surfing Witch's Rock by the 70-year-old surfer, who for years has spent almost as much time in Costa Rica as he has in his previous home of Huntington Beach, California. In addition, our boat captain, Juan Espinoza, has been behind the wheel of one vessel or another, for fishing and other tourism in the Coco and Flamingo area, for 45 years. He's been with La Bruja for its entire five years of operation.
Robert August is one of the world's best-known surfers. As a teenager in 1966, he and Mike Hynson traveled the world looking for waves, as documented in one of the earliest and most popular surf films, "Endless Summer." When the film's creator, Bruce Brown, decided to make a sequel in 1994, he presented new upstart surfers Robert "Wingnut" Weaver and Pat O'Connell. August was featured in a segment where he introduced the youngsters to the waves and wonders of Tamarindo and surrounding areas. One of those breaks was Witch's Rock.
"I have been to Witch's Rock hundreds of times, can't remember how many times," August said. "I used to take the United Flight from Houston to Liberia from Los Angeles and it would pass over Witch's and I'd check out the waves. Now there are direct flights so I miss that."
On our trip, August donned his rash guard and jumped in the water with a blue and yellow 9-foot What I Ride model that he shaped himself at his workshop at Witch's Rock Surf Camp in Tamarindo. After showing us the peak he liked, a nice wedging left, August took off, making his now-familiar smooth longboard turns.
"I don't need a leash," he said. "I never fall."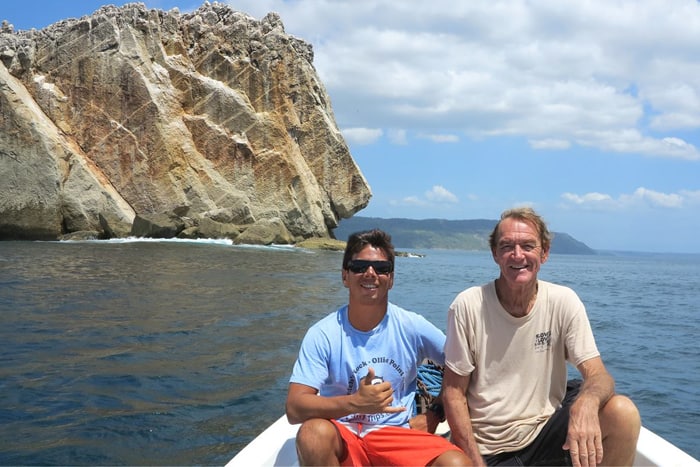 Christine, herself on a short board shaped by her dad, was no slouch in these waves either. She is a power surfer who made hard, quick turns on the waves her father helped make famous.
These waves are located in the waters of Santa Rosa National Park in Costa Rica's Pacific northwest, and Witch's Rock is one of the oldest rock formations in the country. Some estimates put it at over 130 million years old, dating back to the Cretaceous period. It got its name from the howling sounds emitted by the lion-shaped rock, caused by strong offshore winds hitting it.
According to Avendaño, Witch's Rock gets the "perfect" wave as a result of a series of weather patterns — a combination of Papagayo winds and the influence of storms that move through the mountains from the north side of Costa Rica. These winds actually come down from beyond Lake Nicaragua and come out at Playa Naranjo, the beach in Santa Rosa National Park that faces Witch's Rock.
"As a surfer, it is the best place that the swell and offshore winds meet. It's perfect," he said.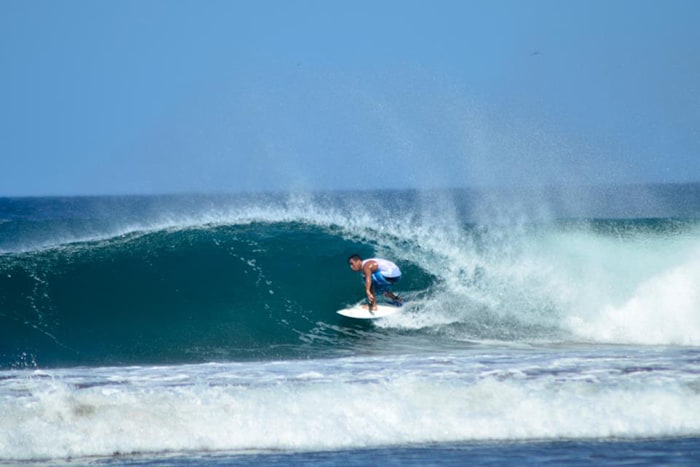 Robert agreed with Mario: "It's a great wave that catches different swells. There's always something there. … The whole adventure, the rock, everything. There are reefs out there that break up the wave, so there are lefts and rights all the way to the beach."
The spot is lucky enough to work on all kinds of swell: north from November to April and south the rest of the year.
Ticos have a lot of stories about the early days at Witch's Rock. It was once a favored location for fishermen — Captain Espinoza used to dive and fish here, and didn't know it was good for surfing until he joined Avendaño at La Bruja. Tamarindo board shaper Marco Pacheo (a co-star with August in the Tamarindo part of "Endless Summer II") has a memory from when he was 3 years old, before Santa Rosa was a national park, when it was merely an hacienda.
"The owner of the hacienda and my dad were buddies and as a kid I remember having gallo pinto with the farm's peones," Pacheco recalled. "My dad, who was a military academy graduate, would set up depth charges in the north end of the estuary and 'boom!' Sacks of fish for the farm."
Yet, Witch's Rock was eventually revealed to be just right for surfing, and Pacheco said it was "a premier surf spot that the first generation of Tico and Gringo surfers enjoyed for many years in total contact with nature."
Another one of those surfers was Randy Wilson, owner of Tamarindo Sportfishing. He came to Guanacaste in the '70s "as someone looking for an alternative lifestyle," he said. "Around 1973, we were always looking for different breaks and we rode a lot of breaks before anyone else."
During one of these excursions on a friend's boat, they were heading elsewhere when they passed the rock and inlet. There was a moment when Wilson thought: "There's sure to be surf in there. We saw the setup and said, 'Wow, that offshore is very interesting, we should try that'."
Soon, he and a group of these guys drove into Santa Rosa National Park — thinking those wild winds would be too much for a boat — on the road created by a biologist who was studying the area as one of the last dry forests in the country. The road was used by horses, and was not meant for vehicles. But they did it.
"The thing that's so great about Witch's Rock is that it's a reformed wave. The wave hits the rock, breaks up and then comes back on the other side," explained Wilson.
After a few sessions there, this group, including Wilson, his local friends and a bunch of Californians, knew they had found somewhere special. They made a pact promising not to say a word to anyone else about the surf spot. It held up for five years, but according to Wilson, one time the California guys came down without a car and traded rides with San José surfers for introductions to Witch's Rock. That was that; the secret was out.
"What do you call four Ticos in a leaky boat?"
"Cuarto sinko."
More Robert August humor.
Just how did this out-of-the-way area become so popular? After all, to get there you either take an accredited boat or drive into Santa Rosa National Park, then take a 100-yard hike to the beach. (La Bruja charges $300 to $350 for a boat with five people, and by land or sea there's a $15 park fee.)
The popularity of Witch's Rock continued to grow as a few intrepid writers, photographers and filmmakers showcased this beautiful wave. Pacheco remembers a surf magazine article with surfer David Barr featuring pictures of Witch's Rock's waves by renowned photographer Aaron Chang. Wilson said Barr was in a film. Regardless, these things came out in the '80s and were the first official international introduction.
Yet, it was the release of "Endless Summer II" in the '90s that really broke things wide open. Here was Robert August sweeping down the line on these gorgeous waves at a place called Witch's Rock. It seemed like an open invitation to the world to join him. Soon, surfers — novice to expert — wanted to go to Witch's Rock, some just to say they'd been there.
"We came down before the movie crew and researched all over," recalled August. "We said, 'Oh my God, this is incredible.' Witch's is such a classic place. When New Line (Cinema) came down and saw it, they said, 'Holy Cow, this is fantastic.' So we filmed there."
At the same time people were flocking to Witch's Rock to surf, the characteristics of the area were changing. Here's how the story goes:
Santa Rosa National Park was christened in 1972 to commemorate the March 1856 Battle of Santa Rosa, in which the invading forces of U.S. freebooter William Walker were attacked by a group of Costa Rican volunteers. The battle lasted 14 minutes, and the invaders were routed.
The park also offers up two beaches. The first is Playa Naranjo, the one where the surfing takes place. The other, Playa Nancite, to the north, is one of two Costa Rican mass-nesting areas for olive ridley turtles.
For people like Wilson and Pacheco, the surf over on the north side of Playa Naranjo near Witch's Rock was great. But Mother Nature had other plans. A trickle of water to its south evolved into a full-blown estuary.
"One year we showed up it was flat and sandy on the bottom, and the estuary had broken through," Wilson lamented. "The estuary was depositing sand and creating a different bottom, and therefore a different wave."
Park officials closed the northern area, which meant no more camping there, and it eventually became mangroves.
For Pacheco, no worries, his favorite spot is a little south, called El Point del Burro, a name given this place by Tico surfers in memory of a young surfer with the nickname of El Burro. People camp there now, he said, because the northern area is closed, but it's twice as long a walk to the beach. Yet, he said, it's still worth it.
Of course, it's entirely accessible, and easier to reach, by boat.
Avendaño has no preference. He likes everywhere there's a peak at Witch's Rock. And not just to surf — most of the time on our trip, he was out in the water offering encouragement with his videocamera, capturing each of our waves.
"Ronnie is winning the heat," he screamed as she took another long, long right, her favored side. Mario is quite at home at Witch's Rock, and not just for the obvious reasons of owning a tour company that takes clients to the spot.
Although he studied in San José as a youngster — and learned English from Led Zeppelin, Aerosmith and "Seinfeld" — the family has had a home in Playas del Coco for his whole life. This is the same house right next to the bay where guests begin their surf trips and end with "the most famous shower in Costa Rica," known to all the boat captains as the place to wash up after a boat trip.
Avendaño said he has "always been addicted to adrenaline," though he was sidelined by cervical surgery a few years ago. "For all my life, I knew I was going to surf Witch's Rock." He began his business working for another boat, before getting his own and being joined by Espinoza, a lifelong friend and "second father" who continues to teach him about the ocean.
"Obviously, people go to Witch's Rock because the waves are perfect," Avendaño said. "Once you surf that place you always want to go back. It's mystical. It's like a temple of wisdom and good decisions. My temple that transfers bad energy to good energy and gives it to people in the boat."
"How do you top a car?"
"Tep on da brake, tupid."
August speaks enough Spanish to get by here in Costa Rica, but he is very glad that Avendaño speaks English to discuss with him where we should stop the boat and splash down.
So, what else should you look for when planning a boat trip to Witch's Rock besides the ability to communicate with your guide? Including La Bruja's panga, there are only about 10 boats that are properly certified with the right government permits to take clients into Santa Rosa National Park and to Witch's Rock. Check to make sure your boat has documents from MINAE (Ministerio de Ambiente y Energia), ACG (Area de Conservación Guanacaste) and SINAC (Sistema Nacional de Areas de Conservación). Otherwise, you risk having your boat kicked out by the Coast Guard, and that will certainly ruin your stoke.
It's also important that your craft have emergency and safety equipment, as well as a first-aid kit.
We're on our way back after hours of surfing at Witch's Rock. Luckily, there are sandwiches and fruit, because you can really work up an appetite pumping in those waves. It's nice to see the pride that Robert has for his daughter Christine, having forsaken a second session this afternoon in order to watch her from the beach. He boasts about how she was a national champion when she was surfing for the Huntington High School surf team. At no time does he take any credit for her skills, but we all know the apple doesn't fall far from the tree.
"Christine has been up here many times, but I love spending time on the beach watching her. I get so much pleasure and I get to experience this with her. I did the same thing with my son, Sam, but he ended up becoming a baseball player. When its your kid, you wanna see 'em," August said.
Christine herself had the final word.
"Surfing Witch's reminds me of how grateful we are as surfers and really natives of this beautiful country," said Christine. "Being with my dad especially makes me nostalgic of all the other times I've gone with my dad, like when I was about 5 years old. It's still fun going with close friends, but nothing like today surfing an empty lineup with your dad, best friend and other friends.
"This was one of the best days at Witch's I've ever had."
Contact Ellen Zoe Golden at ellenzoe@aol.com.