Robbery was likely not involved in the death of an unidentified person, believed to be missing hiker Cody Dial, whose remains were found in Corcovado National Park on May 20.
Judicial Investigation Police (OIJ) Director Walter Espinoza told reporters that bits of paper money, a compass and other valuables were among the belongings found with the remains in Corcovado that police say is likely the body of  27-year-old U.S. hiker Cody Dial.
"It does not appear, at least initially, that robbery was a motive involved in the disappearance or death of Cody Dial," Espinoza told reporters during a news conference Friday.
Espinoza spoke plainly about the theory that the remains belong to Dial, who went missing in the national park in July 2014, but a DNA test that would confirm to whom the bones belong is still weeks away. Personal items identified by Dial's parents, Roman and Peggy, and Dial's passport were found near the remains. Roman and Peggy Dial provided DNA samples to police Thursday that will be used to identify the body.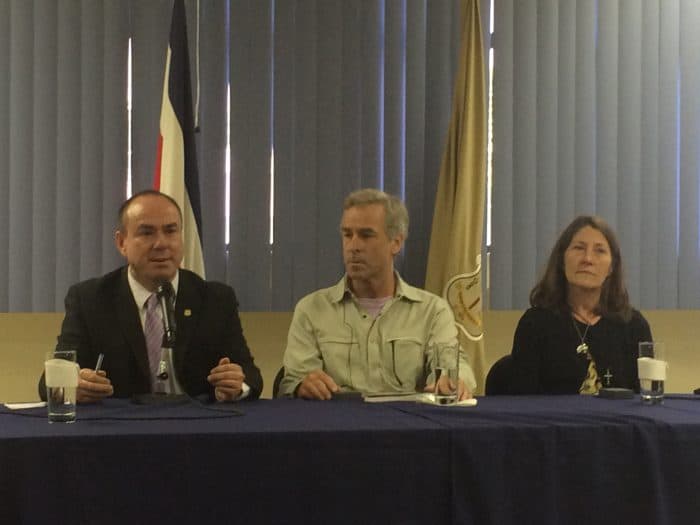 Anthropologist Georgina Pacheco was part of the OIJ forensic team that collected the remains. She said the remains were found in the middle of a creek in a part of the park known as Quebrada Doctor. After prolonged exposure to the elements, wildlife and the flow of the water, Pacheco said it was not surprising that investigators did not find a complete skeleton at the site.
The remains will remain in police custody until they are identified.
Roman Dial thanked the OIJ, U.S. Embassy, Red Cross and National Geographic for their help searching for his son. While DNA confirmation is still roughly a month away, Dial's parents said they found a sense of closure in the investigation's findings.
"We feel like we've been underwater for the last two years," Roman said as his wife, Peggy, sat at his side with tears in her eyes. "Now we can finally breathe."