SAN JOSÉ — As the bus rolled through Barrio Amón, our tour guide pointed out the former home of Costa Rican dictator Federico Tinoco, who seized power in a 1917 military coup but fled the country in 1919 after his brother Joaquín, the minister of war, was shot to death right here in this neighborhood.
"He lived well," observed a Mexican tourist.
"All dictators live well," I remarked.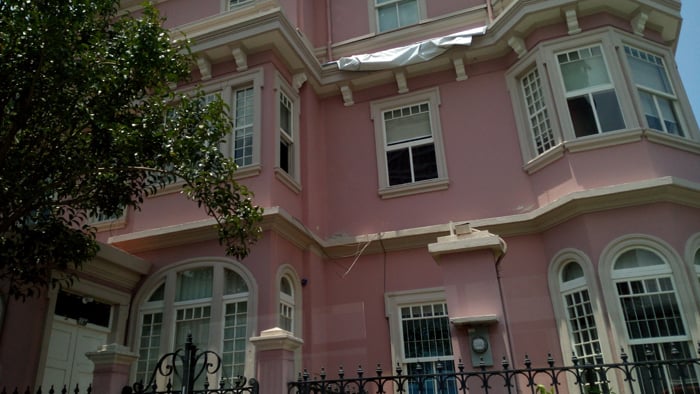 But our tour guide, Bolivar Calvo Varela, 50, wanted to talk about the dictator's brother, Joaquín — one of many personalities he brought to life on a 90-minute San José bus tour with City Square Tours that proved to be a fascinating glimpse into the unique history of Costa Rica's little-appreciated capital.
"August 9 of '19, he receives a call at the house, he leaves the house and he goes walking toward the corner," Bolivar said. "Before he arrives at the corner they shoot him. … His brother, the dictator, steals all the money in Costa Rica and takes off running, goes to live in Paris, France. That's how the Tinoco dictatorship ended in 1919."
Was it a countercoup? Assassination? Revolution? Nothing so grand.
"They killed the brother of the dictator, but actually the main reason he got killed is a funny story," Bolivar said. "Because the man who killed him was a jealous husband. Nothing to do with politics. He was going out with the wrong woman. No, it wasn't the wrong woman, it was the right woman, but the wrong husband."
So, I thought, he wasn't the minister of war, he was the minister of love!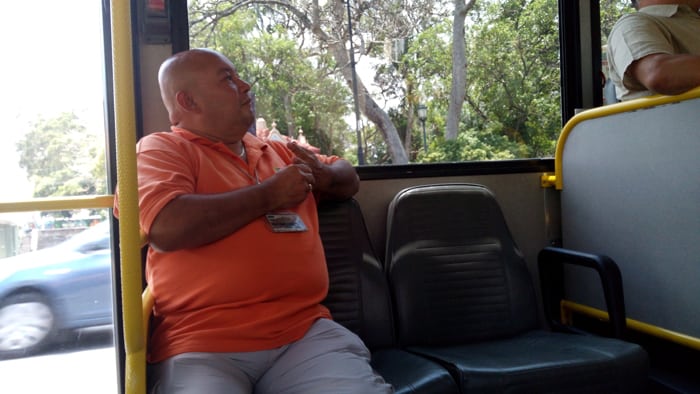 San José why?
If you've ever skimmed a Costa Rica guidebook, you might have read that San José is a good place to fly into and out of, but you wouldn't want to linger here long.
Admittedly, it would be pretty strange to book a vacation in Costa Rica where you never leave the capital to head to the beaches, jungles and volcanoes. But the idea that there's nothing to see in San José is sorely misguided.
San José is the heart of this country — a bustling, cosmopolitan city where roughly 20 percent of Costa Rica's 5 million residents live. It's the political, economic and cultural capital, and it's bursting with hotels, restaurants and tour companies to accommodate visitors, even if they are en route to elsewhere.
If coming to Costa Rica, should you get out of San José? Absolutely. But should you avoid exploring this vibrant capital? Absolutely not.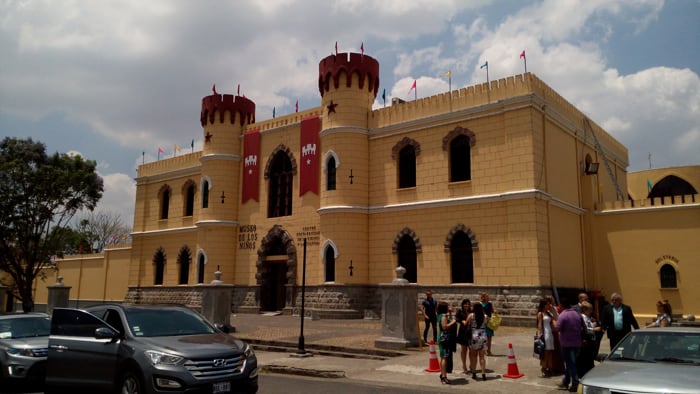 Bus tour
Andrés Oreamuno, 25, got the idea for a "Hop On/Hop Off" bus tour of San José in 2010 while visiting Chicago, where his brother was running in a marathon.
"It was the best way to move around the city," he said — tour buses that ran regular routes where you could get on or off the bus anywhere you wanted. Why not do this in San José?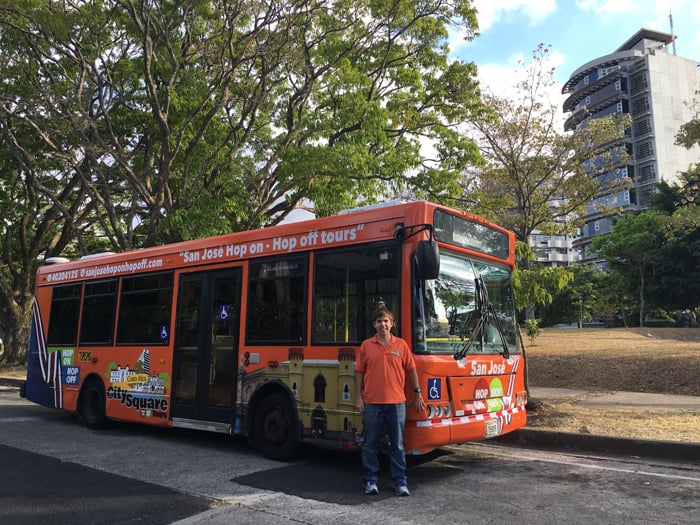 Andrés said other San José tour buses offer fixed routes where you're stuck with the plan of the tour company.
"We're the only Hop On/Hop Off tour in San José," he said.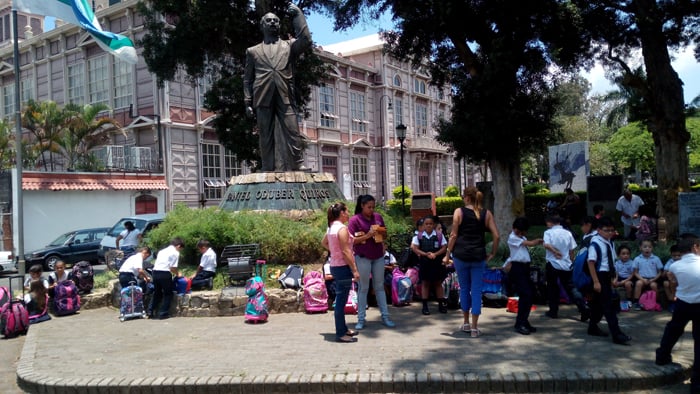 In addition to the flexibility of being able to get on or off the bus anywhere on its regular routes, City Square also offers hotel pickup and dropoff. That's a major convenience for guests, even if it's a complicated logistical puzzle that Andrés has to solve every day, with only one full-size bus and a minivan. (He's looking to buy another bus, and when overbooked he can call in rented buses.)
The young entrepreneur has a charming backstory. As a child, he was drawn to the hospitality business, and he used to pretend that his family home was a hotel with numbers on the doors where he had to provide lodging, housekeeping and room service.
"I would make the bed and things like that, once a month, because I knew that I had to be in all the departments to manage a good hotel," he told me. "That was my goal."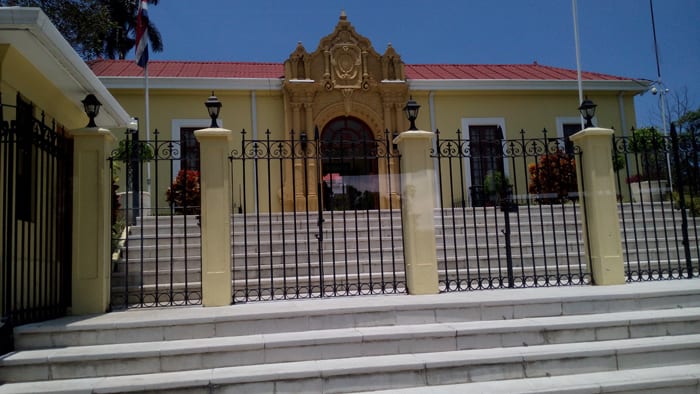 "You did room service?" I asked.
"Yeah."
"You brought them food?"
"Yeah, on Sundays."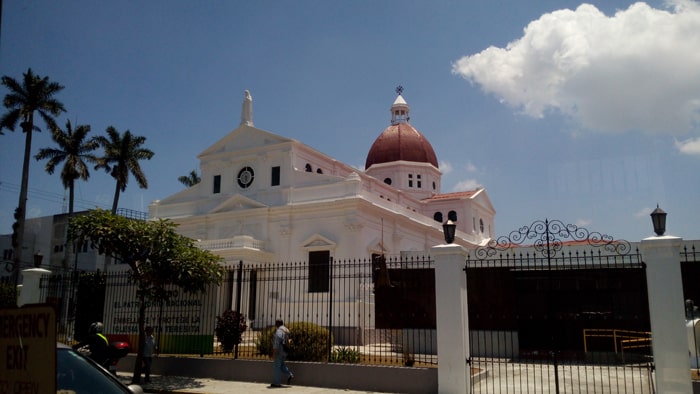 "To your mom and dad?"
"Yeah, I would make sandwiches, or whatever they wanted, pancakes, I would take orders in the rooms."
"I bet they liked that."
"Yeah, especially my brother, he was very happy with it."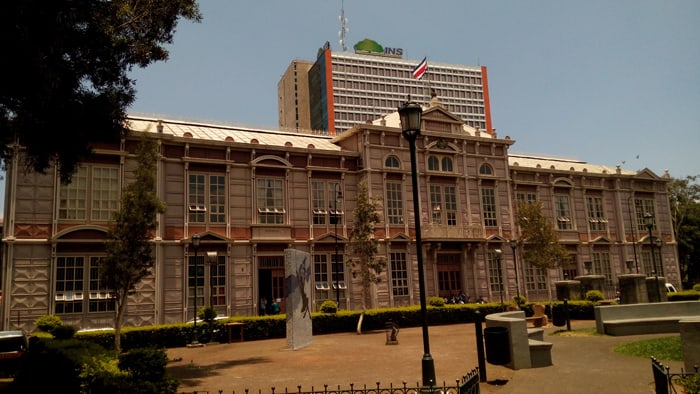 Fast-forward to 2016. Andrés is not running a hotel (yet), but at an age when most young people are still trying to figure out what to do with their lives, Andrés is running one of the most successful bus tours in San José.
And … we're off
We boarded our orange bus in front of the National Theatre of Costa Rica, which opened in 1897, modeled after the Opéra Comique in Paris. One of the most dazzling buildings in Costa Rica even today, it was described at the time by one wag as a "jewel in a mudhole."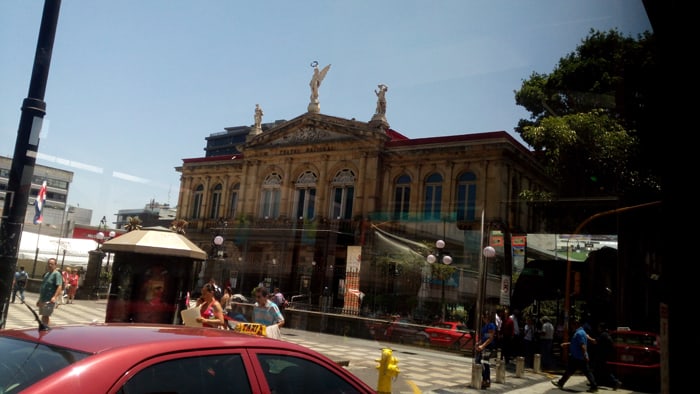 Next to it is the Plaza de la Cultura (or as I like to call it, "Plaza of the Pigeons"). This square is the rooftop of a three-story underground structure that was the first building in the country designed to be a museum, which opened in 1980, Bolivar said.
And we were off, rolling down Avenida 2. We passed the National Museum of Costa Rica, its towers riddled with bullet holes.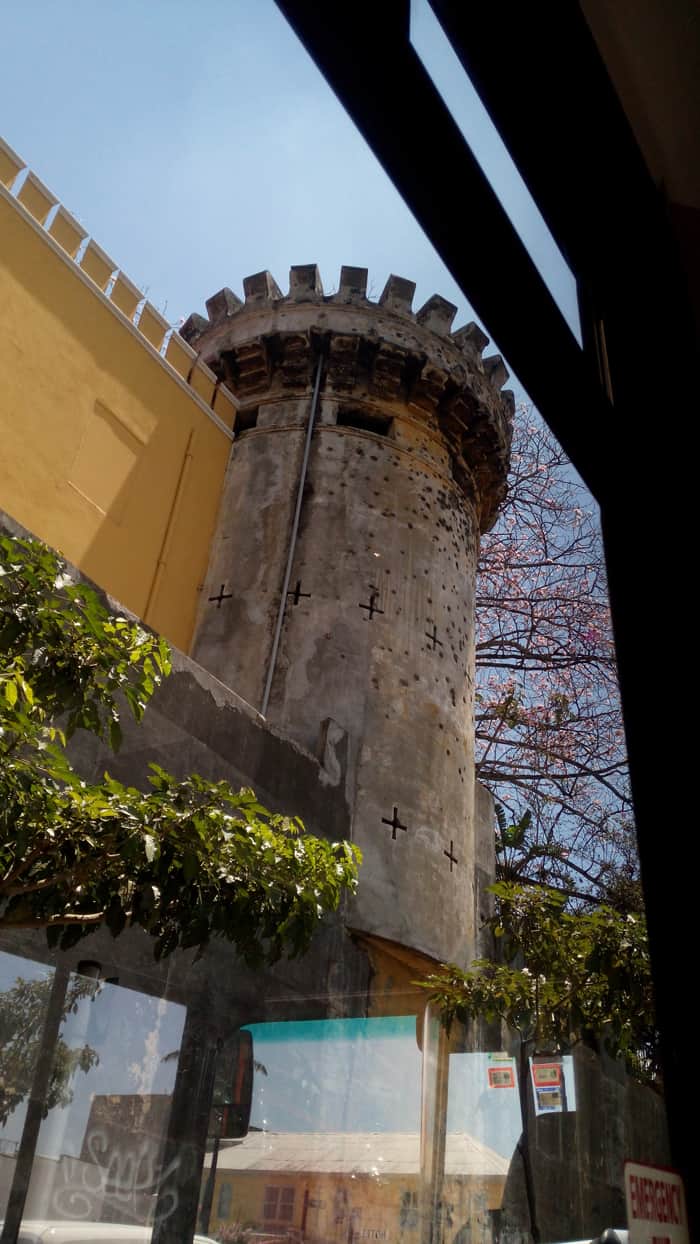 "It was a fortress where the military used to train and where they used to live," Bolivar said. "Those bullet holes come from 1948, the civil war that we had between José Figueres and Rafael Angel Calderón Guardia." (More on that later, he said.)
He showed us the Jade Museum, where some 7,600 pieces of jade are housed in a five-story building not quite two years old.
"Interesting thing about the Jade Museum: Even though we have a five-story building, there is no [naturally occurring] jade in Costa Rica," Bolivar said. "All the jade in here was brought to Costa Rica in pre-Columbian times." As an object of trade in those days, he said, jade was more precious than gold or silver.
In an area called La Luz, Bolivar said that in 1884 San José became the third city in the world to install electric streetlights, after Paris and New York. There's room for debate there, but no dispute that San José was the first city in Latin America with public electric lighting.
After much remarking by a fellow passenger over why this coffee capital needs so many Starbucks outlets, Bolivar said, "This is the No. 1 restaurant in the whole city," and he pointed to a Taco Bell. "No, I'm just kidding."
I wondered why we were stopping in front of an unremarkable condominium complex called Villa Fontana.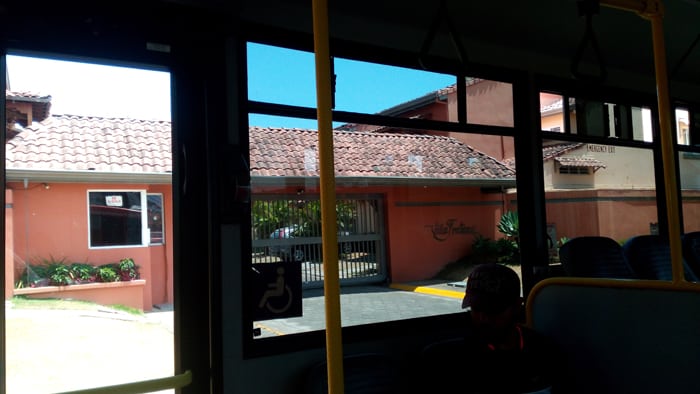 "The president of Costa Rica, Luis Guillermo Solís, lives right there in a condominium," Bolivar said. "We Costa Ricans don't spend millions of dollars in giving the president a big, huge palace for him to live like a king. I mean, what need do we have for that?"
In another presidential drive-by, we stopped at a museum dedicated to Rafael Angel Calderón Guardia. Born in 1900, he studied medicine in Europe, returned to Costa Rica in 1927 and was elected president in 1940.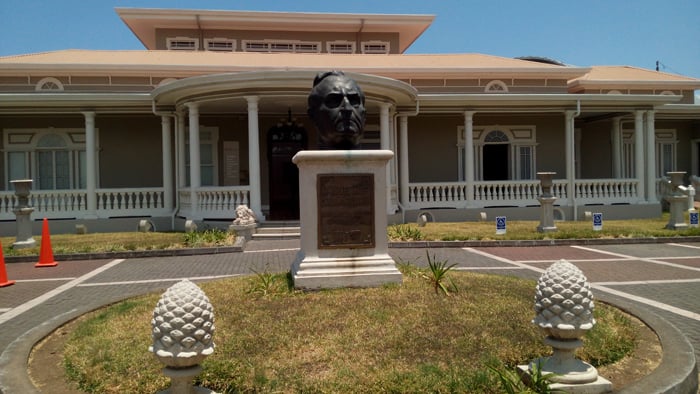 "He was one of the best presidents that we ever had," Bolivar said. "He actually included all the social guarantees that we have in the constitution. He gave us the work code, the University of Costa Rica, and best of all … the universal health care that we have in Costa Rica."
After serving from 1940 to 1944, he ran for president a second time in 1948, and the results were so close they were hotly disputed.
Enter José Figueres Ferrer, a charismatic coffee grower who called himself a "farmer-socialist." Accusing Calderón's party of fraud, he launched an armed rebellion against the government.
"The army divided in two, one for this side, one for the other side," Bolivar said. "That civil war lasted 44 days. It was won by José Figueres Ferrer. He was the one who abolished the army on Dec. 1, 1948. … So all that money that used to be used for the army is now being used for education and health care."
And the bus rolled on, to the old Aduana building in Barrio Aranjuez, to Paseo de las Damas, to the anti-William Walker monument in Parque Nacional, to the Centro Nacional Nacional de la Cultura, to the Metallic Building, to the very yellow Casa Amarilla, to the place that has a piece of Berlin Wall, to the Children's Museum….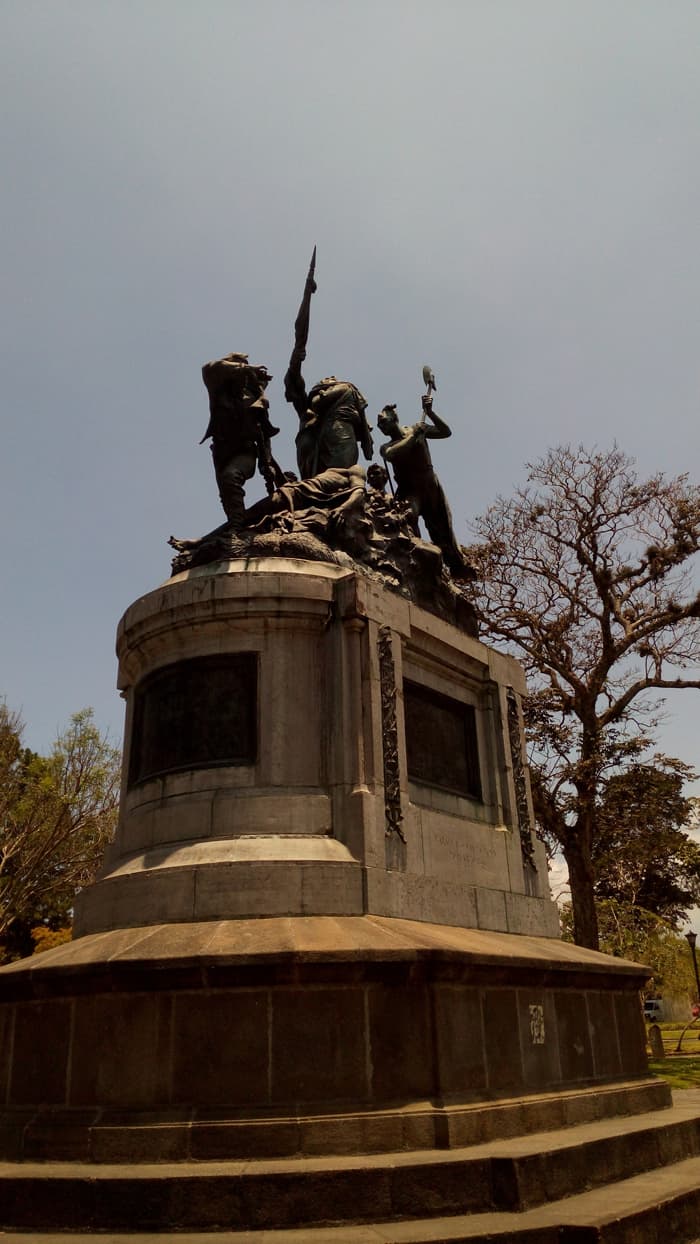 I was signed up for the basic $30 bus tour, which stops at a half-dozen places but doesn't go inside them. The most popular tour, for $40, includes a guided walking tour through the Central Market, the Metropolitan Cathedral and other landmarks.
For $50, entrance to one of the museums is included, and for $60, two museums. For $70, you can do self-guided tours of five major landmarks: the Pre-Columbian Gold Museum, the Jade Museum, the National Museum, the Children's Museum and the National Theatre. For $75, you get guided tours of the same attractions plus lunch.
Another option is an alternate route that goes to the Costa Rican Art Museum, the Sabana National Stadium, the Botica Solera cultural center and the Hotel Grano de Oro. Finally, there's the $45 Happy Hour Tour, an evening bus tour where you stop at three bars and get three drinks.
I remarked to Andrés that it sounds like it would be difficult to coordinate all these moving parts.
"Yes, definitely," he said. "Especially on a day when we have like 30 people. And to have to coordinate everything and make sure everyone's happy, that's part of the challenge. So then, once you finish the day, you go back home and relax after all the stress and all the logistics, that's the fun thing as well."
IF YOU GO
Phone: Call 2233-0101 for hotel pickup, or to arrange to meet the bus at its scheduled stops.
Email: info@costaricacitysquaretour.com
Rates: $30-$75.
Hours: 9 a.m. to 5 p.m. every day, with hotel pickups starting at 8:30 and drop-offs until 6:30.
For more info: www.costaricacitysquaretour.com
Contact Karl Kahler at kkahler@ticotimes.net.