Chef José González has a frenetic passion about food, if anyone couldn't tell from the beet he had just pulled out of the ground and was now shaking like a leafy exclamation point at the end of his sentences.
González also can't sit still. Wearing gym shorts, a t-shirt and backpack, he bounded from one end to another of his family farm in Tirrases, Curridabat on a December afternoon, taking pictures of the beets, lettuce, cucumbers and other produce with his smartphone and talking with the farm manager.
Here in the dirt, González isn't far from the small kitchen of his restaurant, Al Mercat, in the Escalante neighborhood of San José. The farm and many of the ingredients grown there — including that beet — are part of his farm-to-table style of cooking that started with his travels in Europe but came to fruition in his native Costa Rica.
Al Mercat opened its doors two years ago serving Costa Rican food with a rigor typically reserved for European fare or better-known Latino cuisines, like Mexican or Peruvian. González said he is trying to "empower the Tica kitchen" through a refinement of technique and rediscovery of traditional ingredients that have been lost or cast aside to cater to a more international audience.
Elevating Costa Rican food for visitors and locals alike is no small feat. Despite recent efforts by the government to promote Costa Rica as a foodie destination, Costa Rican food doesn't have a great reputation.
Rice and beans get served ad nauseam and the Tico palate tends to veer toward the bland. The national dish, casado, is actually a varying, mixed plate of food (with yet more rice and beans!) and hamburger and pizza joints seem to outnumber classic sodas.
Often, traditional food is reserved for roadside stops off the highway or touristy spots hawking "pura vida" t-shirts. A 2013 Huffington Post article made a side-eyed snipe at Costa Rica when it recommended travelers go to Hawaii instead where "the food is actually interesting."
González acknowledges the reputation, but he's determined to overcome it. "We've never had a fine dining culture but we've always had the raw ingredients," he said from the edge of the farm where chickens scratched in the dirt.
Emphasizing locally-grown or little-known ingredients is a cornerstone of Al Mercat. Walking down the washed-out gravel road to the Tirrases farm that supplies more than 30 percent of Al Mercat's ingredients, González stopped to pick up a reddish-orange flower from the poró tree. He popped it into his mouth after offering another to taste. The flower has a bitter but not unpleasant flavor.
Growing on the edge of a row of cucumbers he points out some menta criolla, or native mint, which looks like spearmint but comes with an unexpectedly strong lemony punch.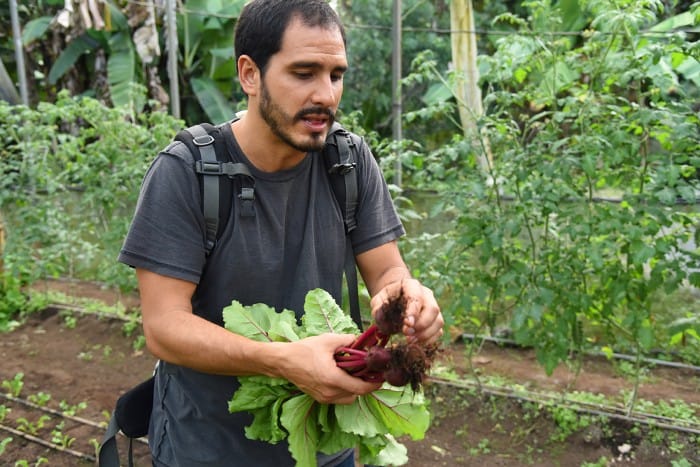 Eating weeds is a far cry from the picky eater González was as a child but spending weekends with his aunts and uncles in the countryside, González was introduced to some of the edible plants and herbs that he uses today in his cooking.
His father was in the banana industry and González grew up in Costa Rica, Guatemala and Ecuador. After working as a lawyer for several years, González started cooking as a hobby and eventually traveled to France to study at the Cordon Bleu in Paris.
Traveling and working as a chef in Spain and France, González fell in love with the food culture there. After graduation, he worked in Paris for a year before he found a job as a personal chef for a U.S. couple living in Landes, France. For three years, González went to the market everyday to shop for ingredients, using fresh produce and growing some of his own on the estate. He said the experience helped lay the foundation for his approach to food at Al Mercat.
When González returned to Costa Rica in 2012 he took to the road. Driving around Costa Rica, he met with farmers and country cooks to build on the initial knowledge he gleaned from his family about traditional Costa Rican ingredients and dishes. Inspired by what he learned, González said he took many ingredients already available and gave them a "twist" at Al Mercat.
"Costa Rican food is bland," González said, "I love it. It's the base of my cooking, but you need to kick it up."
That "kick" often comes in liberal use of citrus and spice and non-traditional preparations of traditional ingredients. Raw, julienned chayote takes on the texture and sweetness of a green pear. Tecaco, a vegetable typically boiled in Costa Rican beef stew, or olla de carne, takes on the refreshing crisp of a cucumber.
González said he delights in serving someone something they don't immediately recognize so they can "try and find out what's going on with the dish."
The another thing that sticks out about González's cooking is his abundant use of vegetables. For González, the quality of the produce in Costa Rica far exceeds much of the protein raised here. Sourcing good chicken or pork is a constant challenge, he said. So instead of resorting to imported meats, González took his food in the direction of what was already available.
Back on the farm, the Al Mercat team has been experimenting with producing eggs, and raising chicken, quail and pigs for the restaurant. But González said they currently can't raise enough to meet demand.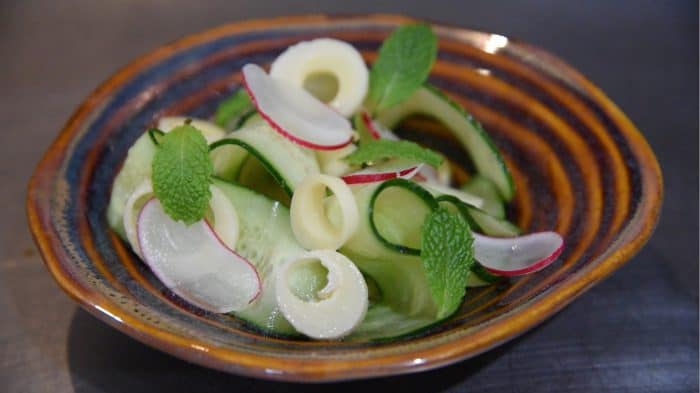 After lunch service one day in February, González sat down in the dining room still in his chef's whites. Al Mercat's dining room is industrial chic. Exposed brick walls are lined with green vines in small pots. Mismatched chairs sit at tables for four. Metal electrical boxes are repurposed as lampshades.
Leaning back in his chair González betrayed some fatigue before finding a second wind.
The restaurant started off as a more formal dining experience but González has since toned it down. The setting is less formal but González said that his treatment of the ingredients is still in line with fine dining.
"I want to give a little less formality to our food and just enjoy food like Costa Ricans do in a beautiful way of passing things at a table, eating, not big amounts, but enough food. Just being happy," he said.
"I think the state of Costa Rican cooking is a little numb," he said. International tourism is an important part of Costa Rica's economy but catering to the tastes of foreign visitors for the last several decades has pushed out local cuisine in favor of pizza, french fries, hamburgers and tacos, he said.
"I like to please my customers but you can't give them the right to choose what's going to be on your menu."
But González said that chefs are starting to insert more individuality into their menus. "There's a bunch of chefs working on this. Not just one," he said. "It's been really cool trying to open that path, but we need more chefs to get out of that state of numbness that we're in right now."
Besides running the kitchen at Al Mercat, González used to manage the farm in Tirrases and he participated in a project to promote native corn varieties before other projects took over his time. Now he's trying to launch a Costa Rican food guide and offer tours of his farm.
"I got to keep changing," he said, "otherwise I get bored."