As I walk in the door of the home-office-ice cream factory that Rodrigo Brenes shares with his architect girlfriend, he's intensely waiving his imaginary conductor's baton at the last notes of Pavorroti's "Figaro" emanating from his computer.
With the last thrust, it should be ice cream making time. Though not today, because Brenes won't let anyone watch him make ice cream — not even his girlfriend. Top secret.
He apologizes for the mess and says he plans to move his operation soon to a bigger kitchen. He then takes me directly to what he calls his "Ferrari" — a freezer he had made specially by an Italian company that he found out about through an online ice cream making forum (yes, those exist).
The ice cream freezer, which isn't much bigger than a standard home refrigerator, has three compressors, which allows it to freeze whatever is inside really fast. That, Brenes says, is one of the keys to his product's high quality.
He says he tried to get what he wanted made in Costa Rica, but local companies wouldn't even give him a price, saying it was a fool's request. "They thought I was crazy," Brenes said.
So, apparently, did the Italian manufacturer who finally made him the freezer: He told Brenes he had never made anything so powerful in such a small size. But he made it for Brenes anyway — and charged him what you'd pay for a new sedan. It is now the Tico ice cream maker's most prized possession.
It's difficult to understate the confidence Brenes exudes about his product and his business plan. Even if what this 40-year-old, former corporate image consultant was producing wasn't liquor-spiked, artisanal ice cream, I'd probably buy it anyway — whatever "it" was — because if I didn't, I'd feel like I was missing out on something.
"You guys are meeting Henry Ford," he says to me and The Tico Times photographer, Alberto Font, at one point in the interview. Brenes frequently throws out references to the larger-than-life names of U.S. political and entrepreneurial history — Benjamin Franklin, Thomas Edison, Abe Lincoln, Milton S. Hershey.
But his reference to Ford is as much an indication of his illusion of grandeur as a hint of his concrete ambitions: Brenes wants to make quality ice cream on a mass scale for the people of Costa Rica and, eventually, the world.
"My dream is to compete with Haagan-Daaz or Ben & Jerry's," he says.
Whether or not Brenes makes it that far with his business, he's learned a lot in his seven years and four locales in the ice cream trade. His story includes lessons for anyone thinking about starting a small — or potentially, one day, large — business.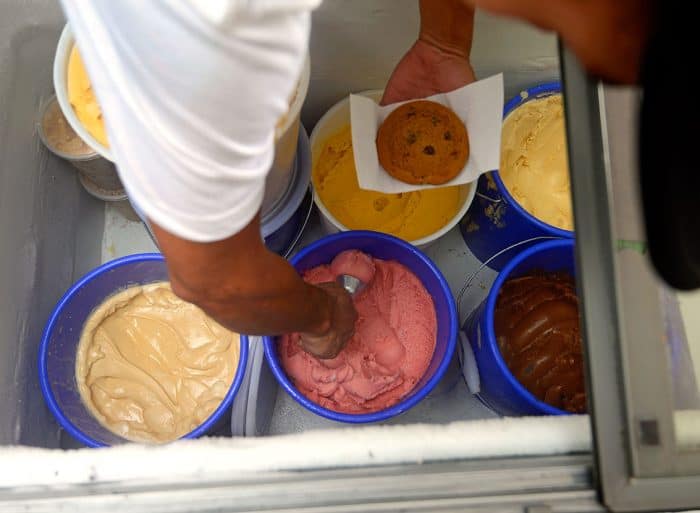 If 'divine inspiration' hits you, take it and run
Brenes is a deeply religious man. He says that when he got in trouble at his Catholic grade school, which was often, and his punishment was to spend recess in the chapel, he'd read the Bible. The nuns that ran the school were incredulous.
Brenes says he got into the ice cream business thanks to "divine inspiration." When in 2008 Brenes found himself unemployed and without enough money to pay rent, he went up to the church in Coronado, east of San José, to pray. When he left the church, he saw an ice cream shop on the corner and remembered something a professor once told him about the ice cream business: that there's no legal activity on earth with a bigger profit margin than ice cream.
The profit margin for ice pops, or bolis, is 1000 percent, Brenes tells me. "Can you believe that?" he asks with incredulous eyes, then cracks up.
Googling around, I can't figure out if this is true. I did find one guy, who claimed to own an ice cream chain in Chile, who said a 40 percent profit margin was normal. And there's this: It turns out the main ingredient in ice cream is air. The better the ice cream, the less air you're eating, which is why the price goes up.
When Brenes saw that shop on the corner, he stopped and bought a rompope ice cream, even though he doesn't actually like ice cream, or anything sweet for that matter. Right then and there, he decided to start an ice cream delivery service.
"Within three days I paid my rent," he says. He kept it up for a year until he got a more lucrative job offer securing spots for cellphone towers. (Even with astronomical profit margins, Brenes wasn't going to get rich off ₡300 popsicles.)
He used the money to buy an ice cream maker and his Ferrari freezer. Now he would be producer and distributor. All he had to do was learn how to make ice cream. So he turned to the colossal, free public educator that is YouTube.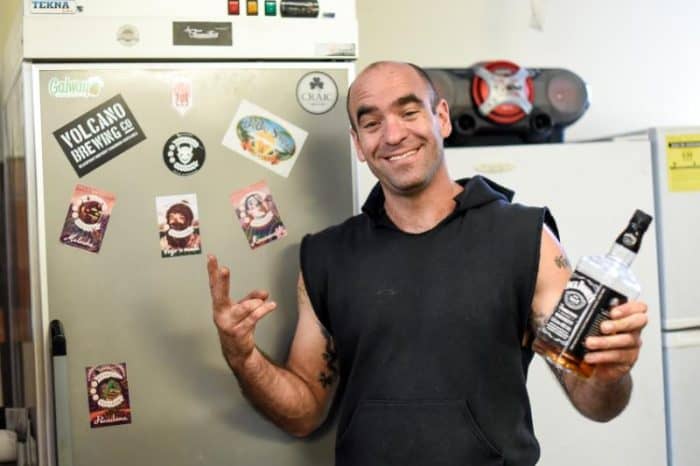 If people like it, give it to them (even if you don't)
As I mentioned, Brenes doesn't actually like ice cream. He describes his first taste of the unique ice cream that launched his current business, Galway, in Barrio Escalante as "terrible." That ice cream is flavored with the herby, German, shot-slamming favorite Jägermeister.
He first made ice cream with Jäger on request from a buddy, Stefano Di Gioacchino, who owns the Irish bar Craic in Barrio California. Di Gioacchino wanted something special to offer his patrons for St. Patrick's Day in 2011. He gave Brenes a case of the rectangular, green bottles and told him to start experimenting.
"The first batch was terrible," Brenes tells me. "Terrible." Then he gets an incredulous look on his face, "But what happened is — people loved it."
As St. Paddy's Day approached, Brenes also made an ice cream flavor with Guinness, one with Irish cream and one with Jack Daniels, chocolate and cherries.
They were big hits. But the whole ice cream with liquor thing started as a one-off. At the time, Brenes wasn't planning to make it his signature product. At the time.
Still, in the coming years he would try out 13 Jäger ice cream recipes on Craic bar patrons until he got it right.
Last year, while Brenes was on a hiatus from ice cream-making, he was reminded of just how much people liked his JaggerCream, as he named it. He was drinking beer with his then-new girlfriend at the first Barrio Escalante food festival in April, and people kept coming up to him and asking when he was going to make another batch of the stuff.
Brenes had been bragging to his girlfriend, Catalina Elizondo, about his ice cream-making skills, but she had no reason to believe him until then. After hearing the praise firsthand, she convinced him to get back into business.
Late last year, during the second edition of the Barrio Escalante food festival, Brenes and two associates opened up Galway, a small, corner ice cream shop attached to the craft beer pub Wilk. Brenes makes daily fresh batches of booze-infused flavors like Tequila Rosa (with strawberries), vodka and cantaloupe and, of course, JaggerCream and ChocoJack, chocolate and Jack Daniels.
Galway offers non-alcoholic ice cream, too, in equally fun, Tico-inspired flavors (e.g. Pinito, the much-loved, local powdered milk), but Brenes says his shop is especially popular with the after-bar crowd, looking to keep a buzz while satisfying munchies. Office workers also come by on their lunch break, possibly looking to liven up their afternoon — or sleep through it.
To be fair, most people would have to eat at least a few scoops to get tipsy off Brenes' creations. But a scoop I had recently of cantaloupe with vodka did leave me feeling…happy.
Brenes' ice cream is dense and Costa Rica-style super sweet. That sweetness is tampered in his creations with alcohol, and the non-cream-based flavors with booze are spot-on refreshing.
Galway is just one part of Brenes' grand ice cream plan; he wants to go way bigger, think franchises in Miami Beach and New York City. And his girlfriend, Elizondo, who's a co-owner of Brenes' Heladix ice cream factory, wants to export Costa Rica-inspired flavors to Europe.
"I dream of being industrial," Brenes says. "I'm going to make delicious, industrial ice cream."
For now, Galway is a place to sell Heladix ice cream and try out new recipes on customers. Plus, it's helping Brenes get his name out again.
"People know me now as the guy who sells ice cream shots in Barrio Escalante," he says.
Brenes also plans to restart his original ice cream business niche — delivery, of non-alcoholic flavors — soon.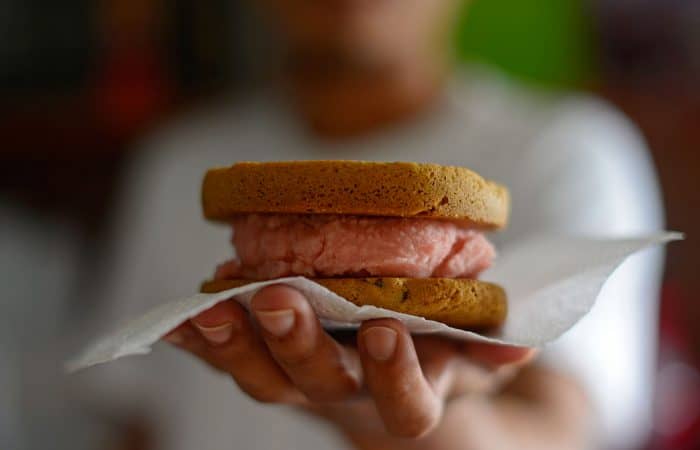 Turn tragedy on its head
Back to Brenes' ice cream hiatus a few years back. The start of his break was almost the end of the story. His marriage was falling apart at the time, partly because of financial troubles with his former ice cream business.
Soon after his wife left, Brenes' ice cream maker broke. He took it as a sign and quit.
He didn't know if he'd ever go back, until that day drinking beers in Barrio Escalante with his girlfriend (soon to be wife: Brenes and Elizondo are getting married on Saturday).
Brenes doesn't fret over the fact that some of his previous ventures in the ice cream world ultimately didn't pan out. He learns from his mistakes and moves on.
"I found 999 ways to not make ice cream," Brenes says, in reference to Thomas Edison's famed twist on a reporter's question about how it felt to fail 999 times before successfully inventing the light bulb.
In his kitchen over a bowl of freshly-toasted almonds glazed with cocoa powder, sugar and Jack Daniels, Brenes ticks off a list of the top lessons he's learned:
1. Never abandon a locale that worked.
2. Be able to identify a partner that's going to contribute, and if he/she is not going to contribute, eliminate.
3. You need to be cold-blooded if the need arises to oust a bad partner.
4. Believe in yourself, you can do more than you think you can.
5. Be patient. After seven years in the ice cream industry, Brenes says his business is just getting started.
Before he gets down to his daily conjuring of cream, sugar, booze and air into frozen bliss, Brenes evokes the late, great chocolate baron Milton S. Hershey.
Hershey failed in his first two attempts to start a candy business — and was reportedly shunned by family — before finally landing on the right mix of product appeal and business smarts.
Brenes gets goosebumps (literally; he shows them to me) as he tells the story, which ends with Hershey becoming a multi-millionaire, getting commendation from the U.S. military for producing WWII chocolate rations, and building the most well-known chocolate brand of all time.
"I know that I'm going to be like Hershey," Brenes says.
Editor's note: The original version of this story misspelled "St. Paddy's Day." Our apologies to the Irish, and all our readers.