Wrapped in a Costa Rican flag, taxi driver Virginia Moreira chained herself to a tree outside President Luis Guillermo Solís' home in the Escalante neighborhood of San José Wednesday as part of an "indefinite" protest against the government's handling of Uber and current taxi regulations.
Moreira, 54, said that she's been driving her taxi for 28 years but lost her permission to drive this year because her vehicle is 16 years old, one year past the 15-year age limit on official, red taxis under Costa Rican law. (Uber requires that the cars in its fleet be no older than four years.)
"I'm here to fight for by children's bread. It's my job," Moreira told The Tico Times. "My children are used to me being a taxi driver and I can't work in anything else."
Police closed off the street in front of Solís' home and a group of taxis parked in solidarity near Moreira, some with the phrase "Uber out" drawn on their windows. The demonstration was peaceful.
Besides calling for a reform to the law to allow older taxis to circulate, Moreira said the government was unfair in how it applies the law to unlicensed taxis, known as pirate taxis or piratas, and Uber drivers.
"Today the government does not support us," Moreira said. "They apply the law to us, who are legal, and they don't apply the law to those who aren't."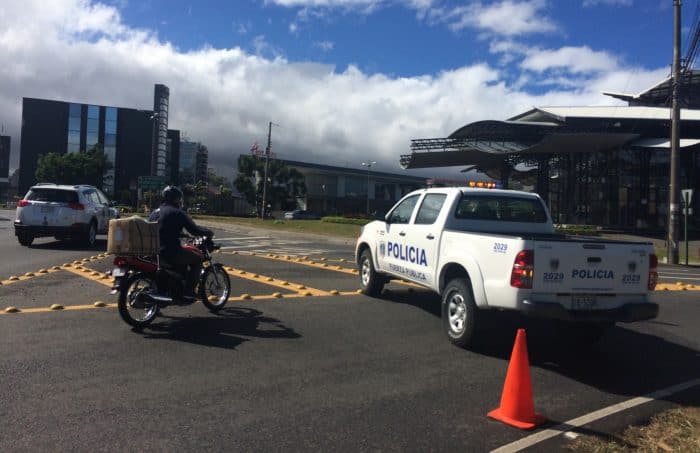 According to Casa Presidencial spokeswoman Stephanie González, the president's office agreed to receive her letter of protest in person at Casa Presidencial but Moreira refused.
Uber went online in Costa Rica in August 2015 without the permission of the government. The Solís administration has maintained that Uber's service is illegal under Costa Rican law but has yet to announce an enforcement strategy against the application or its drivers here.
Moreira said the smartphone application has hurt business for red taxis. She called on the government to take action against the company and pirate taxis, and to meet with taxi union representatives.
Thus far, such meetings have failed to produce satisfactory results for the taxi lobby. Taxis blocked streets in the Zapote neighborhood of San José and in front of Casa Presidencial on Feb.1 after the government refused to block access to the Uber app in Costa Rica. The protests made national headlines after a group of taxi drivers threw eggs at other red taxis who did not participate in the demonstrations.
Moreira said if her protest did not result in a meeting with transit authorities and changes to the government's current handling of Uber and other unlicensed transportation, other taxi drivers would chain themselves to buildings around San José.
Besides the Costa Rican flag, Moreira wore a coat and had a hat on hand for the unseasonably cold weather this week. She also has a white plastic chair if she gets tired of standing.
"I'm ready to take whatever time is necessary," she said.
Katherine Stanley contributed reporting to this article.