Tuesday was a big day for marijuana news in Costa Rica.
Medical marijuana advocates made their case at the Legislative Assembly in San José, an Alajuela lawyer got off the hook for growing pot on his roof, and the Public Security Ministry announced a two-metric-ton marijuana seizure in Limón.
Gerald Murray, director of the Costa Rica Medical Cannabis Movement, testified during a legislative commission in favor of medical marijuana, but called for even broader provisions to the medical marijuana bill currently being studied by lawmakers.
Ruling Citizen Action Party (PAC) lawmaker Marvin Atencio presented a bill in August 2014 that would legalize the growing, processing and sale of cannabis for medical and industrial use. Costa Rica would be the first country in Central America to legalize medical marijuana if lawmakers decide to pass the proposal.
Murray called for reforms to the bill that would allow almost anyone to grow cannabis and expand the medical conditions for which cannabis-based medicine could be used, to include all ailments – not just HIV/AIDS, multiple sclerosis, cancer and epilepsy. He also advocated for a national cannabis laboratory that would be overseen by the Health Ministry and the Costa Rican Social Security System, which operates the country's socialized health care system.
Murray said he did not advocate legalizing recreational marijuana use.
"Instead of talking about new taxes we should be talking about developing new industries like this," Murray told The Tico Times. The development of a legal medical marijuana market in Costa Rica could be a $1 billion industry, Murray claimed, and put Costa Rica in the vanguard of changing attitudes around the world about cannabis.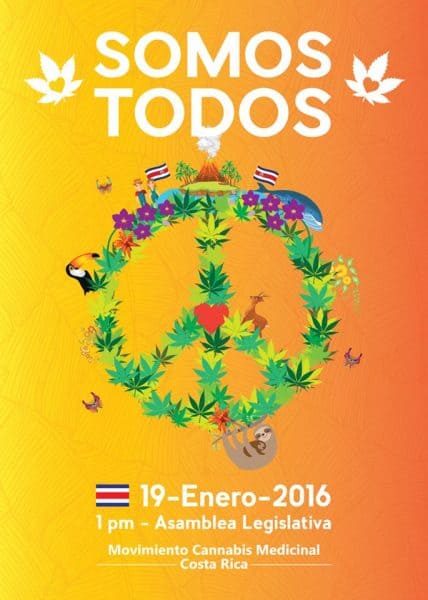 Pushing pot forward
The head of the legal affairs commission where Murray testified was headed by National Liberation Party (PLN) lawmaker Juan Luis Jiménez. Last October, Jiménez traveled to Denver, Colorado, on a fact-finding visit about legalizing marijuana, a trip paid for by Murray's Medical Cannabis Movement. Lawmakers Paulina Ramírez (PLN), Gonzalo Ramírez of the Costa Rican Renovation Party (PRC), Johnny Leiva of the Social Christian Unity Party (PUSC), and José Alberto Alfaro of the Libertarian Movement Party (ML) also traveled to the U.S. state of Colorado, where marijuana is legal. There, the lawmakers met with public officials from the state Senate and governor's office, and toured a cultivation center, a marijuana edibles company and a dispensary, among other locations during the four-day trip.
If Bill No. 19,256 fails to move forward, Murray urged lawmakers to re-introduce his proposed reforms as a standalone bill.
Just over 50 percent of Costa Ricans approve of legalizing marijuana for medicinal use, according to a September 2015 poll by CID-Gallup for the business newspaper La República.
One of the proposed reforms included allowing Costa Ricans to grow seven plants for personal use, something that recently got a lawyer arrested in Alajuela. Mario Alberto Cerdas Salazar, an attorney who has been in the news several times for growing marijuana on his roof — which is within eyesight of the courthouse in Alajuela — was was set to be arraigned Tuesday for allegedly growing marijuana with intent to distribute. Police found marijuana plants in his residence on three occasions in August and December 2014 and February 2015. He faced up to 24 years in prison if convicted.
But when Cerdas showed up in court Tuesday judges threw out the case in a two-to-one decision, saying there was no evidence that Cerdas planned to sell the pot. Judge Carolina Leitón said in her ruling that growing marijuana in Costa Rica is illegal with intent to sell it, but the plant itself was not evidence enough for a drug trafficking charge. Leitón said that police could seize the plants if Cerdas continues to grow them.
Marijuana advocates cheered the news, but the Public Security Ministry's announcement was closer to the reality of marijuana's current legal status in Costa Rica. Authorities said they had seized of more than two metric tons of marijuana in Westfalia, Limón, after it had been trafficked from Jamaica. One suspect is in custody in that case.