The U.S. actor, model and producer RJ Mitte, best known for his role as Walter "Flynn" White, Jr. on AMC's megahit "Breaking Bad," visited Costa Rica as a special guest at the International Matsuri Comic Convention, held Jan. 16-17 at the National Stadium in La Sabana. The actor has cerebral palsy (CP), a neurological condition that can affect movement and speech, and can cause tremors or seizures. Mitte shares the condition with his "Breaking Bad" character, and has made waves as a passionate campaigner for charities that support performers and other people with disabilities, such as Inclusion in the Arts & Media of People with Disabilities (I AM PWD), and a voice against bullying.
Born in 1992 in Lafayette, Louisiana, Mitte was diagnosed with CP at the age of three, and in 2006 moved to Los Angeles with his family. While accompanying his younger sister to an audition he was introduced to the world of acting. Mitte began acting as an extra for various TV shows such as "Hannah Montana," "Everybody Hates Chris," and "Seventh Heaven." In 2013 he received the Media Access Award and, with his castmates, the Screen Actors Guild Award for Outstanding Performance by an Ensemble in a Drama Series. Mitte also works for the Shriners Hospitals for Children as the spokesman of the hospital's "Cut the Bull" campaign.
On a Sunday afternoon, The Tico Times sat down and spoke to the multi-talented actor. Excerpts follow.
Have you been to Costa Rica before? 
Once I came for a vacation, on a cruise ship; then I was here for Habitat for Humanity, 13 years ago. I've been enjoying this trip, having fun, eating amazing food, and meeting amazing people and fans. I went to the [Central] Market downtown and ate at Soda Tala. I have also been to Wok and Noodles and Sabor a Tango, which was really, really good. We've been having a lot of fun.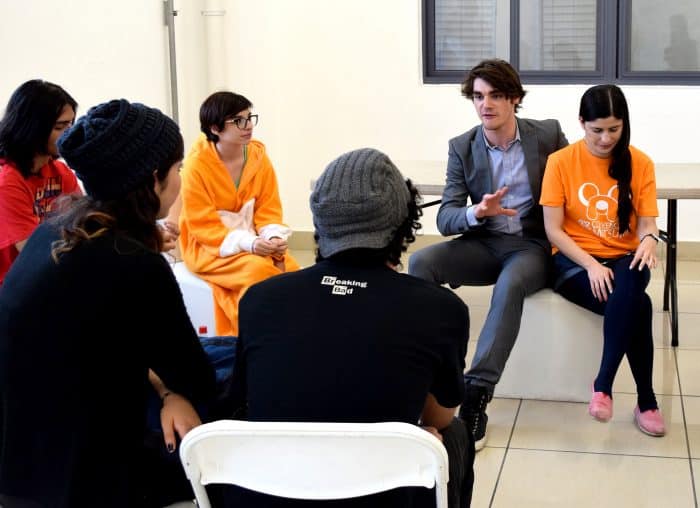 How did you get into the acting world?
I started because of my little sister. I moved to Los Angeles when I was 12, where you're not in the industry and you don't go to school, people are asking, "Why are you here?" I started to meet kids my own age and working as an extra. I recommend that if people want to act, they should find a way to be an extra; it's an amazing way to learn. About six months later, I got into Breaking Bad – I auditioned four times in Los Angeles and once in New Mexico – and I evolved. I was 13 turning 14 when I booked the show and was 20 turning 21 when I completely finished the show.
When you worked at the "Hannah Montana" set as an extra, did you get the best of both worlds?
I always get the best of both worlds! I learned a lot. They were very efficient; they shot in cubicles. You would shoot in one cubicle and go on with the next one. I was also an extra on "Everybody Hates Chris" and "Seventh Heaven." I learned how to behave on a set.
What was the most challenging thing about your "Breaking Bad" role?
It wasn't really challenging. I think the biggest thing was that I was very new to that world, and was adapting to the other people and growing with them, but I just did what the script said. When it came to the breakdown of my character, they were looking for someone with big eyebrows, dark hair, cerebral palsy… and I was like, "That's me!" It was a very interesting role. You saw the motion of the character as he was growing his own way, living a life. Over seven years you grow and change, and that carries over into your character.
How did you manage to act such intense scenes?
The more intense, the better for me. I love when it's hard or emotional. Those are the fun scenes! Those are the scenes were you just literally break down and say: Oh my God, it hurts so good! It's fun. I think those are the best scenes. When you have a scene that's really monotonous and there's nothing to it, why would you do that? There are people that do that their whole lives and never actually get the meat of the job. I like to have the thick of it, the hardness, the depth. I think that's really important to have.
Do you feel identified with Walter Jr?
I do, but at the same time I would do things very differently. He could've taken on more responsibilities, the way I do in real life. He's not necessarily weaker; he's just not as knowledgeable as I was when I was his age. Probably I would've handled my father differently. I probably would've pushed him away sooner.
Which character would you like to play?
There's so many. I want to do more action, like "Pulp Fiction." Anything with body language. Something that makes me exercise.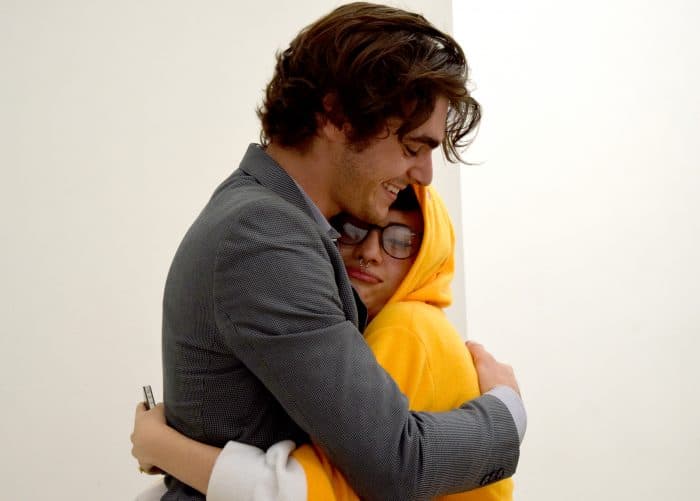 How would you define cerebral palsy?
The best way to explain cerebral palsy to people is telling them that it's not genetic. Cerebral palsy is trauma caused to the brain during childbirth affecting vision, hand-eye coordination and spasticity. Think of it as a big Charley horse, where you have a big muscle cramp, but on your whole body. CP is like that and it never goes away. You always have to maintain control of your body. With CP your brain and your body don't get along together. They actually fight each other. It's a lot about brainpower, maintaining control, not allowing your body to do what it wants to do, but to do what you want it to do. It's, essentially, like driving a car. You grab the steering wheel and drive. You've got to maintain that control. You can't allow it to slip.
How do you make a disability into an ability?
Exercise, stretching, meditation, swimming, sports… I don't want to be controlled. This is my body. This is it. This is mine; I control it. I do what I say. I don't allow it to convulse. I just try to maintain control as much as possible.
How has CP differentiated you from other actors?
I use it for my work. I use it for my motion. I use it for what my character is. I don't "play" CP: I just have it, and when I do try to have a convulsion and it comes through a scene, that's part of the character. You like it or you don't. I use the knowledge it has given me.
A lot of people look at disabilities as an illness, a sickness. They think of it as something that we have to cure, get rid of, and overcome. The thing is, yes, we do have to evolve from it and overcome it, but it's not something you need to get rid of. It's something you have to have a better understanding of. A disability is a personal challenge, directed at who you are and what you are. It's not necessarily a bad thing, and it's not necessarily a good thing. It's an opportunity for you to learn, to grow, to push yourself. It's not just physical or mental. We all have these things. We're all the same. We all have these challenges. We all have these events coming through our lives that affect us, what we want to do and what we want to be. That is an opportunity for you to fight back and to evolve. Instead of trying to fix and cure it, we need to understand and realize we will always have these issues, but we need to utilize them to the best of our abilities.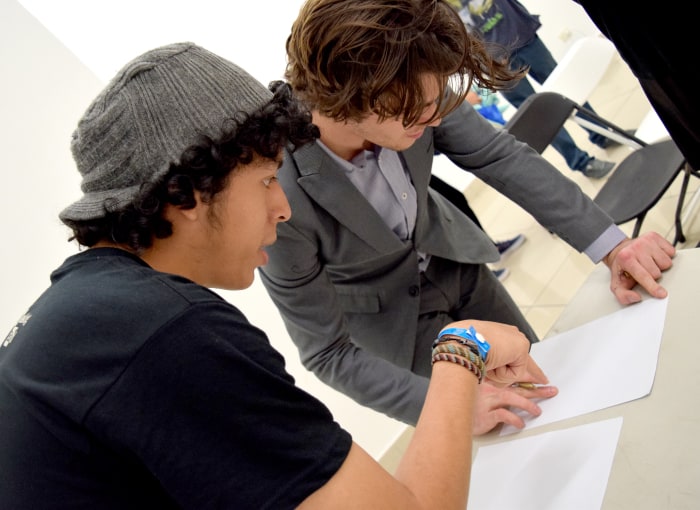 Why are you so passionate about efforts to address bullying?
Bullying is such a broad spectrum: cyber bullying, physical abuse, mental abuse. To me, bullying isn't just bullying. You're talking about domestic violence; that's bullying. You're talking about shootings. At the end of the day, bullying will always be around. You need to remind people they are powerful. We need to remind people they need to speak up, to fight back. They shouldn't be afraid of someone who is afraid of themselves. Most people that are bullies are fearful. They're weak. They're week-minded. They pick on people that they think are weaker than them.
You should never assume someone is weaker than you are. I don't care who you are. I don't care what you are. You could be a 400-pound body builder, but if at the end of the day you are weak-minded, you are a weak person. If you are small and weigh 80 pounds soaking wet, but you are comfortable with what you are, who you are, and where you are in your life, that's strength. Strength comes from generosity, kindness, and being yourself.
If you allow yourself to be intimidated over and over again, eventually, you'll believe what they say. You'll believe you're weak and that they're right. You forget that they don't define you. You define you. Who you are and what you are, is what defines you. It's not someone else giving you a label. We create our own label. We create our own image. You have the power. Don't be afraid to speak your mind. Don't be afraid to stand up. When you see someone that is being hurt and you see that they can make a difference, don't be afraid to stand up for that person.
What are your future aspirations?
Keep working. Just keep pushing forward. I'm going to work for the Paralympic Games this year in Río de Janeiro, so I'm excited about that… and just audition, audition, and audition. I'll be looking for new movies, writing, and directing, just creating and enjoying life. I want to be doing things that I want to do.