Festejos de Fin de Año de San José (Zapote)
This mega-fest in the eastern San José district of Zapote offers a little bit of everything. Find all types of food, the famed Tico-style bullfights in the Zapote rings, dozens of rides, temporary tattoos, parades, live music, giant bars, and many more activities.
The End-of-Year Celebrations take place Dec. 25 – Jan. 3 at Campo Ferial Zapote in eastern San José. More info: Fiestas Zapote Website.
Cultura Profética Concerts
Puerto Rican reggae band Cultura Profética will celebrate the holidays on Costa Rica's most beautiful beaches. The band is offering two surprise-filled shows: Dec. 26 in Playa Dominical, Puntarenas, and Dec. 29 in Playas del Coco, Guanacaste.
Cultura Profética will perform Dec. 26 and 29. 8:30 p.m. ₡17,500 ($35). More info: Playas del Coco Event Facebook page or Playa Dominical Event Facebook page.
The Tope
Costa Rica's traditional "tope nacional" is the country's biggest horse parade, part of the celebrations of the National Day of the Rider. A holiday tradition for many Ticos, it hosts approximately five thousand riders, decked out (as are their equine companions) in their finest, and more than one million viewers. During the event the most common outfit is blue jeans, a cowboy hat, boots and a plaid shirt.
The Tope takes place Dec. 26 along Second Avenue, San José. It starts at 12 noon. Free. More info: Detope Website.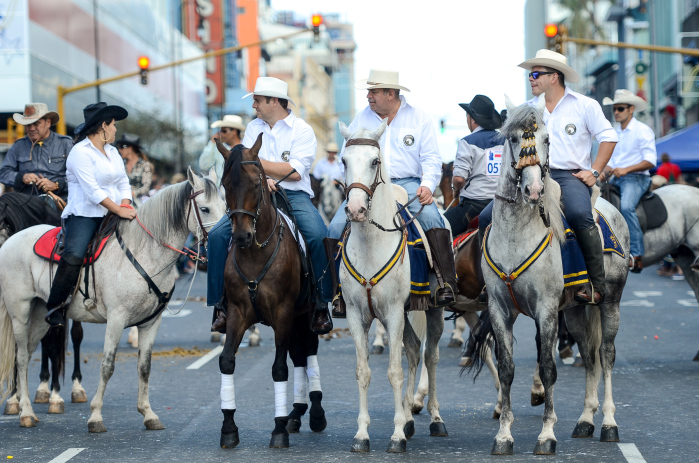 Bullfights "Toros a la Tica"
While the Zapote bullring remains the traditional king of Tico-style bullfighting, the bullfights of Pedregal have drawn their own following in recent years: they feature a bull riding championship, rodeos, and more, with food and live music.
"Toros a la tica" takes place Dec.25 – 31 at Centro de Eventos Pedregal in Belén, west of San José. Adults ₡8,000 ($16) and children ₡5,000 ($10). More info: Toros a la Tica Website.
Yoga Festival
Recover from Christmas excesses at a daylong festival featuring yoga classes, meditation, lectures and healthy food.
"Festival de Yoga" takes place Dec. 27 at Santôcha Studio, Cartago. 9 a.m. – 8 p.m. ₡3,000 – 5,000 ($6 – 10). More info: Event Facebook page.
Tour to Aquatic Park Villas Fantasia
This water-park tour includes transportation with air conditioning, park entrance, and lunch. Cost varies depends on the lunch package you choose.
"Tour a Parque Acuático Villas Fantasía" takes place Dec. 28 at Parque Acuático Villas Fantasía. Departs from San José at 5 a.m. ₡15,000 – 22,000 ($30 – 44). More info: Event Facebook page.
Ice Hockey Classes
During December, a temporary outdoor ice rink has been built in La Sabana Park. On Satudays and Sundays, there will be ice hockey classes for people of all ages; for experienced players, games are being organized a few nights a week at 10 p.m.
"Clases de hockey" will take place throughout December on Saturdays and Sundays at Huawei Ice Rink, La Sabana Park, San José. 2 p.m. – 4 p.m. Classes are included in the skate rental fee. A ticket good for 30 minutes on the rink costs ₡3,000 (about $6) for children and ₡6,000 ($12) for adults. More info, or to sign up for games: mundodehockey@yahoo.com.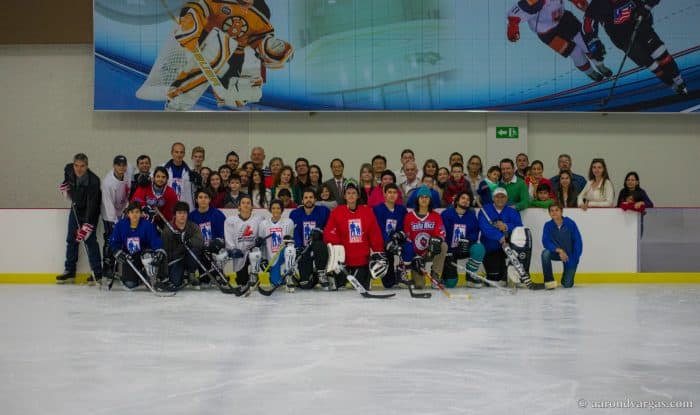 Art Exhibit: "Under the Sun"
U.S. artist Cher Compton will unveil her latest exhibit, "Bajo el sol," at Guanacaste's Hidden Garden Art Gallery. Her paintings reflect the beauty of the simple elements that characterize Costa Rican life.
"Bajo el sol" will be exhibited Dec. 12 – Feb. 5 at Hidden Garden Art Gallery, 5 km west of the Daniel Oduber International Airport, Liberia, Guanacaste. 10 a.m. – 4 p.m. Free. More info: 2667-0592/8386-6872.
 Upcoming Concerts:
Santos & Zurdo: The band starts its year-closing tour at Hoxton Pub. Dec. 25 at Hoxton Pub, San Pedro. 9 p.m. ₡3,000 ($6). More info: Santos & Zurdo Website.
Tope After: An after-party for the traditional tope. DJs Eleazar Delve, Javier Kriskovich, C-Zar Prado, Diego J., Jo Jo C´est + Venue Go Go Boys. Open bar. Dec. 26 at Club Venue. 5 p.m. ₡10,000 – 14,000 ($20 – 28). More info: Club Venue Facebook page.