Sabana Park in San José will unveil an unprecedented attraction on Nov. 30: an outdoor ice rink, the first ever in the land of pura vida.
The rink, located on the north esplanade of the National Stadium, is 30 meters long and 15 meters wide, accomodating 150 people –although only 85 people will be allowed on the ice at a time to ensure safety. Part of the earnings from the ice rink will be intended to the Teletón. It will remain open throughout the month of December.
The project is part of the Christmas activities that telecommunications company Huawei is planning in the country.
"We want everyone in the country to enjoy the magic of the holiday with us," Andrea Corrales, director of Huawei Costa Rica, said in a statement.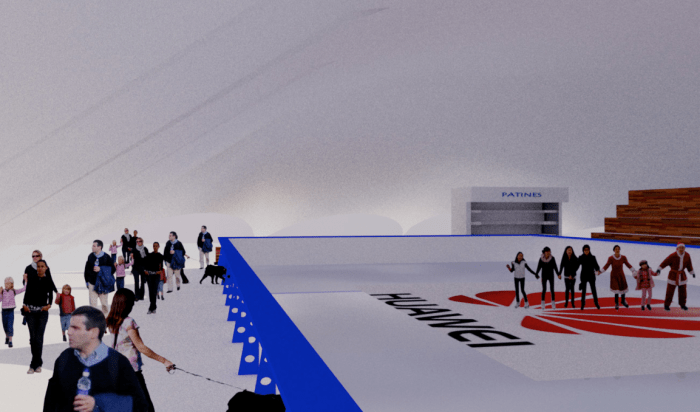 The ice rink will feature many activities during the month, such as an ice hockey championship, a show with professional skater, and a chance to try out a special snow slide, 50 meters long and 7 meters high. DJs will play music, four skating instructors will help novices, and skates will be available for rent, along with protective gear such as helmets and knee pads.
"We are really happy to offer this unique experience to all Ticos. We will have many surprises for the whole family," Corrales said. "It fills us with great enthusiasm that part of the proceeds from the sale of tickets will be donated to the Teletón."
A ticket good for 30 minutes on the rink will cost ₡3,000 (about $6) for children and ₡6,000 ($12) for adults. Four turns on the snow slide will cost the same amount. The cost for both attractions will be ₡5,000 ($10) for children and ₡10,000 ($20) for adults. Huawei will provide tickets to those who purchase phones from the company and will raffle others on the company's Facebook page.
The ice rink will be inaugurated on Nov. 30 and will be open during the month of December seven days a week, 10 a.m. – 12 noon and 2 p.m. – 11 p.m. For more information, visit the Huawei Facebook page.