PUERTO JIMÉNEZ, Puntarenas — I drove from Tamarindo to Puerto Jiménez a couple of weeks ago, and I wouldn't recommend it unless you really like to drive.
But it was the day before Thanksgiving, and brother Paul's sons Orpheus and Aladdin were in town, plus Aladdin's girlfriend, Lina, and Paul the master gourmet was planning a feast of roast pork, stuffing, mashed potatoes and gravy. So I couldn't just not show up.
First I stopped in Villareal to gas up, and I was reminded that Tamarindo, one of the top tourism destinations in Costa Rica, doesn't have a gas station. I am sure that someone will open one someday, and I suspect they will make a fortune.
(Do you know the joke about how to leave Costa Rica with $2 million in your pocket? You have to start with $5 million, and leave a year earlier than planned.)
With my tank full and my tires inflated, I pointed the Blue Demon away from the ocean and drove — and drove, and drove, and drove. After the Taiwan Friendship Bridge over the top of the Gulf of Nicoya, I turned right and began my hours-long descent of Costa Rica's fabulous Pacific Coast.
I passed a lot of places I would have liked to stop, including Manuel Antonio, Dominical and Uvita. In hindsight, I should have left Tuesday and spent the night at one of these places, but it was Wednesday and I had no time for hindsight because Thursday was Thanksgiving.
In Chacarita, where you turn off the Inter-American Highway to drive to Puerto Jiménez, I treated myself to a Monster energy drink at the gas station/mini super on the corner.
But when I walked into the store, I had the strange sensation that I had been sitting so long I didn't remember how to walk anymore, as if I were drunk, or was Christopher Columbus staggering onto a beach in the Bahamas after five weeks at sea.
Leaving Chacarita, I cursed at the sign saying it was still 75 kilometers to Jiménez, almost 50 miles.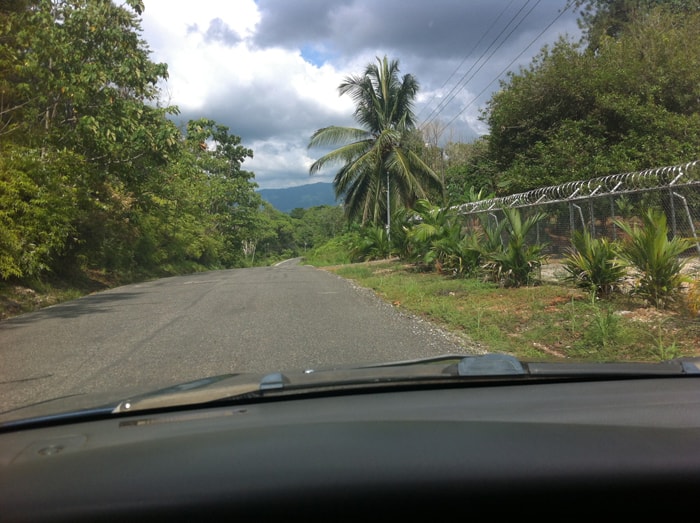 And then darkness began to fall, and my stress level began to rise.
I am near-sighted, and believe it or not I wear one contact lens in my left eye and none in my right. This gives me nearly perfect vision most of the time, as I can see distant things with my left eye and close things with my right.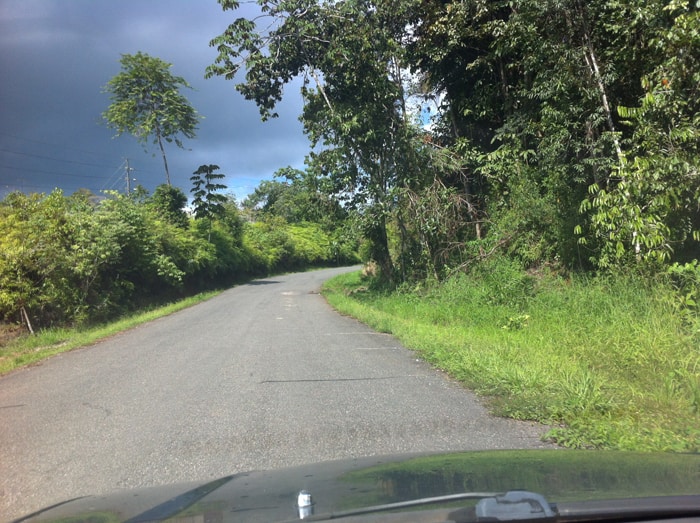 The latter matters on the road because I often need to see the Waze app on my phone to figure out where the hell I am. If I wore both my contacts, I would need reading glasses to look at my phone.
The other option is to wear my prescription glasses, and just peek under them to check my phone. But this rules out wearing sunglasses, so I rarely do this during the day.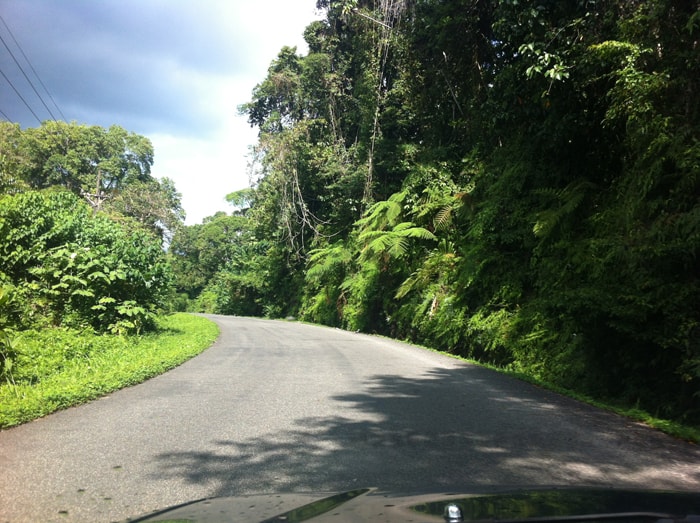 The problem comes at dark, when my vision also seems to go dark, as if I have some kind of night blindness.
My three rules on driving at night in Costa Rica are: Don't, don't and don't. But if you do, and you're a knucklehead like me wearing one contact lens, pull over and take it out and put on your glasses.
A brief rain shower around Uvita and a big truck in front of me had left a smear of muddy water on my windshield, which wasn't helping my visibility. Normally I would just switch on the windshield washer, but it recently gave up the ghost and no longer works, though the reservoir of water is full. Things just wouldn't be normal in Costa Rica if everything was working.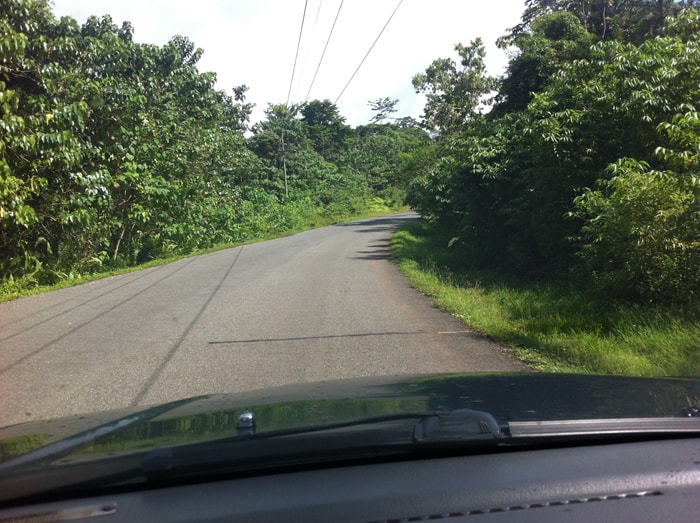 I had no water in the car, and for a while I actually considered pulling over and pouring the rest of my Monster on the windshield with the wipers running. But the idea just sounded too strange — was I losing my vision or my mind?
I have to admit that the roads from Tamarindo to Puerto Jiménez were consistently excellent, all of them, and I give a ton of credit to the workers who built them. The only place the road is a bit bumpy is between Palmar Norte and Chacarita, but I'm grateful for any road in Costa Rica that's paved.
From Chacarita to Jiménez, you'll find some of the newest, blackest blacktop in the entire country. The downside is that much of it has not been striped or reflectorized, and where you wish there was a shoulder, there is instead a steep ditch.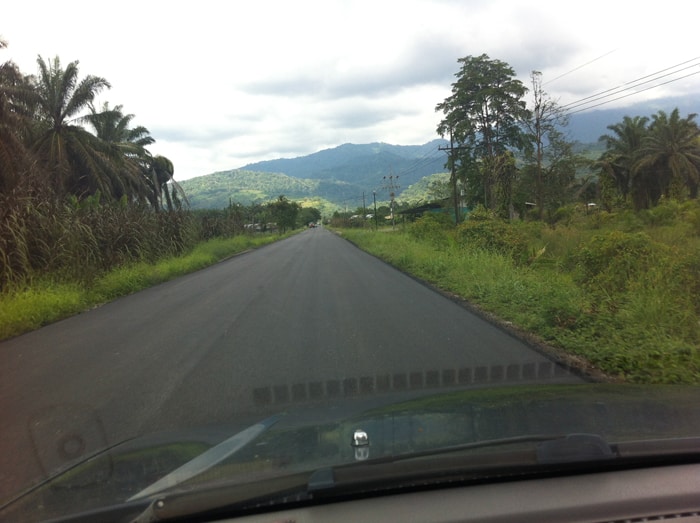 I realized during this drive in the dark how important roadside reflectors are. Where they were missing, I had a hard time seeing where the road was, and there were times I threw on the brakes because I had no idea if it went right, left or straight.
I did OK with my brights on, but then a truck or bus would come speeding toward me and I would dim my lights and focus on staying in my lane, unable to see much of anything except the headlights speeding toward me.
And then of course there'd be three people on bicycles driving down the tiny shoulder on the right. So I had to aim the car between the oncoming truck and them, and of course if I overcorrected either way, fatalities could ensue, so I tried pretty hard not to.
Which brings me back to my three rules of driving at night in Costa Rica: Don't, don't and don't.
For once in my life, I was elated to see a paved road turn into a gravel road and realize I was in Puerto Jiménez, three minutes away from my brother's house, where a family reunion and a Thanksgiving dinner awaited me.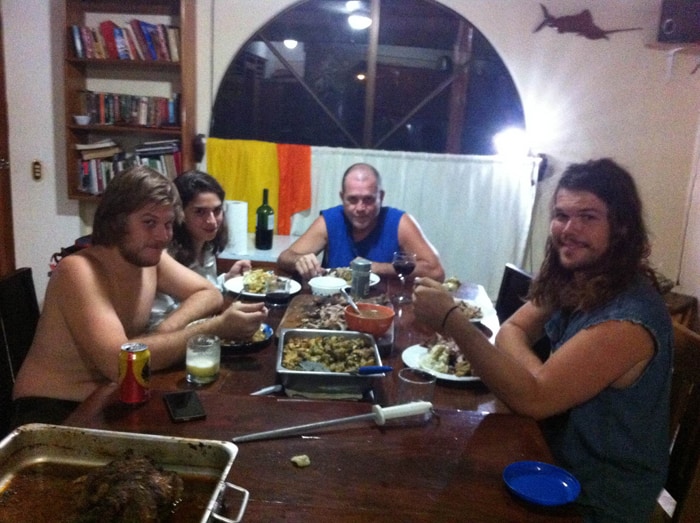 Rarely have I felt so thankful.
Contact Karl Kahler at kkahler@ticotimes.net.