Barrio Escalante, a neighborhood just east of downtown San José, has in recent years become one of the preferred haunts of Central Valley foodies. Its easily walkable streets are home to approximately 35 restaurants, each of them with a different culinary speciality. To show off this delicious diversity, the people of the neighborhood – specifically, 33rd Street, known as "La Luz" – are hosting the second edition of the La Luz Gastronomic Festival on Dec. 6.
"A group of neighbors got together in 2007 to look for ways to make Barrio Escalante different, trendy, and nationally known," said Manrique Odio, a representative of the Barrio Escalante neighborhood association, at a press conference to announce the event. "At that time we saw a group of important restaurants setting up in the area, so we started working together with those restaurants. This festival is about developing a balance between the neighbors, restaurants and visitors."
The festival will kick off at 11 a.m. and run until 9 p.m. Throughout the day, attendees will have the chance to visit 16 restaurants along La Luz, as well as two artistic showcases, two musical venues, and a bigger space where lectures will take place.
"We have a culinary offer of different cultures, but with the same orientation: healthy and sustainable cooking, working with national farmers and producers," said Memet Onural of Sofía Mediterráneo Restaurant at the press conference. "We need a lot of support to help the country develop a strong gastronomy. This is the concept we want to transmit, with the help of many private companies and public entities such as the Municipality [of San José]."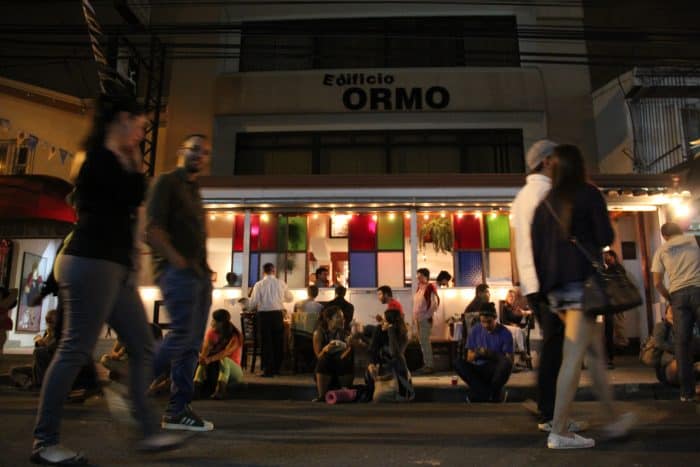 Restaurants participating in the festival include Impar, Gambas, Keidas, Gato Negro, Verdísimo, Costa Rica Beer Factory, Sofía Mediterráneo, Piemonte, Luna Roja, Olio, Le Cook, Frida's, Agüizotes, Lulú & Saturnio, L'Ancora, and Il Volpino. Each restaurant will have a stand outside its building with a special menu for the festival. Credomatic cardholders will receive discounts and royalties.
"What we want is to appropiate this public space by presenting a wide and very interesting culinary and gastronimic offering," explained Silvia Rodríguez, president of the Asociación Paseo Gastronómico La Luz, at the press conference. She added that the larger goal is to create "a space where culture, art, and gastronomy generate social and urban change."
Live music throughout the day at two points along the street will include guests such as Esteban Monge, Bonila, Zurdo + Cardomomo, Manuel Monestel, Amanda Rodríguez, and JR Blues Band featuring John Carey, from New Orleans.
Lectures will be offered on healthy nutrition, agriculture, methods of coffee preparation, composting, wines, and the history of beer, among others.
During the whole event there will be free transportation every 20 minutes from the Calderón Guardia parking lot, in front of the new Calderón Guardia building; from Tasco, in front of the Atlantic train station; and from Papacitos, diagonal to the Legislative Assembly building. Parking for bikes will be available at the event.
For more information, visit the Paseo Gastronomico La Luz Facebook page and check out the map of the festival: