The fifth edition of the shnit International Shortfilmfestival took over San José this past weekend, with a total of 60 international and 12 national short films screened. San José, along with Buenos Aires, Moscow, Cape Town, Bangkok, Cairo and Kyoto, wa a shnit "playground," part of the broader international festival founded in Sweden and now in its 13th year.
Events included an inauguration on Oct. 7; two open competitions and the "Peeping shnit," a selection of the best erotic short films, on Oct. 8; and a festival highlight, the "Made in Costa Rica" competition on Oct. 9, which generated a huge line outside the Cine Magaly in eastern San José as people eagerly waited to watch Costa Rican short films. Here's a quick look at some of the highlights, with links to trailers and films:
Sergio Pucci kicked off the evening with his "Amor de Temporada" ("Seasonal Love"), a short film set in Guanacaste. A local boy falls in love with a beautiful little girl who comes to Guanacaste on vacation.
Lázaro Hernandez's "El Balcón de Paul" ("Paul's Balcony") tells the story of an artist who encounters a new adventure when he finds a key on the street.
Roberto Jaen's "Ciudadano" ("Citizen") is an exploration of good and evil filmed in Cuba.
"Pique Tico" by Pablo Solís is a digitally animated short film full of Costa Rican color and folklore, in which two campesinos get into a dispute over a beautiful woman.
David Selva presented "Isabel teme a la vida, Eduardo ya no teme volar" ("Isabel fears life, Eduardo no longer fears flying"), which portrays Isabel's existential fears as a representation of what we all face at some point of our lives.
Jorge M. Rodrigo's "Por Delante" (In Front) ask its audience whether we really experience the things that make us feel happy and alive. This film portrays the story of Émile who leads a meaningless life amidst the beautiful scenery of Costa Rica.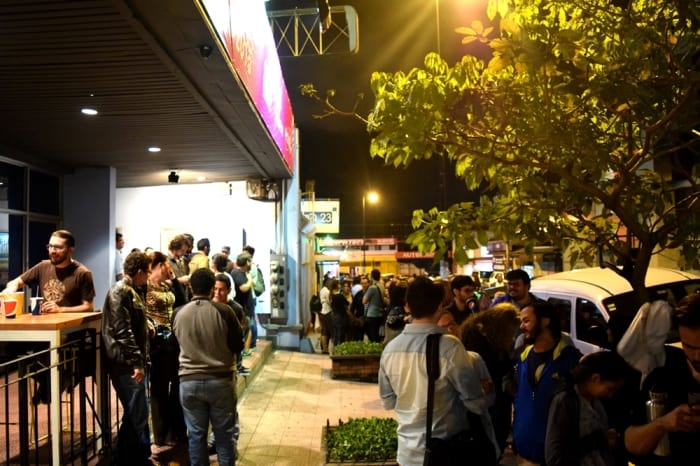 Andrés Campos' "Helio" (Helium) is a comedy that follows radio broadcaster Diego who suddenly has voice problems, putting his dreams at risk.
Kenneth Sanabria's "Insomnio" depicts a couple dealing with cancer.
Erick Pérez's "La Cacería" ("The Hunting") is about a young photographer who uses his digital camera as his main weapon on the streets of San José.
Gabriel López Chacón's "Alice Inside" is a psychedelic representation of Lewis Carroll's "Alice in Wonderland" characters.
André Robert's "Zafiro" ("Sapphire") tells the story of Diego Solís as he returns to the place in which he was born: Cuajiniquil, Guanacaste.
The evening ended with Ignacio Torres and Cynthia Alfaro's "No Mercy." This digitally animated short film that can also be considered a music video. It features a character who is unhappy in the city he lives in, and demonstrates it through graffiti.
The festival concluded on Sunday. "Ciudadano" won the jury award, decided by directors and producer Alexandra Latishev, Fernando Montero and Iván Porras, while "Zafiro" won the audience choice award.
See also: 5 questions for Costa Rican filmmaker Andre Robert