OROSI, Cartago — You've found the perfect place to retire in Costa Rica, with a ramshackle neighborhood bar where you spend much of your time hanging out.
What to do? Buy the bar.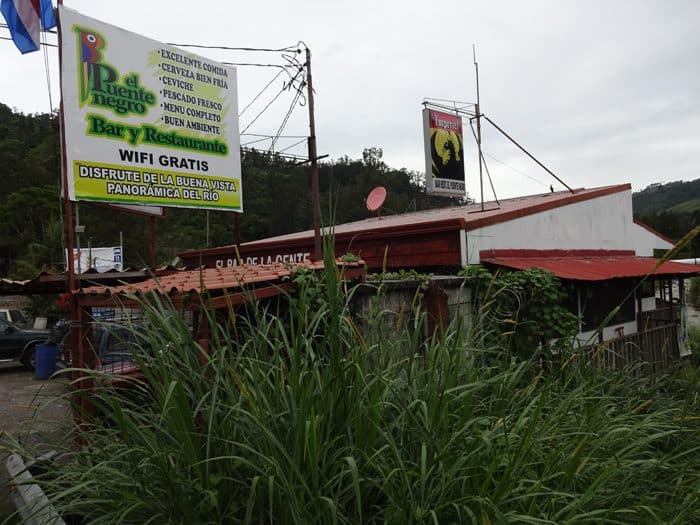 Gregg Lamping and Audrey Ambrosino did just that in 2008, acquiring a fixer-upper bamboo bar called El Ranchito, on the road between Paraíso and Orosi next to the bridge over the Río Agua Caliente.
After a major renovation, and some elaborate decoration, the Bar El Puente Negro was open for business — a U.S.-style roadhouse, walls covered with pictures of dead rock stars, gold records, license plates, bumper stickers, artwork, musical instruments and other kitsch.
Gregg Lamping, 68, from Illinois, spent most of his life in the recording studio business in the U.S. He also worked for Turner Broadcasting running a high-definition television truck for sporting events.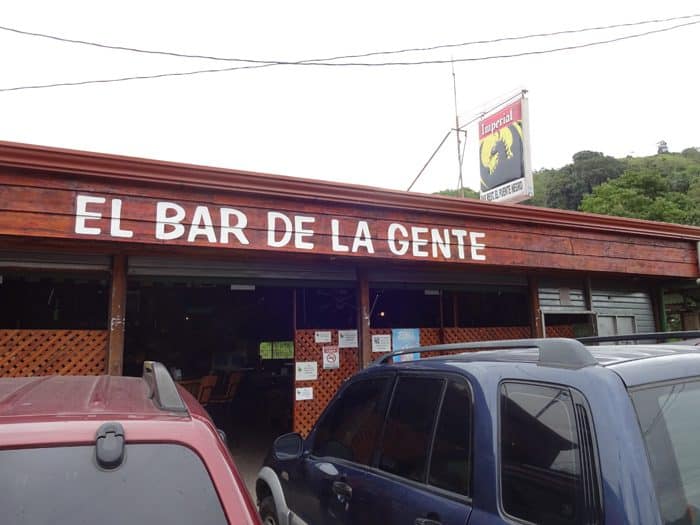 His wife, Audrey Ambrosino, 49, of Massachusetts, was a public information officer for the National Park Service and a teacher at a community college in Lowell, Mass.
The Tico Times sat with the couple and some friends on Saturday (over chicken wings, onion rings, french fries, jalapeño poppers, beers and scotch) and asked them to describe their experience buying and operating a bar in Costa Rica — after we got one important question out of the way.
TT: Who's the most famous rock star you ever met?
Gregg: Well, I've met Jagger.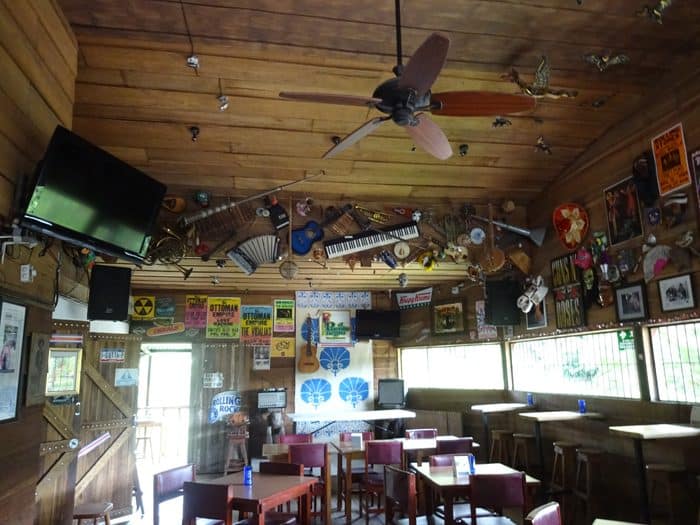 You met Jagger?
Yeah, he came into the studio, Cheshire Sound in Atlanta, to do some overdubs.
What was Mick Jagger like?
It was very businesslike. They were in town on a tour, and he wanted to replace some vocals on the album, and I unfortunately don't recall the album. And he showed up very low-key, in a Lincoln Town Car, had a sweater tied around his neck. Very businesslike, he came in, they ran the tape, he replaced the vocals. He was probably there two hours at the most.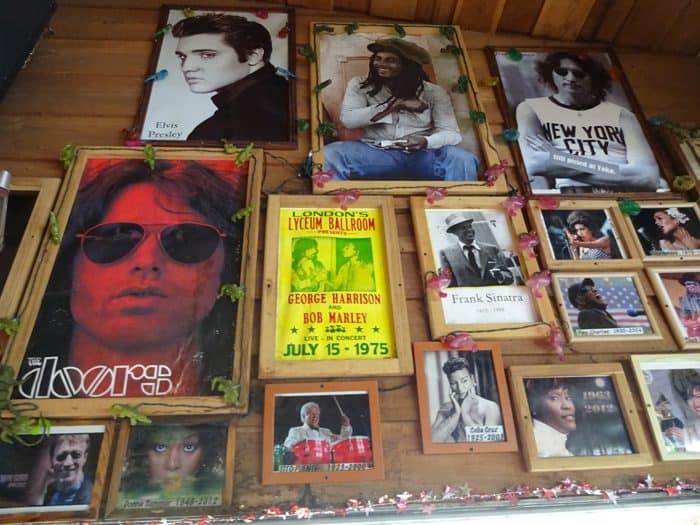 So what was the genesis of your interest in Costa Rica?
Gregg: It goes back to Turner Broadcasting. In 1996, I believe, was the last year that Turner had the NFL on TNT, and so we were out doing the Sunday night game for, I think, eight weeks. … But for some reason one week the NFL changed the programming, and we had 10 days until a Thursday night game in Kansas City. We were already in Miami, and [Turner Sports production manager] Stephanie Bradley, who was the niece of Phil Bradley, who owns Río Perlas, a big resort up the road here … said, "You know, we're in Miami, we've got 10 days, or eight days. Let's go down to Costa Rica and look at this property my uncle bought."
So we all flew down here. And in those days it was still a farm. His house was there and the old farmhouse was there, and we stayed in it, and I fell in love with the Orosi Valley.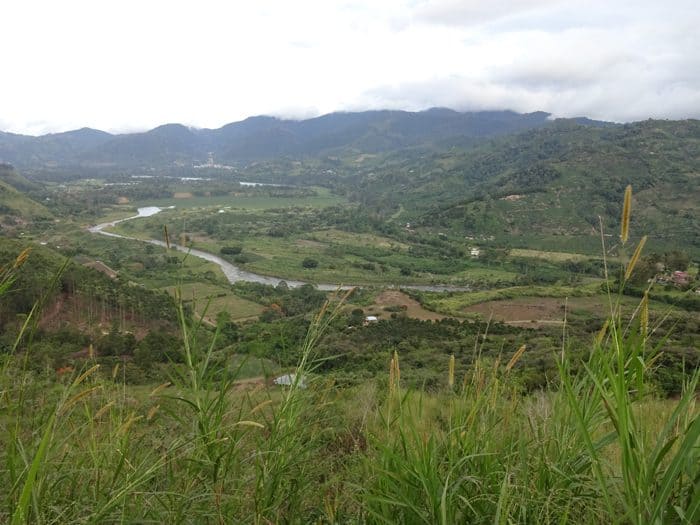 So I came back every year after that, and Audrey's been coming back with me for 12 years now. This place was an old bamboo shack, you could see the sky through the ceiling.
Audrey: And the river through the floor.
Gregg: One rickety little toilet over in the corner. I mean, it was in rough shape. And we negotiated with the woman next door, whose family owned it, and managed to acquire it, and then we closed it for about a year and remodeled it.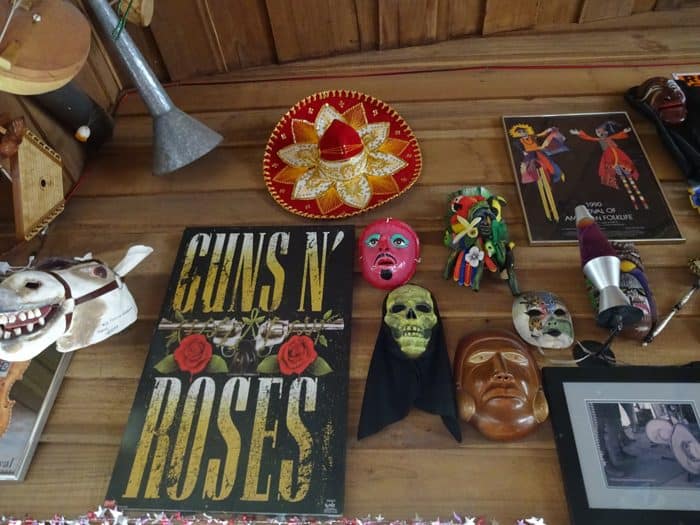 Is there any way I could ask what you paid for it?
Gregg: It was under a hundred grand. And that included the liquor license, which in those days was a huge advantage.
So the purchase process was straightforward, no problems?
Gregg: It was actually very smooth. What happened was, again, Phil Bradley, he's a retired Braniff pilot, Braniff folded, he started an oil business, made some money and bought this property and started developing it into a resort.
Audrey: Río Perlas.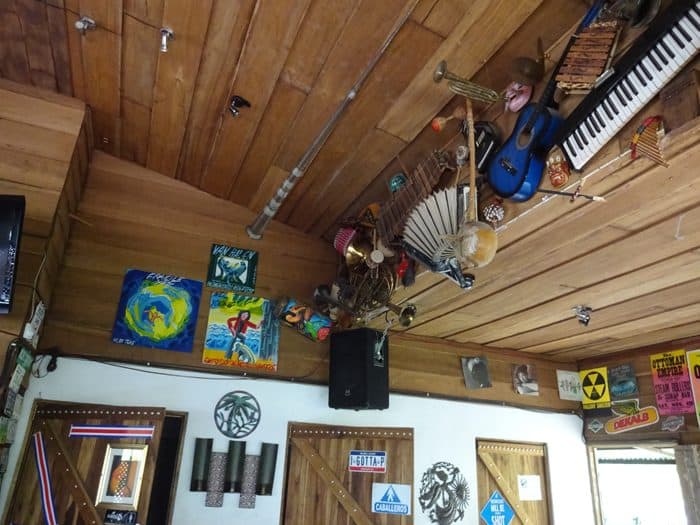 Gregg: And so he was down here a lot and (helped) with the purchasing and the remodeling and the permits and all that.… But the biggest problem that came out of that was he delegated a lot of responsibility, so when we took over the place the liquor license was in one person's name, the telephone was in another person's name, the utilities were in another person's.
Audrey: We spent a few years trying to straighten all that out.
Gregg: That was the most complicated part.
Audrey: As you can imagine. In Costa Rica.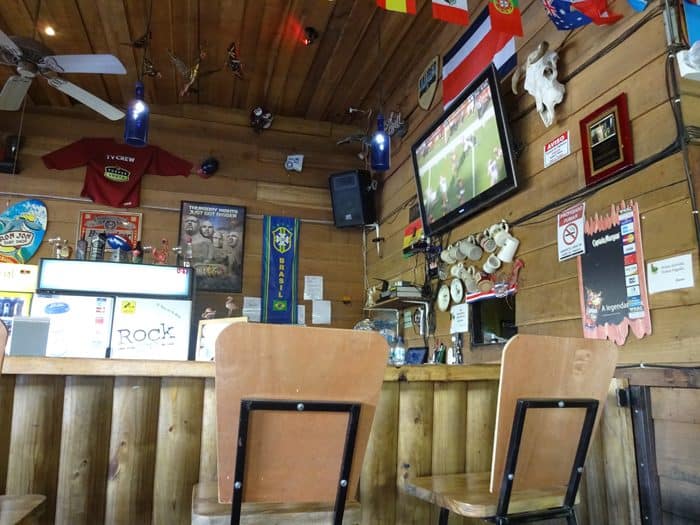 So you bought it in 2008, and then closed it for a year while it was being rebuilt?
Audrey: Yeah, and then rented it out to a few people in between those times. So before we moved here in 2010, we rented it out to a few people, just to have it an active place.
Gregg: To hold onto the liquor license.
So you leased it to people who operated the bar?
Audrey: Not in our image (laughs).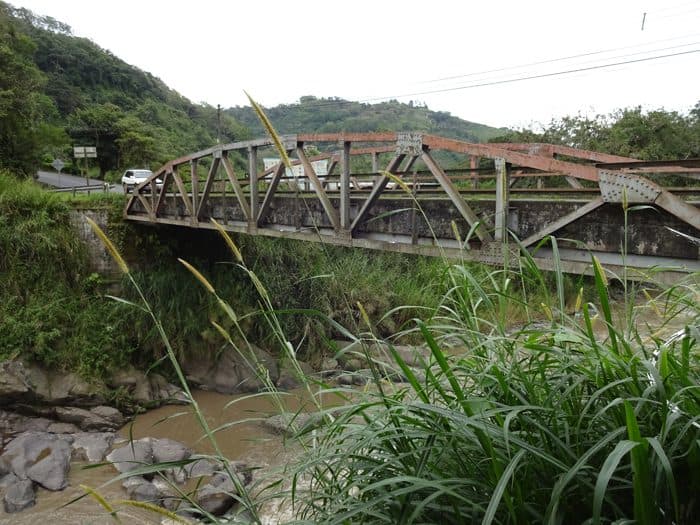 Not in your image? It wasn't quite the American roadhouse-style like this?
Audrey: What's interesting is we get very few Americans here. Ninety-nine percent of our folks are Ticos.
How big is the property?
Gregg: It's just the property the bar is on. And there's more in the back. You want to step down on the balcony, I'll show you.
(In the back is a balcony overlooking the rushing Agua Caliente River, which joins other rivers downstream and becomes the Reventazón.)
Nice!
Gregg: When we bought it, this was all land, and it came straight out and there was a steep embankment. So when we got it, in October of 2010, Hurricane Tomás was out in the Caribbean, and it stalled and we had two weeks of incredible rain. The river was actually up under the floorboards.
There was a huge concrete wall that belonged to the AyA [Acueductos y Alcantarillados water supply] that came down, and basically the boulders running down the river was like getting hit with a wrecking ball. It took all this land out, a lot of land under the bar.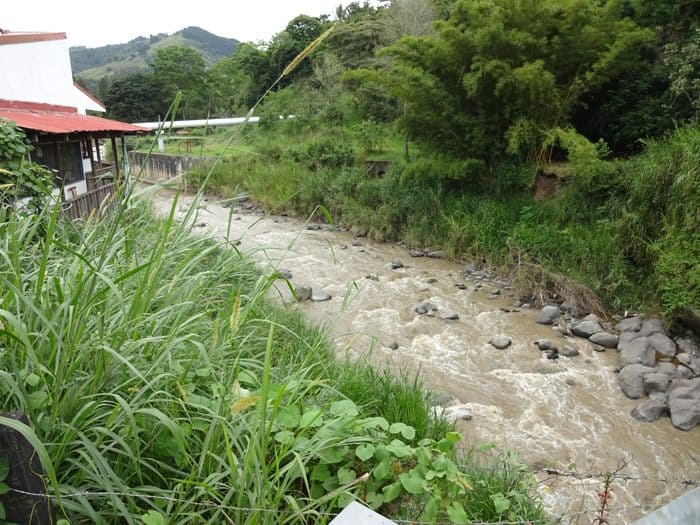 Audrey: And a number of houses and a school. … We moved in August of 2010, and then the flood happened in late October, early November. So then we weren't sure if we were going to be able to reopen or what the situation was, because the Emergency Commission was involved at that point because there was so much destruction in this area….
So in order to get the restaurant license we had to show that we were safe, and the Emergency Commission had to sign off on it, so we had structural engineers, we had an evacuation plan.
Gregg: See the signs that point to the big wide hole? [Emergency exit signs point to the bar's obvious large exit in front.]
Audrey: Just in case you thought you were going to just run into the windows, not a good idea. Run that way.
Gregg: Yeah, we had to put in a "Salida de Emergencia" over every door. And then out there we used to have a point of reunion where you're supposed to go.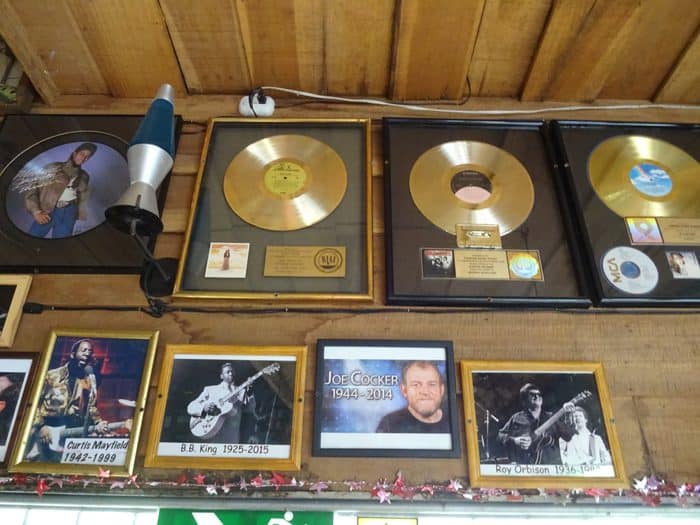 So what was the condition of the place after the flood?
Gregg: Well, the building was sound because we had just basically built it.
Audrey: If it hadn't been, if it had been in the old building…
Gregg: It would have been in the river. There's a school up the river, and there were about 10 dwellings, some of which went into the river, and the rest of which were destroyed by the water. But the building was pretty solid, except for all the land missing under the corner.
So we stayed closed for about a week, and the place was a panic because there was a lot of destruction, a lot of families without homes, so we just stayed closed for a week, cleaned up the place and then opened. We put some stilts underneath the corner. And we opened. People weren't too happy, they were kind of scared to come in here, because the building was looking precarious.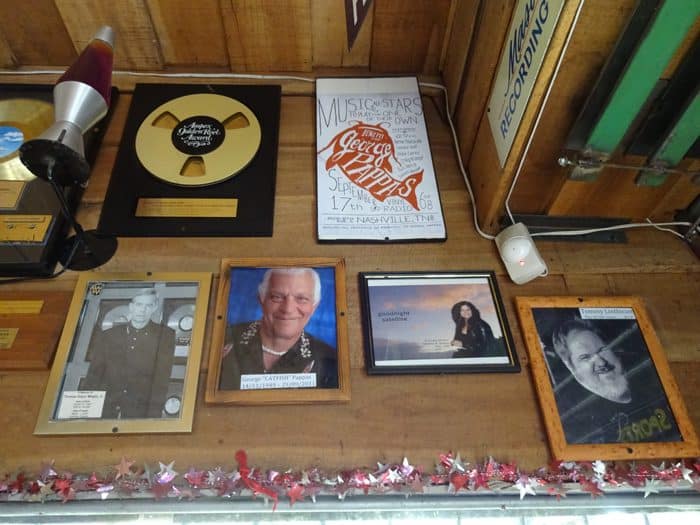 Was it always called El Puente Negro?
Gregg: No, it used to be called El Ranchito. We renamed it Puente Negro.
Audrey: It's because the area is called Puente Negro, named after the bridge, which used to be black.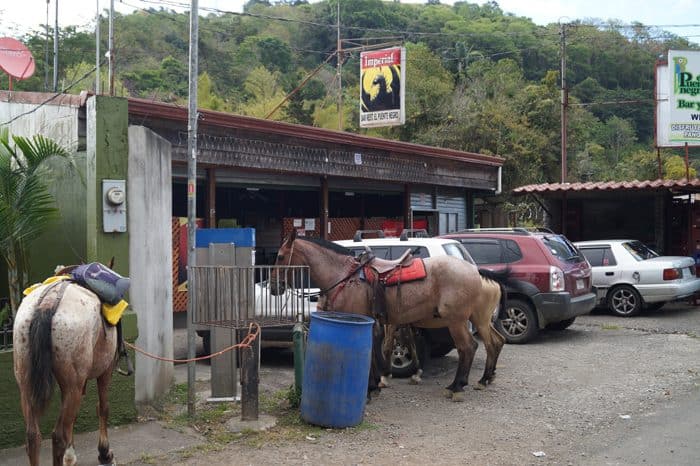 (Another person at the table remarks that in 2007, people thought you could buy property in Costa Rica and double your money in a year.)
Gregg: We never considered it an investment. We want to have more live music. We do a Christmas party for the kids.
Audrey: We just want to be part of the community.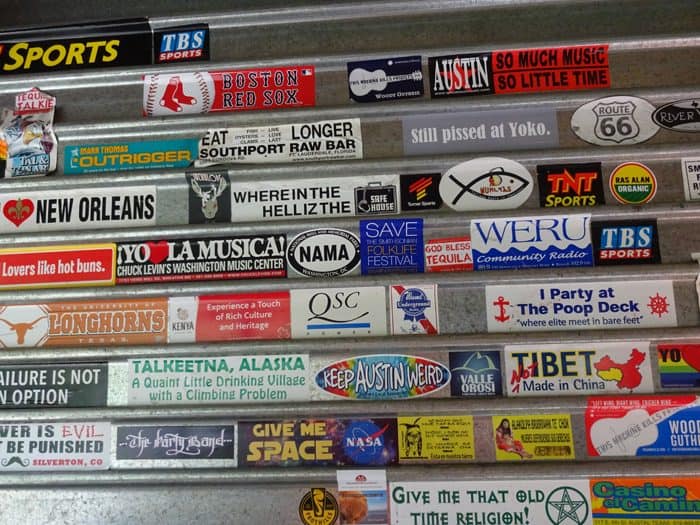 You don't consider it an investment?
Gregg: No.
Audrey: I hope not (laughs).
Gregg: If it is, it's a bad one.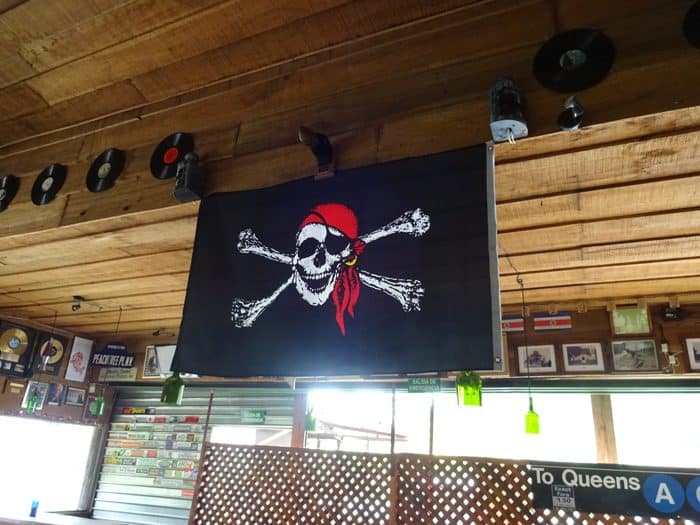 Any advice for an expat who would consider buying a bar in Costa Rica?
Gregg: We're having a good time. We got a lot of headaches. I wouldn't recommend against it. You gotta have plenty of money and plenty of patience.
Audrey: And, especially in an area like this, you gotta be part of the community. You gotta support the locals.
Gregg: It's been five years since we've been here, and it's just now to the point where we see a pretty measurable increase in business.
Audrey: My only advice would be to be patient. Patient but persistent.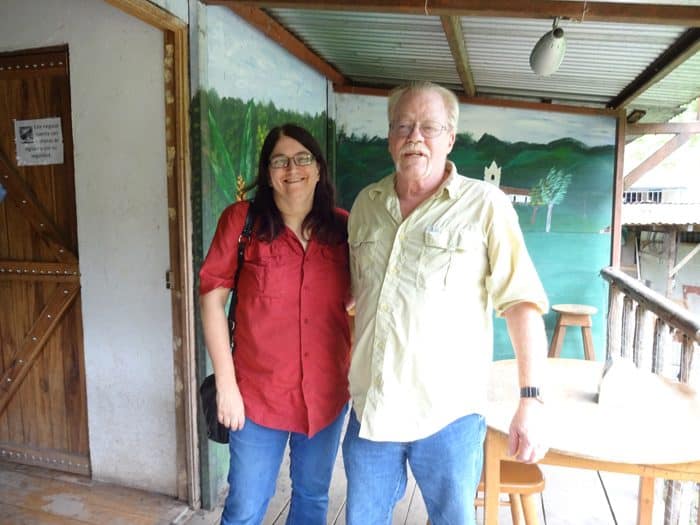 IF YOU GO
Getting there: The Bar Puente Negro is about an hour's drive from San José, located on the road between Paraíso and Orosi, just past the bridge over the Agua Caliente River, with a prominent sign and a large Costa Rican flag.
Hours: Closed Monday and Tuesday; open Wednesday and Thursday from 5 to midnight; open Friday, Saturday and Sunday from 11 to 2 a.m.
More info: http://www.blackbridgebar.com; https://www.facebook.com/Bar-Puente-Negro-252431274945441/timeline/
Got a story to tell about buying, building or selling property in Costa Rica? Contact Karl Kahler at kkahler@ticotimes.net.