ARARIBOIA INDIGENOUS LAND, Brazil – A beat-up sign on the edge of this Amazon reserve warns strangers not to enter. For years, loggers ignored it and barreled straight into the protected indigenous territory, cutting tracks ever deeper into the diminishing forest.
But on a recent day, visitors approaching Jucaral village, just inside the reserve, encountered an improvised checkpoint operated by a militia called the Guardians. Wearing disheveled uniforms and face paint, members of the 48-man militia sauntered out, shotguns in hand, to check every arriving vehicle.
The Guardians are from one of two indigenous groups on this eastern fringe of the Amazon that have taken radical action to reduce illegal logging. They have tied up loggers, torched their trucks and tractors, and kicked them off the reserves.
As a result, such logging has sharply declined in these territories. But the indigenous groups have faced reprisal attacks and death threats for their actions, raising fears of more violence in an area known for its lawlessness.
The clashes highlight the continuing grave threat to the Amazon, the world's biggest remaining rain forest, which plays a crucial role in maintaining the world's climate and biodiversity. From 2005 to 2012, deforestation plunged in Brazil, as the government increased its conservation efforts and cracked down on illegal loggers. But since then, the numbers have begun to creep up again. In 2014 alone, almost 2,000 square miles of Amazon rain forest were cleared by farmers, loggers and others.
Indigenous groups play an important role in preserving Brazil's Amazon rain forest; their reserves make up roughly one-fifth of its area. Silvio da Silva, a village chief from Arariboia and an employee of the Brazilian government's indigenous agency, said that a year ago as many as 130 logging trucks left the southern end of this reserve a day. Thanks to the Guardians, that has fallen to around 10 to 15 trucks a day.
In a rare visit to the reserves permitted by the indigenous tribes, Washington Post journalists found that many residents support the militias. But others are uneasy about relying on informal armed groups to resolve a problem that should fall to the Brazilian government.
"I am very scared of a serious incident," said Nonato Sales, 65, a local cattle farmer.
The Guardians formed in 2012 "to minimize the critical situation of illegal deforestation" on this rain-forest reserve, said Olimpio Iwyramu Guajajara, 42, the group's general coordinator.
The militia contains men from the Guajajara, an indigenous tribe. A smaller Guardians militia operates in the nearby Caru reserve, also in the northeastern state of Maranhão. In 2013, a second group of indigenous people, the Ka'apor, began using similar tactics on their reserve, Alto Turiacu, 150 miles away.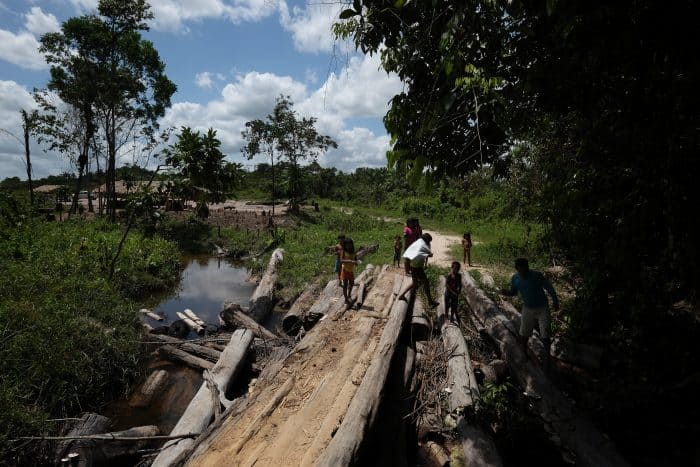 Indigenous groups like those in Arariboia have faced a growing threat to their livelihoods as loggers have pressed into their territories, where most of the remaining hardwood in this part of the Amazon is concentrated.
The threat has been even worse for the Awá people, hunter-gatherers who roam through remote areas of the 1,600-square-mile reserve. The loggers were "expelling the isolated Indians, finishing the food supplies that sustained them, all the hunting, fruits and fish," Iwyramu said. Brazil is home to more isolated or "non-contacted" indigenous groups than anywhere else in the world, around 80, according to Survival International, a British-based group that champions the rights of tribal peoples.
President Dilma Rousseff recently promised to end illegal logging in the Amazon by 2030. A report last year by the World Resources Institute, a nonprofit group based in Washington, concluded that indigenous communities were highly effective at conserving their own forests. "They say the forest is their life," said Sarah Shenker, who works at Survival.
Yet the government's agency for indigenous affairs, the National Indian Foundation, or FUNAI, has a budget this year of just $159 million to protect 900,000 indigenous people. With such limited resources of its own, the agency has decided to provide support to the Guardians in Arariboia, including ammunition, boots and fuel for their motorbikes and all-terrain vehicles.
The armed groups are using aggressive tactics to protect their land.
A few weeks ago, a team of Guardians surrounded some loggers in their hammocks in the Arariboia reserve. "We tied them all up," said Fernando Marciano Guajajara, 30, one of the Guardians. The militiamen went on to burn the loggers' vehicles.
"They were very angry," he said.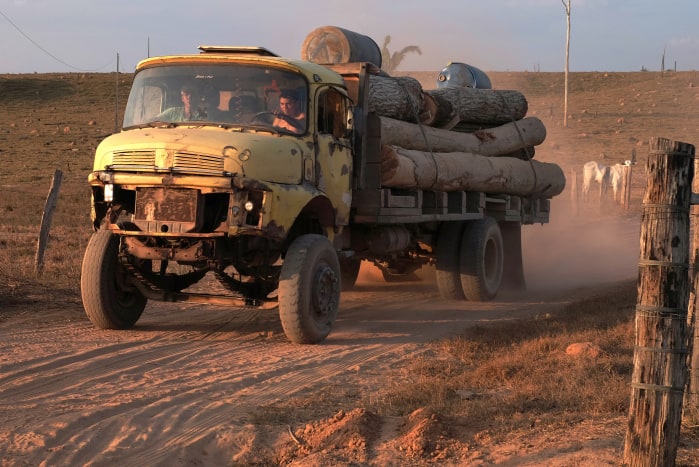 Conflict builds as loggers fight back
The reaction to the raids has been fierce. Indigenous leaders have received death threats, Iwyramu said. The Ka'apor people have especially suffered: In April, Eusébio Ka'apor was shot and killed just outside the Alto Turiacu reserve. "He was one of the oldest and best-known leaders," said a 28-year-old member of a Ka'apor leadership council, speaking on the condition of anonymity because of security concerns. Another Ka'apor leader narrowly avoided an ambush attempt in July, and three other members of the tribe were shot and wounded in January 2014.
The close relationship between the government and the Guardians is not replicated on the Alto Turiacu reserve. There, local leaders said they had not had any support from the indigenous agency, which they distrust.
Antonio de Oliveira, 48, a federal police officer on assignment to the agency, has been working with the Guardians in Arariboia for 19 months. Normally, he and police officers from an environmental unit accompany the Guardians on their missions. He has repeatedly told the men that their weapons are for self-defense.
But during one mission, Oliveira said, he had to stand in front of a captured logger to deter a Guardian who was threatening to kill the man. The Guardian has since left the troop. "We don't want any more of him," Oliveira said.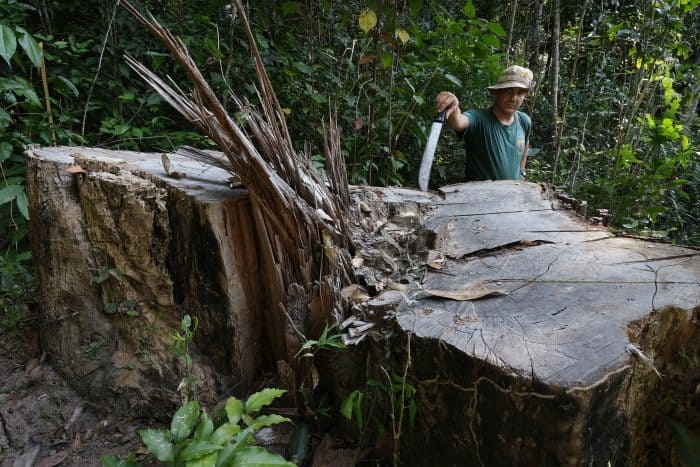 In Arariboia, many people in the indigenous villages of mud-brick houses said they supported the Guardians. But some alleged that the militia members had seized possessions from indigenous people they believed were selling wood. The indigenous communities are legally allowed to cut down some trees but can't do commercial logging.
Lourenzo Guajajara, 60, chief of Bom Jardim village, complained that the Guardians provoked powerful loggers. "It is bringing problems to us," he said, citing villagers' fears of reprisal attacks.
In the past, many towns have accepted money to let logging vehicles pass into their lands. The Guardians have persuaded most to stop. But one village, Cigana, continues to charge $26 a truck to let them rumble through it and over a tumbledown bridge.
"In our village, there is no work," said Cigana's chief, Joacyr Muni Guajajara, 45. "We need it."
The illegal logging in Arariboia has been reduced but continues. One recent afternoon, a battered truck with no license plates lurched down a dirt path that led out of the reserve, laden with logs. Seven more passed nearby after the sun had set.
Oliveira said many trucks took a looping route to Buriticupu, a town between the reserves where dozens of sawmills operate. "In terms of environmental crime in Brazil, crime pays," he said. "The state is not fulfilling its role."
Logging has also declined in the Alto Turiacu reserve, a spokesman for the leadership council said. Residents in the town of Centro do Guilherme, near the reserve, said the flow of logging trucks down the main street had almost ceased in recent months.
There are currently three indigenous groups of 30 people each, armed with bows and arrows and shotguns, doing monitoring and surveillance work of possible illegal logging in Alto Turiacu, a spokesman for the leadership council said. In August, the groups carried out two operations in which they torched tractors and trucks belonging to loggers, the spokesman said.
But community leaders are also pursuing other strategies to protect their 2,406-square-mile reserve. They have founded villages like Jaxipuxirenda, a compound of huts, at strategic points to keep loggers out.
Two years ago, the area on the edge of the reserve shuddered to the buzz of chain saws, and dozens of trucks a day ferried logs away. But on a recent day, the only sound came from children scampering down a path into the forest.
One man said he had been scared to move to the village. "It was difficult. Just a few people," he said, speaking on the condition of anonymity for fear of reprisals. But the loggers had left, and now it was home. "It's a good place," he said. "It's very beautiful."